Shifting Into a Milder, Stormier Weather Pattern

I'm going to miss the Dog Days of Winter. The satisfying crunch of snow under my boot. The little squeal my truck makes when I turn the key. Using a credit card to chip ice off the inside of my windshield. Freeze-dried sinuses. What's not to like?
I hope you got to soak up subzero, because I see no more fun with negative numbers into early February. 20s feel like a minor, meteorological miracle today, with a shot at 40F Friday and Saturday. Temperatures cool off into the 20s next week, but I contend that the worst of winter is probably behind us now.
A week ago I went out onto a shaky limb and predicted a stormier pattern, as jet stream steering winds swing around to the southwest, and I stand by that reckless prediction. A moisture-laden Pacific storm is forecast to track to our south and east, sparking a period of snow Sunday night into Monday. It's too early to talk "inches" but at least there's a potential for some slushy accumulation.
Temperatures will be warmer this time around - hopefully roads will be in better shape Monday. The cold is fading - now let it snow!
---
Storm Potential. We'll see if this materializes, but Tuesday's runs of the ECMWF were slower, and a bit deeper and farther north, suggesting a period of wet snow late Sunday into Monday; enough warm air aloft may wrap into the storm for some rain or sleet to mix in over southeastern Minnesota and Wisconsin, but it's way too early for specifics. You're telling me we have a chance....? 12z Monday ECMWF solution: WSI.
---
WAG. You know what WAG stands for, right? Are you going to make me spell it out for you? Yes, there may be a plowable accumulation early next week, and odds favor a slightly warmer, wetter snow with temperatures closer to 32F. A little slush anyone?
---
Accumulated Winter Season Severity Index. An "average winter" for the Twin Cities, St. Cloud, La Crosse and Duluth? A lack of significant snow and snow cover may have something to do with that. Here's an explanation from the Midwestern Regional Climate Center: "Winter seasons have significant societal impacts across all sectors ranging from direct human health and mortality to commerce, transportation, and education. The question "How severe was this winter?" does not have a simple answer. At the very least, the severity of a winter is related to the intensity and persistence of cold weather, the frequency and amount of snow, and the amount and persistence of snow on the ground. The Accumulated Winter Season Severity Index (AWSSI) was developed to objectively quantify and describe the relative severity of the winter season..."
---
---
---
---
---
Philadelphia Outlook. 50F by Sunday in Philadelphia with 40s for the NFC Championship game? It looks unusually mild out east, probably dry the game. Check out the very latest forecast updates for Philly at AerisWeather.
---
By NOAA Numbers, Last Year Was Worst for U.S. Weather Disasters Since 1980.
MinnPost
has a timely post; here's a clip: "...
One of the contributors, in fact, occurred in Minnesota — the hail and high winds of early June that were especially intense in the Twin Cities metro, and are credited with causing losses in the range of $2.4 billion. These findings are freshly issued by the National Oceanic and Atmospheric Administration (NOAA), which since 1980 has been keeping tabs on the tier of weather and climate disasters that cause losses exceeding a billion bucks. Over that period there have been, on average, 5.8 events per year of that magnitude. Last year the tally was 16 — only the second time in 27 years that the count has gone that high
..."
Image credit: NOAA.
---
Praedictix Briefing: Issued Tuesday, January 16th, 2018:
* Wintry precipitation is falling from Texas to the Ohio Valley Tuesday morning, with slick roads reported across the region due to snow and ice. Parts of I-49 and I-220 in Shreveport, LA, were closed due to winter weather conditions according to the Louisiana DOT.
* Snow and ice will continue to move south and east today into tonight, impacting additional areas like New Orleans (LA), Birmingham and Mobile (AL), and Atlanta (GA) over the next 12-24 hours. Snowfall accumulations are expected to be mainly under an inch in these areas, but that will be enough to cause hazardous travel conditions.
* Snow will also fall across parts of the Northeast through the middle of the week as a coastal system forms and moves through southeastern New England. The heaviest snow totals of 6-8" will be possible from northeastern Pennsylvania to eastern Massachusetts through Wednesday. Boston is under a Winter Storm Warning for the potential of 5-7" of snow.
---
Morning Radar. Snow and ice covered roads have been reported from the Ohio Valley into the Lower Mississippi Valley with a band of snow and ice stretching across the region. Parts of I-49 and I-220 in Shreveport, LA, were closed due to winter weather conditions according to the Louisiana DOT.
Local Department of Transportation Websites:
Texas: https://drivetexas.org
Arkansas: https://www.idrivearkansas.com/
Louisiana: https://hb.511la.org/
Tennessee: https://smartway.tn.gov/traffic
Mississippi: https://www.mdottraffic.com/
Alabama: https://algotraffic.com/
Georgia: http://www.511ga.org/
---
Wintry Precipitation Continues Today. A wintry mix of precipitation (including ice, sleet and snow) will continue into the afternoon and evening hours across portions of Texas and Louisiana, with sleet reaching the New Orleans area during the early evening hours. Across Tennessee, Mississippi, Alabama and Georgia, the atmosphere is cold enough for the precipitation to fall as mainly snow. By noon, snow will be moving out of Nashville and into Birmingham. A chance of rain and snow will be possible between 3 PM and Midnight in Mobile. In Atlanta, afternoon rain will change to snow by 7 PM, with about a half an inch of accumulation expected overnight. Snow will move into Raleigh late tonight, lasting into the midday hours Wednesday.
---
Warnings And Advisories. Numerous winter warnings and advisories are in effect from Texas across the Southeast and Mid-Atlantic. These alerts are in effect for the potential of accumulating snow across the region and/or ice (which will occur mainly across Texas). Places under:
Winter Storm Warnings include Austin, San Antonio and Houston (TX), Shreveport (LA), and Memphis (TN).
Winter Weather Advisories include Corpus Christi (TX), New Orleans (LA), Jackson (MS), Nashville (TN), Birmingham, Montgomery and Mobile (AL), Atlanta (GA), and Raleigh (NC).
---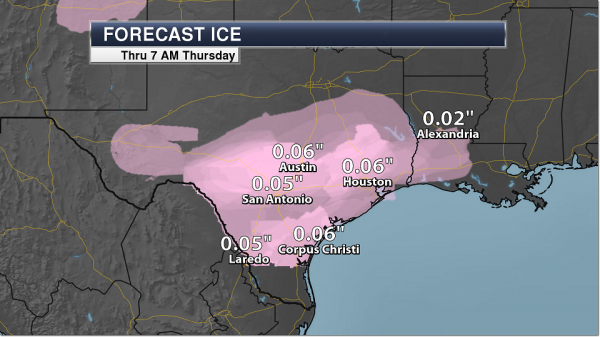 Forecast Ice/Sleet. The highest ice totals are expected across parts of central and southern Texas, with upwards of an additional 0.05-0.10" of ice and sleet possible. This includes the Houston, Austin and San Antonio areas. Even with only a few hundredths of ice or sleet in the forecast, significant travel impacts can be expected across the region. Maps: AerisWeather and Praedictix.
---
Southern Snow Forecast. Snowfall amounts of a trace up to 3" can be expected across parts of the Southern United States as we go through the next 24-48 hours, with the heaviest additional totals expected across parts of the Tennessee River Valley into the Mid-Atlantic.
---
Northeast Snow Expected. As low pressure redevelops off the Northeast coast tonight and moves across southeastern New England Wednesday, moderate to heavy snow is possible across portions of the region. The heaviest amounts – 6-8" of snow – is expected from northeastern Pennsylvania to eastern Massachusetts, including Boston. Another area of 4-7" of snow will be possible across eastern Maine.
---
Northeast Winter Advisories And Warnings. Due to the potential of snow across the Northeast, Winter Weather Advisories and Winter Storm Warnings have been issued. Breaking down some of the larger metropolitan areas:
Boston is under a Winter Storm Warning from

1 AM to 6 PM

Wednesday

for the potential of 5-7" of snow.
Portland, ME is under a Winter Weather Advisory from

11 PM

tonight

to

7 PM

Wednesday

for the potential of 3-6" of snow.
New York City is under a Winter Weather Advisory from

midnight

tonight

to

6 PM

Wednesday

for the potential of 3-5" of snow.
Philadelphia is not under any advisories as of early

Tuesday

morning, and could see 1-3" of snow.
Washington D.C. is not under any advisories as of early

Tuesday

morning, and could see 1-2" of snow.
Summary: Wintry precipitation will continue today across the Southern United States, with snow and ice/sleet expected. Additional ice totals of up to a tenth of an inch are possible across central and southern Texas, with some light snow totals across the state. Up to 3" of snow will be possible across parts of the Tennessee River Valley to the Mid-Atlantic over the next couple days, with lighter additional amounts of snow expected over the next 24 hours for cities like Jackson, New Orleans and Atlanta. Any accumulation of snow or ice will make travel hazardous across the region today into Wednesday. In the Northeast, a coastal system will bring the potential of heavy snow to parts of the region. The greatest snow totals (6-8") will fall from northeastern Pennsylvania to eastern Massachusetts, including Boston from later today into Wednesday.
D.J. Kayser, Meteorologist, Praedictix
---
Why Do Hurricanes Have Eyes? Scientists Don't Still Really Know. A story at Live Science is worth a read: "...The important point here is that, at least in this simplified model, a cyclone's eye forms when the storm's internal friction, its speed and the force of the spinning Earth acting on the storm all strike a delicate balance. It's important to note, the researchers said, that these results don't fully answer the question of why eyes form in hurricanes — too many factors are left out, and it's entirely possible their model doesn't model hurricanes as well as they expect. (Their model also definitely doesn't cover other forms of atmospheric cyclones, like tornadoes.) What this research does do, they write, is point the way forward in answering some basic questions about hurricanes..."
Image credit: "The eye of Super Typhoon Maysak looms large in an image taken by European Space Agency astronaut Samantha Cristoforetti on board the International Space Station August 7, 2017." Credit: ESA/NASA/Smantha Cristoforetti.
---
A Foreboding Similarity in Today's Oceans and a 94-Million-Year-Old Catastrophe. The Atlantic has the story: "The ocean is losing its oxygen. Last week, in a sweeping analysis in the journal Science, scientists put it starkly: Over the past 50 years, the volume of the ocean with no oxygen at all has quadrupled, while oxygen-deprived swaths of the open seas have expanded by the size of the European Union. The culprits are familiar: global warming and pollution. Warmer seawater both holds less oxygen and turbocharges the worldwide consumption of oxygen by microorganisms. Meanwhile, agricultural runoff and sewage drives suffocating algae blooms. The analysis builds on a growing body of research pointing to increasingly sick seas pummeled by the effluent of civilization. In one landmark paper published last year, a research team led by the German oceanographer Sunke Schmidtko quantified for the first time just how much oxygen human civilization has already drained from the oceans..."
Image credit: "Algae blooms off the coast of New York and New Jersey in August 2015." NASA / AP.
---
Ford "All In" On EVs: From Climate Nexus Hot News: "Ford Motors will spend billions on electric vehicle development and create dozens of electric models by 2022, the company announced Sunday. Speaking at the Detroit Auto Show, Chairman Bill Ford said the auto giant would spend $11 billion to provide 40 models of electric and hybrid vehicles for its 2022 rollout, including 16 fully electric models and a possible all-electric SUV. "We're all in on this," Ford told reporters. "We're taking our mainstream vehicles, our most iconic vehicles, and we're electrifying them." The move comes as other auto giants, including Toyota and Volkswagen, commit to spending billions on EV development and models through the early 2020s." (Reuters, TechCrunch, The Guardian, Bloomberg, MarketWatch, BBC)
---
"Adapt or Die". A Stark Farewell Message to Carmakers. A story at Bloomberg Pursuits made me do a doubletake: "...Sergio Marchionne, one of the longest-serving CEOs in the automotive industry, has a blunt warning: Carmakers have less than a decade to reinvent themselves or risk being commoditized amid a seismic shift in how vehicles are powered, driven and purchased. Developing technologies like electrification, self-driving software and ride-sharing will alter consumers' car-buying decisions within six or seven years, the Fiat Chrysler Automobiles NV chief executive officer said in an interview in Detroit, ahead of this week's North American International Auto Show. The industry will divide into segments, with premium brands managing to hold onto their cachet while mere people-transporters struggle to cope with the onslaught from disruptors like Tesla Inc. and Google's Waymo..."
---
Electricity From All Forms of Renewables Will Be Consistently Cheaper Than Fossil Fuels by 2020. Quartz explains: "Turning to renewables for new power generation is not simply an environmentally conscious decision, it is now overwhelmingly a smart economic one," said Adnan Amin, who has the numbers to back it up. Amin heads the International Renewable Energy Agency (Irena), and the numbers can be found in a new report the agency released at its annual summit on Jan. 13 in Abu Dhabi. In most of the world, renewable electricity is already competitive with fossil-fuel power. Better still, the report makes the extraordinary prediction: By 2020, all forms of renewable electricity will be consistently cheaper than power produced by burning fossil fuels..."
Photo credit: "A new dawn." (Reuters/Marcelo del Pozo
---
Warren Buffet Shares the Secrets to Wealth in America. Here's an excerpt of an Op-Ed at TIME.com: "...In 1776, America set off to unleash human potential by combining market economics, the rule of law and equality of opportunity. This foundation was an act of genius that in only 241 years converted our original villages and prairies into $96 trillion of wealth. The market system, however, has also left many people hopelessly behind, particularly as it has become ever more specialized. These devastating side effects can be ameliorated: a rich family takes care of all its children, not just those with talents valued by the marketplace. In the years of growth that certainly lie ahead, I have no doubt that America can both deliver riches to many and a decent life to all. We must not settle for less."
---
Be Like Bill Gates and Warren Buffet. If You're Not Spending 5 Hours a Week Learning You're Being Irresponsible. Quartz has the post: "...Why has the world's richest person, Bill Gates, read a book a week during his career? And why has he taken a yearly two-week reading vacation throughout his entire career? Why do the world's smartest and busiest people find one hour a day for deliberate learning (the 5-hour rule), while others make excuses about how busy they are? What do they see that others don't? The answer is simple: Learning is the single best investment of our time that we can make. Or as Benjamin Franklin said, "An investment in knowledge pays the best interest..."
Photo credit: Reuters/Rick Wilking.
---
Your Smartphone Is Making You Stupid, Antisocial and Unhealthy. So Why Can't You Put It Down? Check out the post at Canada's Globe and Mail: "...More than two billion people around the world, including three-quarters of Canadians, now have this magic at their fingertips – and it's changing the way we do countless things, from taking photos to summoning taxis. But smartphones have also changed us – changed our natures in elemental ways, reshaping the way we think and interact. For all their many conveniences, it is here, in the way they have changed not just industries or habits but people themselves, that the joke of the cartoon has started to show its dark side. The evidence for this goes beyond the carping of Luddites. It's there, cold and hard, in a growing body of research by psychiatrists, neuroscientists, marketers and public health experts. What these people say – and what their research shows – is that smartphones are causing real damage to our minds and relationships, measurable in seconds shaved off the average attention span, reduced brain power, declines in work-life balance and hours less of family time..."
---
How the Mediterranean Diet Can Help You Live Longer and Think Better. Here's a clip from a story at Big Think: "...The new study analyzed previously-published studies and shows how eating a diet that stresses plant-based foods, like fruits and veggies, whole grains, nuts, legumes as well as lots of fish may keep one healthy well into advanced years. When older adults experience more frailty, their life quality gets worse. They may feel low in energy, lose weight and muscle strength, and be subject to health concerns like falls and fractures, hospitalization, dementia, disability, and even premature death. One way to keep such effects at bay - adopt the right nutrition, says a UK research team led by Kate Walters, PhD and Gotaro Kojima, MD, from the University College London..."
File photo credit: Pixabay.
---
Top Baby Names for 2017 in Minnesota. The Minnesota Department of Health has details: "Last year there were 70,192 births to Minnesota residents and 70% of those births were to white women. For that reason it is no surprise that the top baby names overall matched the most frequently used names for whites. Top names in other major race/ethnic groups across Minnesota do not overlap much (see list below). Evelyn was the top girl's name overall, as well as the most popular girl's name given by white parents and the second most popular name given by Asian parents. Olivia was number two overall, number three for white girls, and number one for Asian girls. Sofia/Sophia made the top five for both Hispanic and Asian girls, as did Isabella. Isabelle was number five for American Indian girls..."
---
Why are Japanese Women Paying to Cry with a Handsome Man? National Geographic has the curious story; here's an excerpt: "...Even though numerous animal species shed tears, emotional crying is a uniquely human activity. Regardless of the reason behind it, many people believe that expressing one's emotions in this way can be both cathartic and healthy. In Japan, entrepreneur Hiroki Terai has even adopted this belief as a business strategy. He is the founder of a group crying service that encourages people to cry together while a "handsome weeping boy" wipes their tears away. Known as rui-katsu or "tear-seeking," the practice is especially popular with women and is said to relieve stress levels..."
---
8 F. maximum temperature in the Twin Cities yesterday.
23 F. average high on January 16.
32 F. high on January 16, 2017.
January 17, 1996: A severe ice storm hits the western and northern Twin Cities with accumulations between a half an inch and an inch. A foot of snow fell over central Minnesota.
January 17, 1982: The citizens of Tower wake up to a frigid low of -52 degrees F.
---
WEDNESDAY: Partly sunny, milder. Winds: SW 8-13. High: 26
WEDNESDAY NIGHT: Partly cloudy. Low: 17

THURSDAY: More clouds, embrace the thaw! Winds: W 8-13. High: 38

FRIDAY: Not quite spring fever, but very nice! Winds: W 8-13. Wake-up: 26. High: 42

SATURDAY: Mostly cloudy, no travel headaches. Winds: NW 7-12. Wake-up: 28. High: 39

SUNDAY: Wet snow may arrive by late day. Winds: E 5-10. Wake-up: 27. High: 35

MONDAY: Potential for heavier snow. Winds: NE 10-20. Wake-up: 25. High: 31

TUESDAY: Some sun, a better travel day. Winds: NW 7-12. Wake-up: 20. High: 27
---
Climate Stories...
What's Behind the Cold Snaps and Does Climate Change Have Anything To Do With Them? Weather Underground has an interesting post; here's a link and excerpt: "...Deepti Singh, a Lamont-Doherty Earth Observatory post-doctoral fellow who studies the human impact on climate change, told Columbia University's Earth Institute that the western U.S. is warming faster than the East, and it could be causing the configuration of the jet stream to become more extreme. Thus, the jet stream could more frequently surge further north in the West and dip in the East, which allows such cold blasts to occur in the winter. Past studies have also suggested climate change's impact on the jet stream is allowing extreme weather to persist even longer. The recent arctic blast is a perfect example, Singh noted. The East has seen a similar pattern in four of the last five winters. Last year was the lone exception, as the pattern flipped and the West experienced cold weather and feet upon feet of snow at the higher elevations. According to a study published recently in the journal Nature Communications, the jet stream's big fluctuations could be leading to more extreme weather in Europe and North America..."
More perspective on recent research into jet stream configurations during the winter months from Columbia University's Earth Institute.
Image credit: NASA.
---
Primer on Climate Skepticism. Kudos to Alice Bell for some much-needed perspective at tinyletter.com: "It's wrong to assume all climate sceptics are in the pay of the fossil fuel industry. Many are just hobbyists who like to hold what they perceive as outsider views, and/ or have found a community of friends online to talk about the weather, swap numbers and rant about the world with. Plus, climate scepticism comes in a range of flavours, with a mix of things you can be sceptical about. Very few people can accurately be described as outright climate denialists (they generally hate that word themselves too). These days, many sceptics are just 'luke-warm' to some degree or another, in that they believe the basics of climate science but don't think the risk is that big. And we should remember there's a fair bit of diversity of views and fighting within climate science too. Being sceptical, disagreeing and asking questions is part and parcel of how we do science, even if it can also be a great distraction from it too. But all these views - for whatever reason they are held - can be used by those who'd like to keep us hooked on fossil fuels..."
File image: NASA.
---
Daily Record Highs Are Dramatically Outpacing Daily Record Lows. Yes, it's cold outside (today) but step back and look at the big picture, the longer-term (global) trends. Here's an excerpt from Climate Central: "Daily record highs are vastly outpacing daily record lows in the U.S. We will always have warm years and cold years, but in a world without global warming, those warm and cold years would balance over time. However, that's not what we are seeing. According to the 2017 U.S. Climate Science Special Report, after a rigorous reanalysis of GHCN stations back to 1930, 15 of the last 20 years had more daily record highs than daily record lows. The number of daily record highs outpaced daily record lows more than 4 to 1 in 1998, 2012, and 2016. A first look at the data from NOAA/NCEI indicates that 2017 continues the warming trend, as daily record highs are beating daily record lows by a 3.5-to-1 margin so far. Below are some preliminary 2017 stats through the end of November. Visit the NOAA Daily Weather Records tool to get the daily updates on these numbers:
Monthly record highs have outnumbered monthly record lows at a rate of 9.7 to 1

All-time record highs have outnumbered all-time record lows 8.7 to 1

Record high minimum temperatures have outnumbered record low minimums 4.6 to 1..."
---
Unchecked Climate Change Is Going to be Stupendously Expensive. Details via The Week: "...In reality, one obvious way that threat to humanity is going to be expressed is through economic damage. In other words, unchecked climate change is going to be terrifically expensive. Now, its exact cost is basically impossible to predict. Contrary to people who would confidently rely on cost damage estimates for 2100, economic projections tend to be wildly inaccurate over even five years. Furthermore, the amount of damage will depend greatly on what humans do in the future, and there have been few studies on what damage would be like under higher warming scenarios of 3 degrees or above. But we can say the damage is going to be very large — indeed, it's already quite bad. NOAA's National Centers for Environmental Information estimates that 2017 was America's most expensive year for climate disasters of all time, with 16 disasters costing over $1 billion (more than three times the 1980-2017 average, after accounting for inflation) and a total cost of over $300 billion. That's about 1.5 percent of total GDP..."
Photo credit: AP Photo/Marcio Jose Sanchez.