It's True: Minnesotans Tend to be Well Preserved

Some people with more money than sense are having their brains preserved at -321F. "Cryonics" is an attempt to cheat death, with a hope of resuscitation many years from now, when medicine evolves to a point where people can be "restored". Uh huh. Why not just move to Minnesota and spend an inordinate amount of time outdoors? Just saying.
Soak up the chill while you can: sunshine and single digits today give way to 20s tomorrow; 35-40F highs Thursday through Saturday will feel like a meteorological epiphany. We cool off next week (20s above zero) but I don't see any more Siberian slaps anytime soon.
No travel problems expected on Saturday. NOAA keeps a storm south and east of Minnesota next Sunday, but ECMWF (European) guidance suggests snow into southern and eastern counties. And long-range guidance shows another warming trend by late January. I suspect it will NOT be this cold on February 4 for the Big Game.
Highs may brush 50F in Philadelphia for Sunday's NFC Championship game; odds favor a dry sky with 40s at game time. There's only one thing left to add: Skol Vikings!
---
Sunday Snowfall Reports. Map and data above courtesy of the Twin Cities National Weather Service.
---
Philadelphia Outlook. 50F by Sunday in Philadelphia with 40s for the NFC Championship? It looks unusually mild out east, just a slight chance of a rain shower during the game. For updates check out forecast updates at AerisWeather.
---
Another Thaw - Worst of the Cold Wave Behind Us? That's a very strategic question mark in the headline, because I'm 75% sure that the coldest air temperatures and wind chills are behind us as of Wednesday. We'll see more subzero nights, but in terms of duration and intensity of the chill I suspect the most painful days and nights are in our rearview mirror. Famous last words. Twin Cities ECMWF numbers: WeatherBell.
---
Sunday Storm Potential. NOAA models whisk any storm south and east of Minnesota Sunday, but the ECMWF hints at snow for southern and eastern counties into much of Wisconsin. It's too early for specifics, but if you're traveling, especially on Sunday, you'll want to stay up on the latest forecast. Midday 18z outlook: WSI.
---
Mild Bias Returning for Late January? If the GFS 500mb forecast for the evening of January 29 verifies much of the USA east of the Mississippi River will be considerably milder than average, especially the Gulf Coast and Florida (70s and a few 80s?) It's still early for specifics, but odds may now favor a slightly warmer than average bias into the first week of February for Minnesota and the Upper Midwest.
---
Praedictix Briefing: Issued Monday, January 15th, 2018:
* A cold front is moving into the southern United States Monday, bringing a blast of cold air with it. Precipitation will also accompany this front, with rain changing over to freezing rain, sleet and snow through the overnight hours across Texas, Arkansas and Louisiana. Snow will continue to spread across other portions of the Southeast into Tuesday and Tuesday Night.
* The heaviest ice/sleet totals are expected across parts of Texas, with up to a tenth of an inch of ice and sleet possible for Austin and San Antonio. The heaviest snow totals (1-3") are expected from northeastern Texas to northwestern Mississippi and southwestern Tennessee, including Shreveport, Little Rock and Memphis.
* This snow and ice will cause travel troubles through the middle of the week across the region due to cold temperatures that will stick around for a couple days after this event. This would include slippery roads, bridges and overpasses.
* Winter Storm Warnings are in effect from south central Texas to northwestern Mississippi, including San Antonio, Austin and Waco (TX) as well as Shreveport (LA) due to the potential of accumulating snow/sleet/ice that will cause travel issues.
---
Morning Radar And Temperatures. An Arctic cold front is moving south as we go throughout the day, bringing with it steadily falling temperatures for areas like Dallas and Waco by the late afternoon/early evening hours. Some light rain is expected to accompany this front before the atmosphere becomes cool enough to change it over to wintry precipitation (snow, sleet and freezing rain). Snow is falling this morning from parts of Kansas into the Ohio Valley associated with this system.
---
Wintry Precipitation Expected Through Tuesday. As that cold front continues to move south, precipitation will start across parts of Texas, Arkansas and Louisiana in liquid (rain) form tonight before quickly changing over to freezing rain and sleet, then snow. Further east, for Tennessee, Mississippi, Alabama and Georgia, precipitation into Tuesday will mainly be in the form of snow. Travel impacts are expected across the region, especially for the Tuesday morning commute from Texas into central Tennessee.
---
Watches, Warnings And Advisories. Numerous winter watches, warnings and advisories are in effect from Texas to the Tennessee Valley. These alerts are in effect for the potential of accumulating snow and/or freezing rain and sleet. The heaviest snow amounts of 2-3" are expected from northeastern Texas in northern Mississippi where the Winter Storm Warning is in effect. Across the western side of the Winter Storm Warning, snow of up to 2" and/or freezing rain and sleet of up to 0.25" is possible.
---
Forecast Ice/Sleet. The highest ice totals are expected across parts of Texas, with up to a tenth of an inch of ice and sleet possible for Austin and San Antonio. Even with only a few hundredths of ice or sleet in the forecast, significant travel impacts can be expected across the region tonight into Tuesday. Map credits: AerisWeather and Praedictix.
---
Forecast Snowfall. The heaviest snow tonight through Tuesday will fall from northeastern Texas to northwestern Mississippi and southwestern Tennessee, with 1-3" of snow possible. Local amounts of 4" will be possible. This snow will cause reductions in visibility while it is falling, and will have an impact on roads as well.
---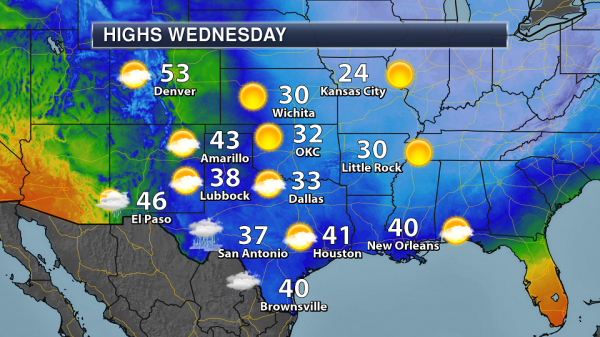 Travel Troubles Will Continue This Week. Cold temperatures will remain across parts of the lower Mississippi Valley into the middle of the week, which will bring the potential of travel impacts (including icy bridges, overpasses and roads) through Thursday morning.
Local Department of Transportation Websites:
Texas: https://drivetexas.org/
Oklahoma: https://www.oktraffic.org/index.php
Arkansas: https://www.idrivearkansas.com/
Louisiana: https://hb.511la.org/
Tennessee: https://smartway.tn.gov/traffic
Mississippi: https://www.mdottraffic.com/
Alabama: https://algotraffic.com/
Summary: Wintry precipitation will be likely tonight into Tuesday from Texas to the Tennessee Valley and into the Southeast, with accumulating snow and ice/sleet expected. The heaviest ice totals are expected across parts of Texas, with up to a tenth of an inch of ice and sleet possible for Austin and San Antonio. The heaviest snow will fall from northeastern Texas to northwestern Mississippi and southwestern Tennessee, with 1-3" of snow possible. This snow and ice will cause travel troubles through the middle of the week across the region due to cold temperatures that will stick around for a couple days after this event. This would include slippery roads, bridges and overpasses.
D.J. Kayser, Meteorologist, Praedictix
---
U.S. Cold Snap Was a Freak of Nature, Quick Analysis Finds. Seth Borenstein reports for AP: "...The study by the World Weather Attribution analyzed weather records dating back to 1880 and found the cold weather that hit a swath of the U.S. from Maine to Minnesota tends to happen once every 250 years. In the early 1900s, it happened about once every 17 years. Climate change has made such cold spells less common and less intense, the group said. That finding agrees with earlier studies, said University of Georgia meteorology professor Marshall Shepherd, who wasn't part of the study. "I think the public frenzy over the recent cold snap illustrated that we are less acclimated to such events," he said in an email. The study, based on observations and statistics, did not find evidence for a popular scientific theory that links melting Arctic sea ice to blasts of cold air escaping the top of the world..."
---
Why Do Hurricanes Have Eyes? Scientists Don't Still Really Know. A story at Live Science is worth a read: "...The important point here is that, at least in this simplified model, a cyclone's eye forms when the storm's internal friction, its speed and the force of the spinning Earth acting on the storm all strike a delicate balance. It's important to note, the researchers said, that these results don't fully answer the question of why eyes form in hurricanes — too many factors are left out, and it's entirely possible their model doesn't model hurricanes as well as they expect. (Their model also definitely doesn't cover other forms of atmospheric cyclones, like tornadoes.) What this research does do, they write, is point the way forward in answering some basic questions about hurricanes..."
Image credit: "The eye of Super Typhoon Maysak looms large in an image taken by European Space Agency astronaut Samantha Cristoforetti on board the International Space Station August 7, 2017." Credit: ESA/NASA/Smantha Cristoforetti.
---
Inside the 4-Day Disaster That Nearly Broke JFK Airport. A convergence of unfortunate events, all snowballing into something truly unmanageable. WIRED.com takes a look at how things went so wrong, so fast: "...Still wondering what happened? The key point to hold in mind is that, like any ballet, air travel is an exquisitely managed operation. Airlines plan their schedules months in advance, down to the minute. They obsess over turnaround times, how long it takes them to get one batch of fliers off a plane and a fresh group in their place. Canceling a flight is never a fun choice, because it means losing two planeloads of fares—one for the original journey and another for the return flight it would have made. Airlines operate with profit margins around 3 percent, which is why they charge you for everything they can think of, and weep when they lose the chance. And this nasty New York weekend, an Arctic blast sent the game of pick-up sticks flying..."
---
A Foreboding Similarity in Today's Oceans and a 94-Million-Year-Old Catastrophe. The Atlantic has the story: "The ocean is losing its oxygen. Last week, in a sweeping analysis in the journal Science, scientists put it starkly: Over the past 50 years, the volume of the ocean with no oxygen at all has quadrupled, while oxygen-deprived swaths of the open seas have expanded by the size of the European Union. The culprits are familiar: global warming and pollution. Warmer seawater both holds less oxygen and turbocharges the worldwide consumption of oxygen by microorganisms. Meanwhile, agricultural runoff and sewage drives suffocating algae blooms. The analysis builds on a growing body of research pointing to increasingly sick seas pummeled by the effluent of civilization. In one landmark paper published last year, a research team led by the German oceanographer Sunke Schmidtko quantified for the first time just how much oxygen human civilization has already drained from the oceans..."
Image credit: "Algae blooms off the coast of New York and New Jersey in August 2015." NASA / AP.
---
The World's First Major City to Run Out of Water May Have Just Over 3 Months Left. A story at Quartz caught my eye: "It's the height of summer in Cape Town, and the southwesternmost region of South Africa is gripped by a catastrophic water shortage. Unless the city adopts widespread rationing, the government says, the taps "will be turned off" on April 22, 2018, because there will be no more water to deliver. This would make Cape Town the first major city in the world to run out of water, according to Anthony Turton, a professor at the Centre for Environmental Management at the University of the Free State in South Africa, who spoke to the New York Times. "It's not an impending crisis—we're deep, deep, deep in crisis." The shortage is the result of a multi-year drought..."
Photo credit: "Extremely rare drought events might not be so rare in the future." (Tim Johnson/Unsplash).
---
Scientists Zoom In on Fast Radio Bursts, the Most Mysterious Signals in Space. The Washington Post has a fascinating article: "...Scientists have been befuddled by fast radio bursts, or FRBs, since the first one was discovered in 2007. They are far more powerful than anything in our own galaxy and so fast and focused that they seem to have shot out of the barrel of some cosmic gun. They are also dispersed — high-frequency wavelengths arrive earlier than lower-frequency ones, indicating the bursts travel long distances across vast expanses of space to reach Earth. Research suggests as many as 10,000 of these bursts occur every day, but so far, astronomers have spotted only a few dozen. Of those, just one has gone off more than once: a signal called FRB 121102, captured in 2012 by the Arecibo Observatory in Puerto Rico..."
Photo credit: "In this illustration, the Arecibo telescope in Puerto Rico detects a flash from the fast radio burst source FRB 121102 emanating from deep in extragalactic space." (Image design: Danielle Futselaar; Photo: Brian P. Irwin, Dennis van de Water/Shutterstock.com).
---
Warren Buffet Shares the Secrets to Wealth in America. Here's an excerpt of an Op-Ed at TIME.com: "...In 1776, America set off to unleash human potential by combining market economics, the rule of law and equality of opportunity. This foundation was an act of genius that in only 241 years converted our original villages and prairies into $96 trillion of wealth. The market system, however, has also left many people hopelessly behind, particularly as it has become ever more specialized. These devastating side effects can be ameliorated: a rich family takes care of all its children, not just those with talents valued by the marketplace. In the years of growth that certainly lie ahead, I have no doubt that America can both deliver riches to many and a decent life to all. We must not settle for less."
---
Be Like Bill Gates and Warren Buffet. If You're Not Spending 5 Hours a Week Learning You're Being Irresponsible. Quartz has the post: "...Why has the world's richest person, Bill Gates, read a book a week during his career? And why has he taken a yearly two-week reading vacation throughout his entire career? Why do the world's smartest and busiest people find one hour a day for deliberate learning (the 5-hour rule), while others make excuses about how busy they are? What do they see that others don't? The answer is simple: Learning is the single best investment of our time that we can make. Or as Benjamin Franklin said, "An investment in knowledge pays the best interest..."
Photo credit: Reuters/Rick Wilking.
---
Your Smartphone Is Making You Stupid, Antisocial and Unhealthy. So Why Can't You Put It Down? Check out the post at Canada's Globe and Mail: "...More than two billion people around the world, including three-quarters of Canadians, now have this magic at their fingertips – and it's changing the way we do countless things, from taking photos to summoning taxis. But smartphones have also changed us – changed our natures in elemental ways, reshaping the way we think and interact. For all their many conveniences, it is here, in the way they have changed not just industries or habits but people themselves, that the joke of the cartoon has started to show its dark side. The evidence for this goes beyond the carping of Luddites. It's there, cold and hard, in a growing body of research by psychiatrists, neuroscientists, marketers and public health experts. What these people say – and what their research shows – is that smartphones are causing real damage to our minds and relationships, measurable in seconds shaved off the average attention span, reduced brain power, declines in work-life balance and hours less of family time..."
---
Top Baby Names for 2017 in Minnesota. The Minnesota Department of Health has details: "Last year there were 70,192 births to Minnesota residents and 70% of those births were to white women. For that reason it is no surprise that the top baby names overall matched the most frequently used names for whites. Top names in other major race/ethnic groups across Minnesota do not overlap much (see list below). Evelyn was the top girl's name overall, as well as the most popular girl's name given by white parents and the second most popular name given by Asian parents. Olivia was number two overall, number three for white girls, and number one for Asian girls. Sofia/Sophia made the top five for both Hispanic and Asian girls, as did Isabella. Isabelle was number five for American Indian girls..."
---
Florida Man Caught With "Full Rack of Ribs" In His Pants. Stories like this temper any desire I have to go to Florida to thaw out. Fox LA reports: "A Florida man with a feast stuffed in his pants was arrested trying to sneak out of a grocery store, police said. Maeli Alvarez-Aguilar, 26, was taken into custody on a petty merchant theft charge after walking out of the Rines Market IGA store in Indiantown on Dec. 15, the Martin County Sheriff's Office told Fox News on Tuesday. An arrest affidavit viewed by TCPalm.com said Alvarez-Aguilar "removed a full rack of ribs from his waistband."
Photo credit: Martin County Sheriff's Office.
---
---
14 F. Twin Cities maximum temperature Monday (shortly after midnight).
23 F. average high on January 15.
34 F. high on January 15, 2017.
January 16, 1921: Winds gusting up to 59 mph create a 'sand blizzard' across southwest Minnesota and a snowstorm across the north.
---
TUESDAY: Sunny, less wind. Winds: NW 7-12. High: 7
TUESDAY NIGHT: Mostly clear. Low: -3

WEDNESDAY: Partly sunny, average temps return. Winds: SW 7-12. High: 24

THURSDAY: Patchy clouds, risk of a thaw. Winds: W 7-12. Wake-up: 18. High: 34

FRIDAY: Mostly cloudy, relatively mild. Winds: SW 5-10. Wake-up: 24. High: 38

SATURDAY: More clouds, better travel day. Winds: NW 5-10. Wake-up: 28. High: 35

SUNDAY: Chance of snow southern/eastern MN. Wake-up: 26. High: 29. Winds: NE 8-13

MONDAY: Flurries taper, colder wind kicks in. Winds: NW 10-20. Wake-up: 18. High: 23
---
Climate Stories...
Primer on Climate Skepticism. Kudos to Alice Bell for some much-needed perspective at tinyletter.com: "It's wrong to assume all climate sceptics are in the pay of the fossil fuel industry. Many are just hobbyists who like to hold what they perceive as outsider views, and/ or have found a community of friends online to talk about the weather, swap numbers and rant about the world with. Plus, climate scepticism comes in a range of flavours, with a mix of things you can be sceptical about. Very few people can accurately be described as outright climate denialists (they generally hate that word themselves too). These days, many sceptics are just 'luke-warm' to some degree or another, in that they believe the basics of climate science but don't think the risk is that big. And we should remember there's a fair bit of diversity of views and fighting within climate science too. Being sceptical, disagreeing and asking questions is part and parcel of how we do science, even if it can also be a great distraction from it too. But all these views - for whatever reason they are held - can be used by those who'd like to keep us hooked on fossil fuels..."
File image: NASA.
---
Daily Record Highs Are Dramatically Outpacing Daily Record Lows. Yes, it's cold outside (today) but step back and look at the big picture, the longer-term (global) trends. Here's an excerpt from Climate Central: "Daily record highs are vastly outpacing daily record lows in the U.S. We will always have warm years and cold years, but in a world without global warming, those warm and cold years would balance over time. However, that's not what we are seeing. According to the 2017 U.S. Climate Science Special Report, after a rigorous reanalysis of GHCN stations back to 1930, 15 of the last 20 years had more daily record highs than daily record lows. The number of daily record highs outpaced daily record lows more than 4 to 1 in 1998, 2012, and 2016. A first look at the data from NOAA/NCEI indicates that 2017 continues the warming trend, as daily record highs are beating daily record lows by a 3.5-to-1 margin so far. Below are some preliminary 2017 stats through the end of November. Visit the NOAA Daily Weather Records tool to get the daily updates on these numbers:
Monthly record highs have outnumbered monthly record lows at a rate of 9.7 to 1

All-time record highs have outnumbered all-time record lows 8.7 to 1

Record high minimum temperatures have outnumbered record low minimums 4.6 to 1..."
---
Unchecked Climate Change Is Going to be Stupendously Expensive. Details via The Week: "...In reality, one obvious way that threat to humanity is going to be expressed is through economic damage. In other words, unchecked climate change is going to be terrifically expensive. Now, its exact cost is basically impossible to predict. Contrary to people who would confidently rely on cost damage estimates for 2100, economic projections tend to be wildly inaccurate over even five years. Furthermore, the amount of damage will depend greatly on what humans do in the future, and there have been few studies on what damage would be like under higher warming scenarios of 3 degrees or above. But we can say the damage is going to be very large — indeed, it's already quite bad. NOAA's National Centers for Environmental Information estimates that 2017 was America's most expensive year for climate disasters of all time, with 16 disasters costing over $1 billion (more than three times the 1980-2017 average, after accounting for inflation) and a total cost of over $300 billion. That's about 1.5 percent of total GDP..."
Photo credit: AP Photo/Marcio Jose Sanchez.
---
Let It Go: The Arctic Will Never Be Frozen Again. Grist outlines new, and startling, research on the state of the Arctic: "Last week, at a New Orleans conference center that once doubled as a storm shelter for thousands during Hurricane Katrina, a group of polar scientists made a startling declaration: The Arctic as we once knew it is no more. The region is now definitively trending toward an ice-free state, the scientists said, with wide-ranging ramifications for ecosystems, national security, and the stability of the global climate system. It was a fitting venue for an eye-opening reminder that, on its current path, civilization is engaged in an existential gamble with the planet's life-support system. In an accompanying annual report on the Arctic's health — titled "Arctic shows no sign of returning to reliably frozen region of recent past decades" — the National Oceanic and Atmospheric Administration, which oversees all official U.S. research in the region, coined a term: "New Arctic..."
The 96-page (PDF) report from NOAA is here.
---
River Floods Will Threaten Tens of Millions in Next 25 Years. In this case we're talking about more river flooding as rainfall amounts/rates increase; this is separate from the risks posed by rising sea levels. Scientific American summarizes new research findings: "Climate change will put tens of millions more people around the world at risk of exposure to flooding rivers over the next 25 years, an alarming new study reports—unless policymakers invest in significant adaptation measures. While rising sea levels can increase the risk of coastal flooding, the study focuses instead on fluvial floods, which happen when rivers overflow their banks. As global temperatures rise, storms and heavy rainfall events are expected to become more severe in many parts of the world, increasing the risk of these flooding events. According to the study, published yesterday in Science Advances, more than half the United States alone will need to double existing flood protections—through the building of new dikes, levees and other infrastructure updates—to prevent additional people from being affected in the future..."
File photo: U.S. Coast Guard.
---
Global Warming Will Expose Millions More to Floods. A story at phys.org has more perspective.
In North America, it could rise from 100,000 to one million.
"More than half of the United States must at least double their protection level within the next two decades if they want to avoid a dramatic increase in river flood risks," said lead author Sven Willner from the Potsdam Institute for Climate Impact Research (PIK).
The increase in river flood risks over the next few decades is being driven by the amount of greenhouse gases already emitted into the atmosphere by the burning of fossil fuels.
When more heat-trapping pollutants surround the Earth, more moisture is held in the air, leading to more rainfall.
Cutting these emissions is crucial to reducing flood risks for future generations.
Read more at:
https://phys.org/news/2018-01-global-expose-millions.html#jCp
---
Analysis: Has There Been a "Greening" of Christianity? The Daily Climate examines the trends: "...There are two main arguments: First, consistent with White's thesis, is that Christianity emphasizes human dominion over the Earth, which undermines any obligation to protect the environment. A second, competing perspective emphasizes the importance of stewardship, and that the Christian faith instills an ethic of "creation care." The relationship between religion and the environment has taken on more practical significance in recent years with the increasing importance of climate change. Many faith-based organizations have become vocal advocates at the local and national level for policies to address climate change..."
---
New York City Sues 5 Oil Companies Over Climate Change. The Associated Press reports: "New York City is suing five major oil companies, claiming they have contributed to global warming. Mayor Bill de Blasio says the city will be seeking billions in the lawsuit to recoup money spent by the city for resiliency efforts related to climate change. The defendants in the city's federal lawsuit are BP, Chevron, ConocoPhillips, Exxon Mobil and Royal Dutch Shell. A BP spokesman declined comment. A Shell spokesman said climate change is a complex issue that should not be addressed by the courts. The other three did not immediately comment. The lawsuit follows the city's announcement that it plans to divest its pension funds from fossil fuel companies..."
File photo credit: "In this Jan. 19, 2016 file photo, a man watches a BP refinery in Gelsenkirchen, Germany. New York City officials say they will begin the process of dumping about $5 billion in pension fund investments in fossil fuel companies, including BP, because of environmental concerns." (AP Photo/Martin Meissner, File).