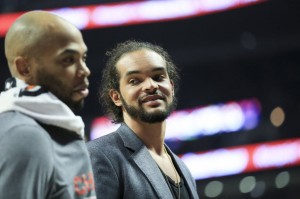 From the moment Tom Thibodeau was hired as the Timberwolves' head coach and president of basketball operations (POBO is a great acronym, by the way), there has been speculation that the former Bulls coach would target former player Joakim Noah in free agency.
Much of the speculation came in the form of "this makes a ton of sense," which of course it does. Noah is a defensive-minded big man who thrived under Thibodeau with the Bulls, and his energy + style of play + leadership would be natural fits on a young Wolves team. He would be nice in a rotation with Karl-Anthony Towns and Gorgui Dieng. Noah has reportedly been spreading the word that he has no desire to return to Chicago, making it pretty clear that once free agency begins July 1 he is fair game for everyone.
The notion of Noah to the Wolves gained recent some steam, though, with this Sporting News report: League sources tell Sporting News that Thibodeau has targeted Joakim Noah, who is an unrestricted free agent and has interest in leaving Chicago and re-joining Thibodeau. When they were together in Chicago, Noah developed and thrived under Thibodeau, finishing fourth in the MVP voting in 2013-14.
Noah is 31 and missed more than half of last season with a shoulder injury, which makes him a risk-reward type of signing depending on the price. He jumped into the aforementioned MVP race thanks in large part to his defense, when he led the league in defensive rating and defensive win shares.
Good defense can be contagious, particularly when it's being played by an enthusiastic veteran. We saw glimpses of that a season ago when Kevin Garnett was playing. Even at his advanced age (he quietly turned 40 a few weeks ago), Garnett was part of the best regularly used lineup the Wolves put on the floor last year, and most of it was because of defense.
But Garnett, who has a year left on his contract, would figure to play about half the minutes of a healthy Noah if KG comes back next year. And Thibodeau is said to prefer his leaders "give the team major minutes and not just sit on the bench."
As such, much of this likely hinges on Garnett. He's slated to make $8 million next season, but he could walk away and retire to move on to the next phase of life — which could, ultimately, involve partial ownership of the Wolves. Signing Noah would quite possibly signal the end for KG, since the former is 9 years younger than the latter and basically fills the same type of role, only better.
But if KG isn't ready to retire and Thibodeau still wants Noah, it will be interesting to see how it plays out. The Wolves have plenty of cap room given that so many of their core players are still on rookie scale deals, but tying up $16-20 million on veteran power forwards off the bench wouldn't be the ideal way to spend it — even if it would only be a one-year problem.
Bottom line, though, is that Thibodeau appears to confirm what many of us think: Noah would be a great fit with the Wolves.