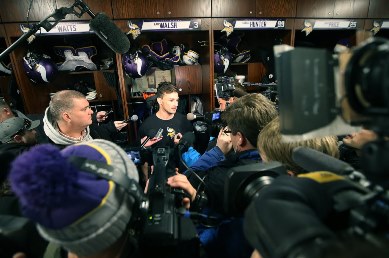 For a second straight day, Vikings kicker Blair Walsh answered questions from the media about the 27-yard field goal he missed near the end of regulation Sunday that almost certainly would have launched the Vikings past the Seahawks. And for the second straight day, Walsh did so with a quiet grace and humility, reminding reporters that he wants us there when he makes the winning kick and understands we need to be there when he misses.
Walsh maintained great perspective throughout his answers Monday. It was truly impressive. As he talked about how he plans to come back more confident than ever, I was struck by this: Minnesota fans have been spoiled, by and large, by kickers over the past decade. And part of what hurt in particular about Sunday — in addition to the stage and magnitude, of course — was the unfamiliarity of having a kicker miss the big one at the end of the game.
For the past decade, Walsh and Ryan Longwell have pretty well solidified what had been a shaky situation at kicker for the Vikings. Both have made their share of big kicks; Walsh, in fact, made two game-winners in 2015 alone — beating the Bears at the end of regulation and the Rams in overtime. It has become nearly automatic for a Vikings kicker to knock it home with the game on the line.
In fact, I looked it up and this is how rare Sunday's miss was: since Longwell came to the Vikings in 2006, there were only two instances in which a Vikings kicker missed a potential game-winning kick in the waning seconds of regulation or overtime of a game the Vikings ended up losing:
*2007, when Longwell missed a 52-yarder at the end of regulation in a 17-17 game against Detroit, which the Lions won in overtime.
*2014, when Walsh was tasked with attempting a 68-yarder against Detroit. It would have been an NFL record if he made it. He didn't, and the Vikings lost 16-14.
That's it. One long field goal and one absurdly long field goal. All the other dramatic finishes when the Vikings needed a kick to win … those split the uprights.
Sunday hurts plenty on its own, but it hurts extra because of just how rare it was and how spoiled we've been by kickers.