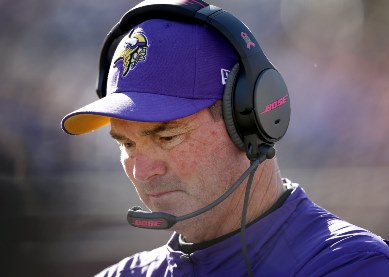 As someone who tends to be an Indignant Minnesotan, I read a recent ESPN.com Insider story/list of the five NFL head coaches who have been most impressive this season with a certain slant. The premise was that Bill Belichick is and always will be No. 1. What followed was the next five, and as is the case with many lists like this my eyes immediately searched for the Minnesota connection (in this case Vikings coach Mike Zimmer).
Alas, he didn't crack Mike Sando's top five. To be sure, the five who did — Ron Rivera, Bruce Arians, Andy Reid, Jay Gruden and Todd Bowles — are worthy. But it was hard for me to imagine even an exclusive list of most impressive coaches that didn't include Zimmer, who has taken a young team with a second-year QB into the playoffs with a chance to be NFC North champs.
It doesn't really matter, of course, but it does reinforce this opinion: when doling out credit for the Vikings' evolution from 5 wins in 2013 to 7 wins last year in Zimmer's first season to 10 and counting this season, there are plenty of stops along the way. But a persuasive argument can be made that at the top you should put the common denominator: Zimmer himself.
The head coach's steady hand has pushed almost all the right buttons since taking over, establishing himself as a coach who commands respect and gets respect but also who gives respect to his players in a genuine way. He has cultivated what looks to be — at least from a distance — a near-perfect team-coach relationship.
He has been given talent to work with — and kudos certainly should go, too, to GM Rick Spielman for assembling a roster that some NFL insiders agree has caught up to the Packers and in fact surpassed the NFC North rivals in terms of talent at many positions.
But Zimmer has also done a wonderful job in his two seasons of identifying the types of players who will excel in his system and helping them become standouts while also elevating to new heights those players whose tenures with the Vikings predate his. He has remained steady in his approach; while some of us (yeah, this is a self-critique) screamed for Cordarrelle Patterson to get more offensive snaps, Zimmer and his coaches stuck with the players they trusted. And the offense has responded. He pieced together winning game plans with his three best defensive players out.
All of his players obviously deserve plenty of credit, too. They are the ones making the plays. You can preach and scheme all you want, but if players lack the mental and/or physical gifts to execute a plan and make plays, very few good things will happen.
But even those of us on record at the beginning of the season with a prediction of a 10-win season, playoffs and a chance to win the NFC North on the final weekend (yeah, I'm praising myself here because so rarely am I right about these things) would agree that in practical terms the Vikings have arrived a year ahead of schedule. Prevailing sentiment was that these two years at TCF Bank Stadium would be building seasons, with the Vikings really ready to make a leap when they moved into their permanent new home at U.S. Bank Stadium in 2016.
Instead, here they are — with a puncher's chance to overtake the Packers and with an anything-can-happen ticket already into the playoffs. It took a total team effort to get here. But if you're looking to put someone at the top, Zimmer is that guy.