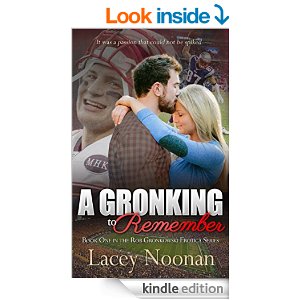 In case you were worried that the Internet era would deprive you forever of some erotic fiction based on Patriots tight end Rob Gronkowski, we are here to assuage those fears.
"A Gronking to Remember," by Lacey Noonan, is here and available for purchase on Amazon for less than three bucks. This is the description:
Leigh has a serious problem. And it's driving a "spike" between her and her husband Dan. When Leigh wanders into the room where her husband and his friends are watching a football game, her life changes forever, because at that exact moment, NFL's one-man wrecking ball, Rob Gronkowski of the New England Patriots, scores a touchdown and does his patented "Gronk Spike"—his notorious monster smashing of a football. When the ball shoots into the stratosphere, Leigh's heart goes apitter-patter and she becomes seriously turned on.
You can imagine where it goes from here.
With the Patriots set to host the Ravens next weekend in the division round of the AFC playoffs, we can't think of a better time to brush up on your Gronk erotica.
One fantastic Amazon reviewer agrees: "When you are a connoisseur of Patriots tight-end themed erotica like I am," the review begins, "it has been a long, dry period these past few years."
Perhaps the best news of all, though, is that this is just billed as book one of an entire series. There is so much more Gronking left to explore.