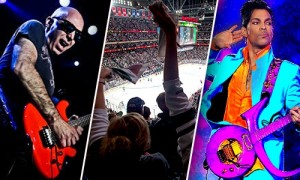 In last year's playoffs, the Wild temporarily changed its goal song from Joe Satriani's "Crowd Chant" to Prince's "Let's Go Crazy" to honor the Minnesota musician who had recently died.
That one-game trial turned into a movement to get the song permanently changed. The Wild asked fans about it in July, and in August the organization announced it was making the switch after fans voted nearly 2-to-1 to make the change to Let's Go Crazy a full-time thing.
But while that's a very clear majority, it's hardly a consensus. There has been some push back from some Wild fans — including Danielle Buck, a University of Minnesota student who on Thursday started an online petition to change the song BACK to Crowd Chant.
Now: anyone can start a petition these days. And I'd say there's about a 0.0001 percent chance the Wild would switch back unless, say, they go scoreless in their first 10 home games and think the new song is a curse. So far in two home preseason games the Wild has scored four goals.
But I reached out to Buck and this is what she had to say about her reasons for starting the petition:
"I didn't really understand why the organization felt the need to honor Prince any more than that nice tribute they had for him during that last playoff game in the first place. He was from Minnesota, yes, but he had no direct ties to the hockey community that I am aware of. But besides that, I went to one of the home preseason games since then and the song seemed much more difficult for the crowd to engage with. Compared to Crowd Chant which heavily relied on crowd interaction, it seemed very awkward and unnatural like nobody knew quite what to do during it. I found myself just standing there after several seconds as did others around me. Maybe things will change as we enter the regular season, but that's my first impression of the song."
Tough but fair, and it should be noted other fans agree with her in the petition comments. Wild fans will get one more chance to engage with the song in the preseason before the real thing.
But having witnessed the frenzied reaction to the song during the Wild's four-goal barrage in last year's playoffs — and being among those who suggested the full-time change in the first place — I have to think the song will grow on those who aren't crazy about it right now.
If you love both Prince and the Wild, by the way, you'll be conflicted next Thursday. The Wild opens the season on the road at St. Louis, while the Xcel Energy Center hosts the Official Tribute Concert to Prince.