The Vikings offense has a lot going for itself. Quarterback Kirk Cousins is playing the best football of his career. Receivers Adam Thielen and Stefon Diggs are torching defensive backs put in their paths. They've got a stable of running backs that, when healthy, can break tackles to make plays.
And coordinator John DeFilippo showed he can, again, orchestrate a game plan that produces on the road against some of the NFL's best defensive lines. The results — 821 combined yards in back-to-back weeks at the Rams and Eagles — are evidence enough.
Meanwhile, Cousins is overcoming the biggest question mark he faced when coming to Minnesota — playing under pressure. The Vikings' top-5 passing attack has thrived in spite of the quarterback feeling heat on more than 42 percent of his throws, according to Pro Football Focus. That pressure rate trails only Houston's Deshaun Watson (45.7 percent) through five weeks of the NFL season.
Cousins impressed again in Philadelphia, completing a remarkable 81 percent of his passes while getting hit (not hurried, actually hit) on 10 of 37 throws. His few "unbelievable" throws, as head coach Mike Zimmer described them, came with multiple Eagles in his face.
"One sack, but he got hit a bunch of times," right guard Mike Remmers said. "We're just trying to eliminate that as much as we possibly can."
It's not all on the line; tight ends and running backs also surrender hurries, hits and sacks. Against the Bills, Cousins held onto the ball too long at times. But no matter the culprit, sustainability is the question. Cousins has proven to be durable entering his 55th consecutive NFL start on Sunday against the Cardinals.
The Vikings are testing that trend as he's now been hit 36 times in five games.
The Vikings survived this once already.
Case Keenum led the offense to an NFC Championship Game appearance despite feeling pressure on nearly 40 percent of his throws last season, the third-highest rate of any quarterback and the most for any offense that made the 2017 playoffs.
One difference is Cousins' immense production so far this season is likely coming at a higher cost. He's taking two more hits per game (averaging 7.2 hits) than Keenum (5.3) did last season.
1. Pressure report: Cousins carried out with precision a quick-pass game plan that opened with 3-step drops, receiver screens and sideways passes doubling as a faux run game against the NFL's No. 1 run stoppers in Philadelphia. DeFilippo peppered in aggressive shots, which Cousins made no matter the amount of green jerseys in his face. He took just one sack, when Eagles defensive end Brandon Graham beat right tackle Rashod Hill with a speed move. When left tackle Riley Reiff exited in the second quarter due to a lingering foot injury, rookie Brian O'Neill stepped in and fared decently in 41 snaps. The bigger issues were Graham vs. Hill and defensive tackle Fletcher Cox's four hits on Cousins: two through Remmers and one apiece against left guard Tom Compton and center Pat Elflein.
When deeper attempts were dialed up, Cousins was as impressive as he's been in a Vikings uniform. Perhaps the best play that went unnoticed was his pump fake to get Eagles veteran Chris Long in the air, then sidestepping Long to find his target for the third-and-1 conversion.
On defense, the Vikings hit Eagles quarterback Carson Wentz about just as much. Seven defenders accounted for eight hits on Wentz that turned into three sacks. Defensive tackle Sheldon Richardson noted 'more freedom' in the game plan that allowed defensive linemen to make big plays. Stephen Weatherly had an up-and-down game filling in for Everson Griffen. Weatherly flashed as a pass rusher, hitting Wentz for the forced fumble on Linval Joseph's 64-yard return for a touchdown. But he was also forced out of position in the run game a couple times and was flagged twice.
2. John DeFilippo cracked open the playbook in his return to Philadelphia. The Eagles' former quarterbacks coach showed off his ingenuity with a 20-yard jet sweep by Diggs that had both tight ends Kyle Rudolph and David Morgan pulling to block smaller defensive backs and leading to the big gain. Rudolph's 8-yard catch that ultimately set up Thielen's 3-yard touchdown was a great man-coverage beating concept. Thielen and Laquon Treadwell ran curl routes, setting picks for Rudolph to run free underneath of Eagles safety Malcolm Jenkins for the big red-zone gain.
Without running back Dalvin Cook, the Vikings' run game needed to get creative. They attacked the perimeter with sweeps and pitches, trying to catch the Eagles defense off guard by running to the boundary side (short side of the field) on two 6-yard gains by Roc Thomas to the outside. Diggs looks fully healthy, showing off his shiftiness when he made two Eagles miss on a 7-yard screen.
3. Anatomy of a play: This Vikings defense needed to stop the bleeding. Back-to-back throws by Wentz netted 51 yards as the Eagles' comeback attempt hit full swing in the third quarter.
On this 1st-and-10 in the red zone, Eagles receiver Nelson Agholor motioned around the backfield — with cornerback Xavier Rhodes following and signaling to Carson Wentz he had the Vikings in man-to-man coverage. That tip seemingly made his first reads to the left, where tight end Zach Ertz (#86) and running back Wendell Smallwood (#28) were sent on out routes with a full head of steam into open turf, vacated by Rhodes.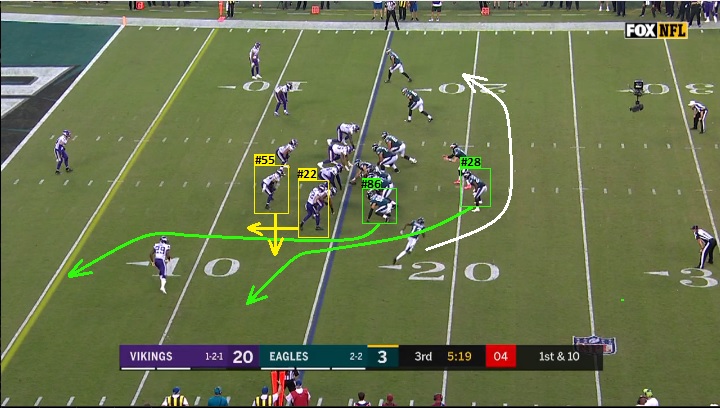 Linebacker Anthony Barr (#55) and safety Harrison Smith (#22) navigate this one to perfection, slipping past each other to cover Smallwood and Ertz despite a route combination designed to entangle the two for a split second.
Hunter sacks Wentz after the Eagles quarterback is forced away from his initial read.
(Credit to NFL Game Pass and FOX Sports)
4. The Vikings took advantage of matchups with the backups. Two Eagles — guard Isaac Seumalo and safety Avonte Maddox — were making their first career NFL starts and the Vikings took notice. Thielen worked Eagles cornerback Jalen Mills and froze Maddox with a double move on the third play of the game, which netted a 24-yard completion. Richardson sped past Seumalo to hit Wentz on the Eagles' first snap on offense. Two plays later, Joseph benched Seumalo into the backfield for a third-down sack.
It didn't really matter which Eagles defensive backs were covering Thielen or Diggs. All three Eagles corners — Ronald Darby, Mills and Sidney Jones — were unable to cover either Vikings receiver with any consistency.
5. Mackensie Alexander's playing time is being minimized. The Vikings' third-year cornerback entered this season expecting to take a big step, but he's yet to do so. Now his playing time is dwindling. Alexander played 70 percent of the snaps in his season debut in Week 2. His snaps have since dropped to 58 percent the following week; 53 percent in Week 4 and that was further down to 47 percent against the Eagles.
Zimmer is getting creative with playing time there, deploying an extra safety — using both Jayron Kearse (36 percent) and George Iloka (12 percent) — as additional slot defenders instead of Alexander. The Vikings began Sunday's game immediately rotating the three while rookie Mike Hughes started at left corner for the injured Trae Waynes.
Kearse "did a nice job there," Zimmer said, and it appears he'll continue to eat into Alexander's snaps at the position aside from the proven veteran in Iloka, who should be ready to contribute whenever he's called upon. Alexander didn't help himself Sunday. He was flagged once, a declined holding penalty committed on Alshon Jeffery as Ertz ran free for a 16-yard gain. Alexander and Xavier Rhodes, who sparingly shadowed Jeffery, both followed Eagles receiver Nelson Agholor on the vertical route that left Jeffery uncovered for his 31-yard gain.
Safety Harrison Smith made the play of the secondary when he drove onto the deep seam route by Jeffery, delivering the blow that knocked out the ball on third-and-20 in the fourth quarter. Smith's hit ended the Eagles' chances of scoring off of the fumble caused by running back Roc Thomas.