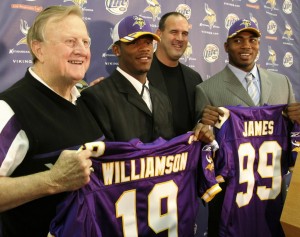 I had a chance to chat Tuesday with Troy Williamson, the 2005 first-round draft choice of the Vikings. He was chosen No. 7 overall with the pick the Vikings got from Oakland in the trade for Randy Moss — forever linking the two wide receivers. While Moss was a legend here, Williamson … well, he was not. He struggled with dropped passes and his confidence sagged. He wound up catching just 79 passes in three seasons with the Vikings before being traded to Jacksonville for a sixth-round pick. By 2010, he was out of the NFL.
These days, Williamson lives in Georgia with his wife and four kids. He has several business ventures and is a motivational speaker. There will be a more complete Q&A with Williamson in Sunday's print edition (and online), but a few of his thoughts seemed good enough — and refreshingly honest — to share ahead of time.
*I asked Williamson about his dropped passes when he was with the Vikings and whether stories of him having bad depth perception — for which he had specific eye exercises prescribed to him — played a role.
"That didn't have anything to do with it," Williamson said of his depth perception. "I had every physical attribute to be an elite or even a good receiver in the NFL. I always go back to my mental game, as far as reading too much into things people were saying in the papers. When I was in college or high school I never read the papers, I never looked at what anyone said. That took a big mental toll on me. I'd say that was the biggest thing. Any player I talk to now that's going into the NFL, I tell them football of course is physical but it's more mental than anything. When I look now at prospects who don't pan out, I go back to my own situation as far as having all the tools but not having it there mentally when it came down to it."
*Williamson's rookie season, 2005, was the year of the Vikings' Love Boat scandal. Here's what he remembers from that time:
"It was mind-boggling because that was really the first time I saw how the NFL life is and some of the stuff that goes on," he said. "It was kind of blew my mind, some of the stuff that could actually happen in the position that we were in. It actually kind of put me on a path to stay away from some stuff like that because it will get you put in the spotlight that you don't want to be in."
*In Williamson's final season in Minnesota, head coach Brad Childress took away a game check because Williamson went to South Carolina after his grandmother died. It created enough acrimony that when Williamson was with the Jaguars a year later he said he wanted to fight Childress.
"For me, it was about not understanding the importance of family and some of the things I had going on back home," Williamson said. "And I never really got a true apology for that. He went back and gave me the game check back — which I donated to charity to show it wasn't even about the money — but that was because the veterans like Antoine Winfield and Bryant McKinnie went back at it. They know the importance of family and other things bigger than football. So that was the time that I lost all respect (for Childress). After that it was tough playing for him, and I was kind of glad I got to leave Minnesota and get out from under him."