This is a guest blog post by Ryan Carey, of My 3 Quotes.
How important is a well-known name brand for you? That is a big question and the answer greatly affects our buying decisions. For example, when several in-home window presentations by high-pressure salespeople are giving you a headache, do you get generic ibuprofen or do you pay a little extra for Advil? The generic brand shows the same percentage of ingredients, but this is a huge headache so maybe its best to be on the safe side?
Over the years, the most common question I get is, "So how does this window compare against Andersen, Marvin, or Pella?" I could show the comparable ingredients or the same U-factors, but some folks are just more comfortable with that well-known name brand. They know the manufacturer has been around for a long time and therefore has made many customers happy. They are also concerned about the company being around in the future for warranty issues.
If you read Window Replacement: Part 1, you know how important I believe that U-factors are in new windows. In Part 2, I went through the pros and cons of different window materials and install methods. For Part 3, we will focus on the Big 3: Marvin, Andersen, and Pella. I will even add a 3.5 for Weather Shield. You won't normally hear unbiased opinions on these windows, because typically the person doing the writing has a particular window they are trying to sell.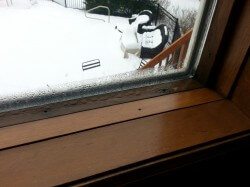 To begin on the straight talk, I just want to say every one of these companies' windows were pretty awful in the 70's, 80's, and even into the 90's before Low E, Argon filled glass came along. This had not as much to do with them, as it did with the struggle of finding a wood interior window that worked with the new technology of double pane glass and aluminum spacers. EVERY company had issues with that. Hardwood was no longer being used for windows; it was mostly soft, quick-growth pine. The two panes of clear glass were separated by an aluminum spacer on the perimeter, which transferred in the cold from the outside because the aluminum is very conductive. That area would develop condensation, freeze, thaw, and destroy the wood where it meets the glass. Sometimes the water got into the frame and completely rotted it out.
I kept running into the same thing with homeowners. If their windows from that era were Marvin, they hated Marvin and would never use them again. If they had Andersen, they hated Andersen and would never use them again. If they had Pella or Weather Shield, well, you can guess. This is why you will find a lot of negative reviews about every kind of window out there. Unless the homeowner had very good humidity control, the customer was in for trouble with wood windows from that era in our state. Many negative reviews also were the result of bad installs.
Times have changed; spacers have changed to less conductive stainless steel, U-shaped tin steel, and foam polymers (my personal favorite-virtually no conduction of cold). Low-E and Argon glass has also hindered temperature transfer and greatly cut down UV rays that help damage the wood. While the performances have greatly improved and the wood will last longer, I still refuse to put a real wood window with any type of metal spacer in my house. Even if it is just a little maintenance from time to time with some steel wool and varnish, it is more than I want to do. Many people love real wood and feel different than me on that topic.
Times have also changed with the window market. Back in the day, these big window brands were mainly new construction, and none of them used to custom size for remodel openings. Times were so good they would actually tell customers, "YOU alter YOUR openings to fit OUR windows." Needless to say, they have all jumped headlong into the custom-sized replacement window market at this point.
It shouldn't be a surprise that Marvin and Andersen are the most asked for windows from customers, considering both companies reside here in Minnesota. Pella (Iowa) and Weather Shield (Wisconsin) are a ways back in the second tier. Maybe its the thought of Hawkeye, Badger, or Packer fans making windows for your house? While people do like to buy from home state companies, the window quality and reputation certainly play their roles, as well.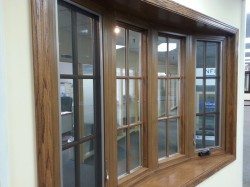 Marvin has been making windows since the 20's and they have changed along with the times. Their original double pane wood window is clad with aluminum on the exterior. They have also gone to fiberglass on the exterior with their Integrity line (real wood interior) and they make Infinity, an all-fiberglass line that has an option for a stainable interior (not real wood). Marvin is the one company out of all mentioned that have completely refused to use vinyl in any window line, so they pitch strongly against it. Their Ultimate Double Hung is a beautiful window and the price reflects it.
I'm a big fan of Marvin; I believe in the craftsmanship of their entire product line. If I had to choose one of their windows, I would go for Infinity. Fiberglass is as good as it gets; couple it with their Everwood interior for the look and stainability of wood without actually having to worry about wood decay and you have me sold. It is definitely on the high end of pricing, as you would expect from a high-end option. My only regret with Marvin is that they still use metal spacers, which keeps me from recommending their real-wood lines. ANDERSEN: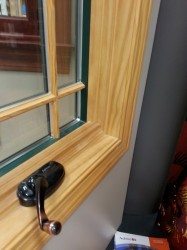 Andersen is the only company of the ones we're discussing that uses wood wrapped in vinyl on the exterior. The wood strengthens the vinyl, leaving an exterior that is low maintenance yet rigid. Andersen's top line, the 400 series, is high-end priced as well. I would take a Marvin over Andersen in the double hung department (I like the traditional look), but I would take the Andersen casement over a real-wood Marvin. They wrap the entire sash (the part that cranks out) in vinyl so there is no trouble spot of wood against glass. You do see the outline of vinyl on the interior, but the profile is narrow enough that most people don't mind. It's well worth it to avoid the potential wood decay. Andersen also makes an all vinyl wrapped patio door in their PermaShield line if you want to avoid exposed wood on the interior.
So what about Andersen Renewal? Talk about a company that advertises everywhere! Renewal by Andersen is it's own company, separate but obviously owned by the main company. Renewal products are made from a composite material called Fibrex, which is part wood and part vinyl. This is very smart by Andersen, as they use up all the by-products of their other lines (which are made of wood and vinyl separately). Renewal products are not available to contractors like their other lines; you must purchase the install straight from Renewal. They feature a more rounded, contemporary look and customers I've ran across have been very positive on the product in their home. They offer stainable interiors or the low-maintenance Fibrex. With pricing being quite high-end, always remember this: NEVER tell a salesperson from another company that you're also getting a quote from Renewal, even if you are. Almost every salesperson knows where Renewal is priced, so this tells them they can price their own product higher than normal yet still be less than Renewal. Just tell them you are getting several quotes and leave it at that.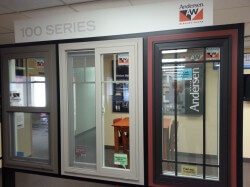 Andersen 100 series is a very intriguing window line. Some call it "Renewal Lite" since it is also made of Fibrex. The only option is a white interior, so that takes some people out of the mix right off the bat. However, if white on the inside is OK by you, this is the absolute best opportunity to get a big name window at a no-name window price. I love their sliders and casements. The one caveat is their single-hung; that thing is a nightmare. Since the top sash is stationary, it is called a single hung (not a double hung). That's not the problem. The problem is it doesn't have the typical tilt-out feature for cleaning; it has a metal peg that you flip out before lifting the sash up. When the sash goes up, the peg should push the sash out of the frame for cleaning but many times the peg flies out instead. If you don't need to clean from the inside, then don't worry about it. If you do, stick with the sliders and casements and you'll get a great value.
Well, Pella certainly took a "we're not fooling around" approach to jumping into the remodel market. They make three series of wood windows with aluminum cladding, a fiberglass line, and three levels of all vinyl windows! On the vinyl side, they can be judged right along with other vinyl windows with the bonus that they carry the Pella name. My advice remains the same as with other vinyl-check the U-Value, stick with the top level they offer, and you'll be happy. They also make an all-fiberglass window in Impervia, with solid color interiors available.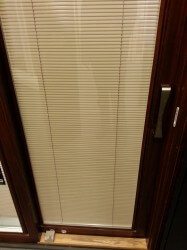 Pella makes a finely detailed wood line called the Architectural Series, which is a well-crafted window with a higher price tag. Their Designer Series is option-friendly, and one of the only lines that has really perfected the "blinds between the glass panes" option. If you want blinds in your glass instead of on the inside of your home, this is the best line for you. Pella's entry level wood window is Proline, which I am not a fan of whatsoever. A small space between the glass along with an aluminum spacer means bad news for the wood. I've seen these windows in tough shape after ten years, even with the Low E glass. If you like Pella and want wood interior, pay the extra for Architectural or Designer.
I also have to bring up Pella's patio door lines. They are well-made, but they are the only company I've ever seen that puts the patio screen on the inside, not the outside. They say this protects the abuse of an exterior track and they put a nice wood finish on the screen, but it is impractical for its main use- keeping bugs out. Imagine a summer night where you have 200 mosquitoes on your screen, thirsting for your blood like a pack of zombies. When its time for bed, you have to open the screen to close the outside panel of the patio door, then quick close the screen again so they don't all get in. Now they are all trapped between the two panels. I'll never get that design.
WEATHER SHIELD: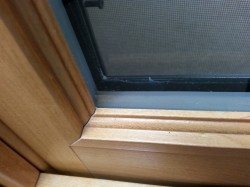 Why am I bringing up Weather Shield? Not exactly a big name compared to the other three with the big advertising budgets. However, I bring them up because they have embraced the foam spacer technology while the others haven't. I mentioned I wouldn't put a wood window with a metal spacer in my house. Well, here is a well-made wood window with a foam spacer. For someone who despises even a little maintenance on windows, I personally would still avoid wood. However, if I had to do real wood, I would use Weather Shield Aluminum clad wood windows with the foam spacer in my house. No metal equals less condensation where the glass meets the wood. Weather Shield also makes wood windows with vinyl and fiberglass exteriors, but I am not a huge fan of the overall design of those two products. Their bread and butter is the aluminum-clad, and I would recommend that window to anyone who wants to stick with real wood.
So, that is my opinion on some of the pros and cons of the big 3 plus 1 (Weather Shield). I hope you find it helpful. If you want more detail or have more questions on any exterior product, I am available by phone or e-mail.  Contact information is on our website below.  Next time we will explore the storm damage insurance process- what to look for and what to avoid at all costs!

Ryan Carey has 15 years of experience in exterior remodeling for Twin Cities Homeowners and Property Management Companies.  He is the owner of "My 3 Quotes," a company that provides the free service of collecting 3 competitive home improvement bids for customers.  For more information, visit www.getmy3quotes.com for free home improvement estimates.