A Twin Cities grandmaster fell a half-step behind in the competition for the national chess championship Friday by losing what, on paper, should have been one of his easiest games in the tournament.
Wesley So, a 21-year-old from Minnetonka, lost to 14-year-old Grandmaster Sam Sevian, of Boston, who is rated far below him.
So, whose victories in the first two rounds of the U.S. Chess Championship had raised him to the No. 5 ranking in the world, now falls behind the two co-leaders, who each have two wins and a draw.
So's game was a sharp tactical battle, with his pieces initially swarming around Sevian's king. But Sevian's pieces were wound up and ready to spring forward if So miscalculated, which he did after Sevian sacrificed a rook for a less valuable knight in order to open up lines of attack. Grandmaster commentators said there was "craziness" and "madness" on the board at that point because the possibilities -- opportunities and pitfalls -- were so complex.
Here's the point at which Sevian, to move, played Rcxg5.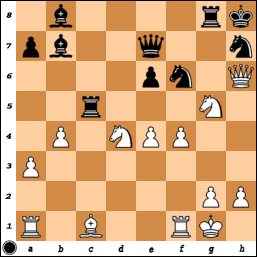 There followed: 23. fxg5 Be5 24. Bb2 Ng4 (attacking the queen) 25. Qh5, and after 25...Qxg5 and 26. Qh3, white is losing, according to computer chess engines.
So said after the game that he shouldn't have chosen the dangerous opening line he entered without understanding its subtleties better.
So's challenge now is to put the loss out of his mind overnight, because on Saturday he faces Grandmaster Hikaru Nakamura, the world's No. 2 player who has been in peak form in recent months and is one of the tournament's co-leaders.
There are eight round left in the competition at the Chess Club and Scholastic Center of St. Louis.
Dennis J. McGrath