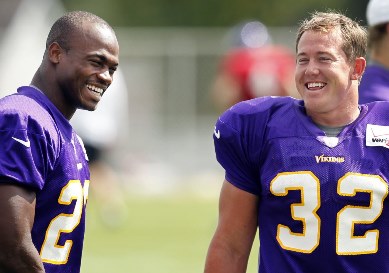 Prop bets are ridiculous things, but those who make the odds are often in the know. This is proven year after year, when Vegas keeps making more money and the general betting public gripes about woulda coulda shouldas.
As such, maybe we should pay attention to some prop bet odds from the Football Betting Center to help give us some instruction on what might happen in tonight's first round of the NFL draft.
For instance, the odds of QB Jameis Winston and Marcus Mariota going 1-2 (either order, but likely Winston first) are 1 to 2. For every $100 won, you'd need to wager $200. In other words, the draft doesn't really get interesting until pick three (though a trade or a non-QB pick in the top two could change that).
For Vikings fans, the most interesting prop is about Adrian Peterson. The site puts the odds at 7 to 2 that Peterson will be traded during the draft. Essentially, they think it's a long shot, but not a ridiculous long shot.
While I still think Peterson will be traded, I know I'm in the minority. Thank goodness we'll all know soon enough.
Also, consider this an opportunity for shameless self-promotion: myself and Master Tesfatsion will be going live at 7 p.m. on startribune.com with a Vikings-focused draft livestream, and we'll be staying on through the Vikings' first-round pick (yes, even if they trade down). We're both wearing suits, which is maybe enough to convince you to watch even if you don't like football?