Part I
Looking for hope up north
Robert Fonteno was calling on God.
He had found his way out of the darkness into a life of Christian faith upon moving to Minneapolis from Houston. Over the years he tried to aid the passage of fellow Texans riding on the same prayers.
But he no longer paid the way of anybody who asked. After seeing some fumble the chance to better their lives here, Fonteno came to rely on divine guidance over several days when answering requests for help.
This time, the call had come at the end of a long day hauling freight, as he was retiring for the night at a truck stop. The Houston man on the line needed Fonteno to buy his bus ticket for the journey 1,200 miles north.
His name was George Floyd, and he was a legend in their old neighborhood. Fonteno once thought his friend was destined for stardom. Now, Floyd claimed to have no money.
"If I stay down here," he told Fonteno, "I'm going to die … I'm pretty much all out of options."
Both men came of age in a metropolis steeped in segregation and inequality, a city where, as Fonteno saw it, there was always a distinct sense of knowing one's place and staying there.
The hospital where Fonteno was born was named after the president of the Confederacy. That year of 1967 saw uprisings over racial injustice across America, and in Houston, police shot 3,000 rounds into a dormitory where students from the historically Black Texas Southern University had barricaded themselves.
Houston's Third Ward erupted again three years later when a Black man died in police custody after fleeing a traffic stop. The two officers were acquitted of murder charges. During protests over police brutality, a shootout between cops and a group of activists modeled after the Black Panthers led to the killing of a Black leader, and a jury declined to indict the officers.
Fonteno was too young to understand, but he grew up listening. Listening to his parents question the police side of the story in that gun battle. Listening to his elders' tales of sharecropping in Louisiana, where they talked of living in shacks with no running water and scrambling to survive when the farm's owner refused to pay them for their cotton crop one year. "Those were hard times, boy," his grandpa said.
Houston voted to desegregate schools over the protests of white parents in 1970, and Fonteno was bused for several years to a white school. He learned to temper his mannerisms as a tall Black boy, lowering his voice and not patting white acquaintances on the back when he spoke.
The racial order could be as unforgiving as the sun that blazed over the flatlands of Houston, but the football field was a place of refuge.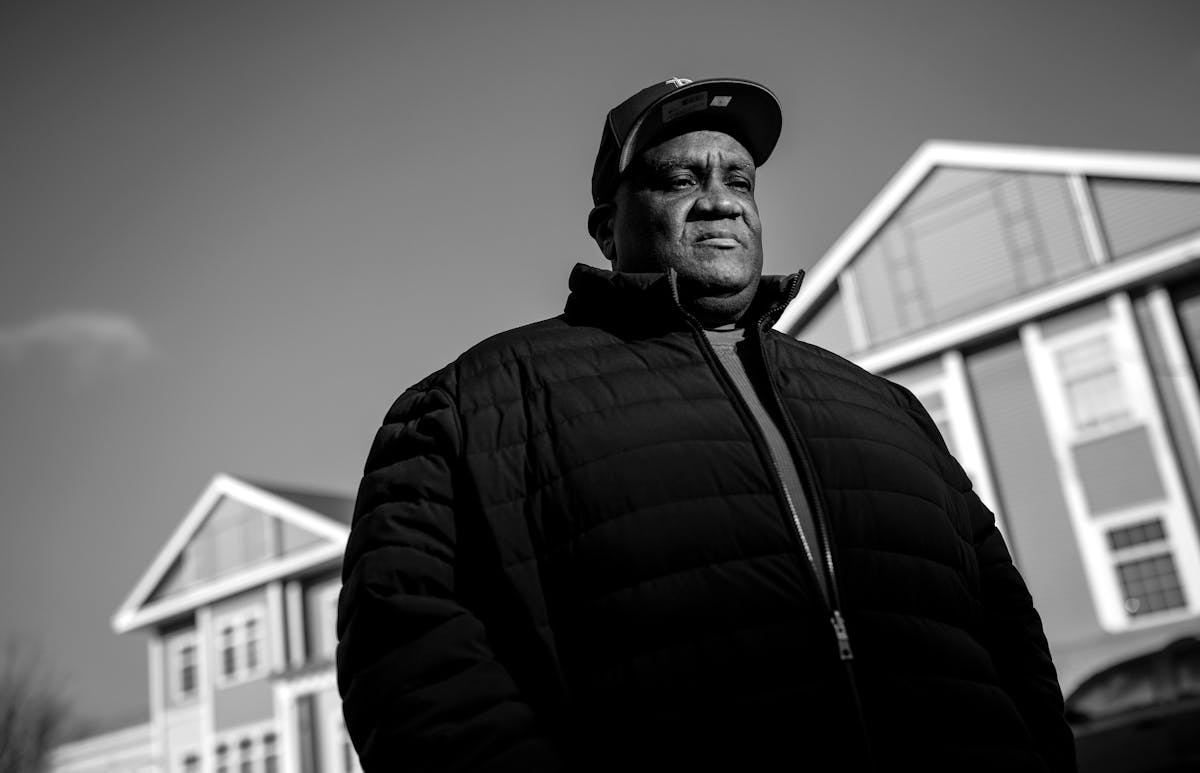 Fonteno started playing football when he was 7, his father pushing him to secure an athletic scholarship to college. Fonteno knew that he had to go to Jack Yates High School if he wanted to play among kings.
The Jack Yates Lions twice came close to winning a state championship during Fonteno's teen years. He made the team and by 1985, when he was a junior, the Lions were overwhelming their competition, triumphing over the lesser resources of their neighborhood with athletic force and grueling drills.
Players lifted weights in a wood shack with no air conditioning, using hand-me-down equipment donated from local gyms. Coaches made them run 2 miles after each practice, calling out from the sidelines to pick up the pace.
The Lions were 15-0 when they played for the state championship. Their opponents, the Permian Panthers from the booming oil town of Odessa, were four-time champions with much fancier facilities. Their exploits would later be chronicled in the book "Friday Night Lights," which was adapted into a movie and television series.
Rapper LL Cool J had just released "Radio," his first album, and Fonteno and his friends on the bus sang along the whole way to the Dallas suburbs, where the game would be played at Texas Stadium several days before Christmas. The lyrics of "I Can't Live Without My Radio" matched the mission of the team dressed in crimson and gold:
My story is rough,
my neighborhood is tough
But I still sport gold,
and I'm out to crush
Yates routed Permian 37-0, becoming the first historically Black school to triumph in the state championship's large-school division since competition was integrated in 1967. Texans raved about the game for decades, deeming the 1985 Yates Lions one of the best high school football teams in state history, and a handful of players went on to the NFL.
Fonteno never got a college scholarship. His parents split up, and he, his sisters and their mother moved back to the Third Ward. During his senior year, Fonteno got arrested for car theft, and he spiraled into disillusionment.
He still attended his alma mater's football games over the years and was impressed by a new star athlete's prowess one Friday night at Barnett Stadium in the early '90s.
A week later, Fonteno ran into him at the corner store. The player's sturdy, 6-foot-6 frame was unforgettable, and he stood a good 5 inches above Fonteno.
"You're Number 88? Big Floyd, right?"
"Yeah, that's me," Floyd said.
"You played a big game last week. All you've got to do is stay out of the streets and stay focused, and you'll make it."
Fonteno, six years older than Floyd, believed he had already missed his chance. Crack cocaine was ravaging urban neighborhoods across America and Fonteno had "jumped off the porch," as the neighborhood guys put it, hustling drugs in the streets.
He knew Floyd's athletic talent far surpassed his own, and the young man struck Fonteno as humble.
Fonteno was sure he would go far.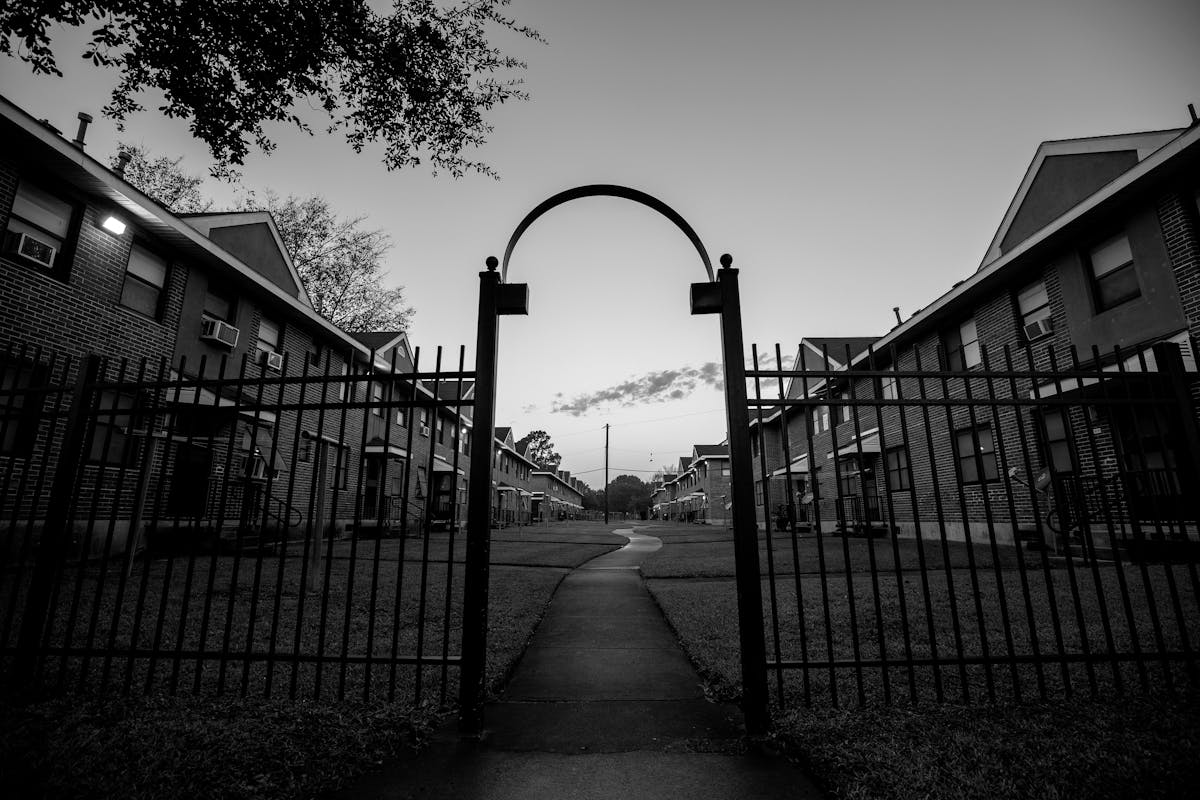 Larcenia "Cissy" Floyd grew up in North Carolina in "an old, raggedy, broke-down shack," as her younger sister Angela Harrelson described it. They were raised in a family of 14 children by parents who toiled as sharecroppers in the tobacco fields for $2.50 an hour, pausing only for a lunch of crackers and honey buns and peanuts, laboring through aches and hunger until dusk.
Their father landed a job at a barbecue restaurant that kept whites in the front and Black employees in the back, wearing the scent of smoke home from working the hog pit. The children encountered hostile white teachers and classmates in the newly desegregated schools and in establishments labeled "whites only." When they went to the grocery store for potatoes, they were given the worst ones.
Racism shadowed their lives, but their mother imparted love and hope and Christian faith, encouraging them to do their best with what they were given. Cissy carried that legacy with her when she moved the family from North Carolina to Houston in 1977 after splitting with her children's father.
George Floyd, her first son, was 4 years old.
They settled in Cuney Homes, the city's first public housing project, a plain brick complex that opened in 1938. The Third Ward was home to a rich African American cultural and musical tradition, with a bustling commercial corridor. It was also a font of civil rights activism: Texas Southern University students in the ward staged Houston's first sit-in at a lunch counter in 1960.
But when legal segregation ended and middle-class and well-to-do residents moved out, the community sank into poverty and decline. The neighborhood was so rough that Harrelson grew a little nervous when she visited her sister. She felt Cissy Floyd couldn't seem to catch a break, and she sent toys and money for the kids over the years.
Children in the Floyd home crowded into the same beds. They washed their socks and underwear in the bathroom sink and dried them on the water heater or inside the oven. Cafeteria workers gave Floyd and his friends extra plates of food. The boys on occasion would visit the hamburger stand where Cissy worked and get free meals, but they sometimes went to bed hungry. Senior classmates handed down tennis shoes and clothes. Floyd and his buddies often borrowed and lent one another a few dollars to get by.
Miss Cissy, as she was often called, was a beloved fixture of Cuney Homes. For all her struggles, she was known as lively and funny and generous, with a wide-open heart. When the mother of Floyd's friend went to prison, Cissy took him in for several years, as she did for a series of neighborhood youth. When the boy cut his foot, Cissy applied a homespun remedy of a spiderweb and sugar.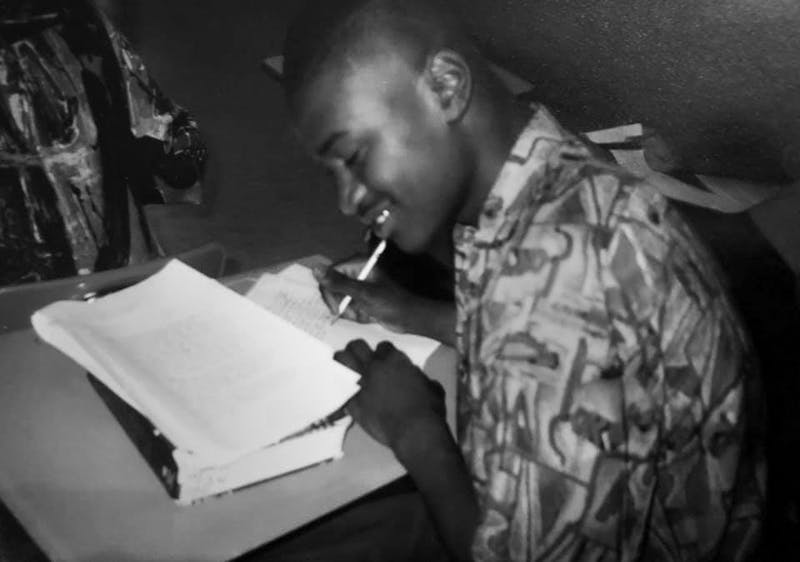 People always said George Floyd was just like Mama.
His family called him Perry, his middle name, and friends knew him as Floyd or Big Floyd. Floyd was the middle of his mother's five children — he had two older sisters and two younger brothers — but he was regarded in some ways as the man of the house. He looked the part early on, standing 6 feet tall by middle school.
Floyd didn't seem to walk through the world with the wariness one might expect of a boy carrying great responsibility. Those close to him recalled that his humor, kindness and magnetism won him friends and admirers everywhere he went; younger boys looked up to him, and older boys looked out for him. His brother Philonise described Floyd as a general: A line of people waited to greet him every time he went outside, and he made them feel important no matter their stature.
Floyd's tall, skinny frame favored the basketball court, and he played on the high school team. But Yates was best known for football, and friends talked him into trying out.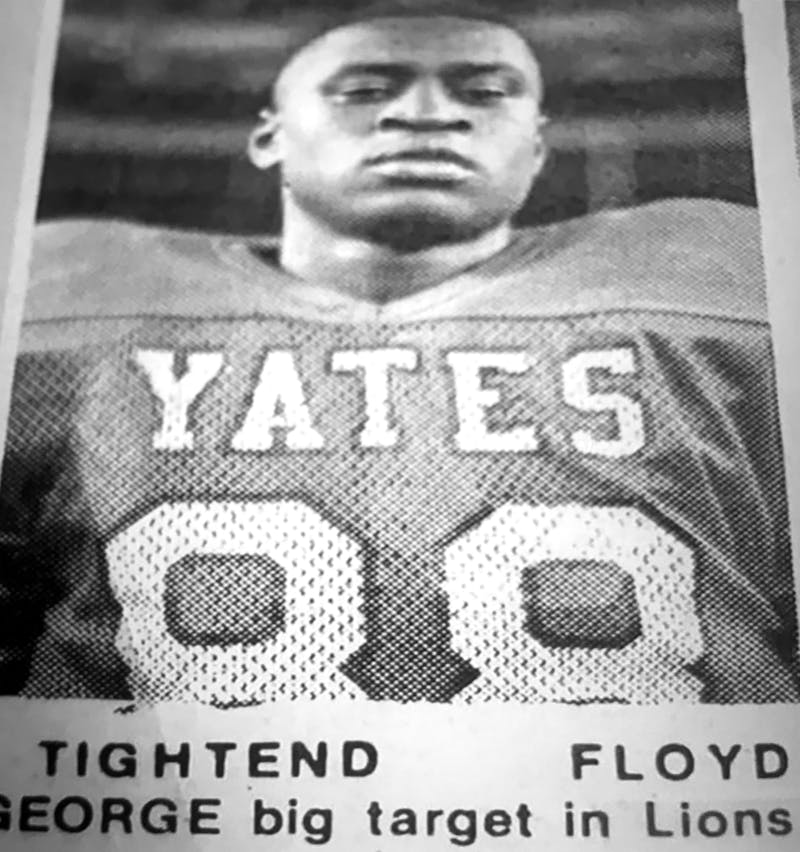 Yates football coach Maurice McGowan was impressed with Floyd's athleticism and moved him up to varsity his freshman year. Still, he could not figure out where to play him at first. Floyd seemed too tall to be a wide receiver, and he lacked the naturally aggressive attitude of his best defenders. The coach tried him at tight end, but found that Floyd did not like blocking people, either. During one practice, Floyd had his teammates falling down laughing when, after catching a pass, he threw the ball at the linebacker to avoid getting tackled.
Floyd's biggest strength was his ability to catch a football and run deep; because of his height, McGowan believed, other players did not realize how fast he was.
Just before the start of their junior year, a star athlete on the team, Carl Owens, was shot to death in an apparent case of mistaken identity. He was a well-liked resident of Cuney Homes who was a grade above Floyd. His killing cast a somber mood over the team. "We're doing this for Carl," the players said before each game.
The last day of their junior year, Floyd and some friends gathered at a spot they called "the hill," sprawling on the grass near some trees to find respite on a sweltering afternoon. They talked about their dreams in life. Some planned to join the military; others talked of college. Jonathan Veal recalled Floyd vowing, "I'm going to be big — I'm going to touch the world."
That fall of 1992, Floyd and the Lions stormed their way to the state championship game for the first time since 1985, playing the Temple Wildcats in front of 22,500 people in Austin.
"There's pressure at Yates when you line up and put on that crimson and gold," McGowan told the Houston Chronicle days before the big game. "There's pressure to win at Yates. We must win."
Floyd made three catches for 18 yards. It was his senior year, his last chance to claim the crown.
Yates lost 38-20.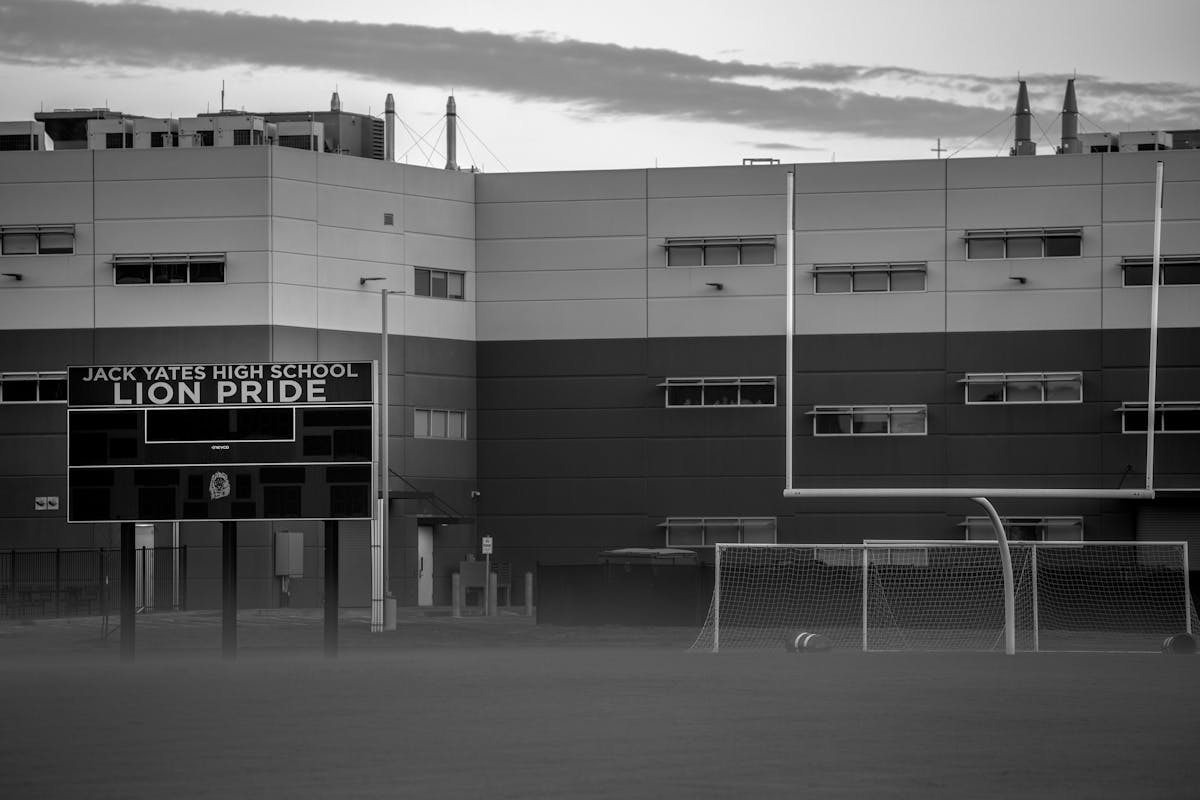 "Man, it's over," Floyd and Veal said to one another again and again after the buzzer sounded.
Floyd and his teammates sobbed in the locker room. But on the bus ride back to Houston, Floyd was already cracking jokes, trying to cheer up his fellow Lions.
The Houston Chronicle still praised him for making a mark on local football that season. Floyd also remained a force on the basketball court, and South Florida Community College recruited him to play power forward. After completing the two-year program, Floyd enrolled at Texas A&M in Kingsville, but he dropped out before completing his degree and returned home.
Friends thought Floyd grew overwhelmed by the need to help out his family, all while having little guidance on how to advance beyond the world he knew. By then, Harrelson, his aunt, was living in Eagan. She would see Floyd over the years at Thanksgiving dinners in Houston, when the family would dance and reminisce over soul food.
She wondered if the pressure had begun to consume him: striving for athletic stardom while trying to climb out of poverty, having so many people looking up to him even as he felt like he was falling short. He was trying to find his way as a young Black man beset with disadvantages in a neighborhood overrun with drugs.
"Sometimes that community can swallow you that you're trying to help," Harrelson said. "It can swallow you if you're not strong enough because that's what you're surrounded by and you're looking for an easy way out, and I think he got caught up with that struggle."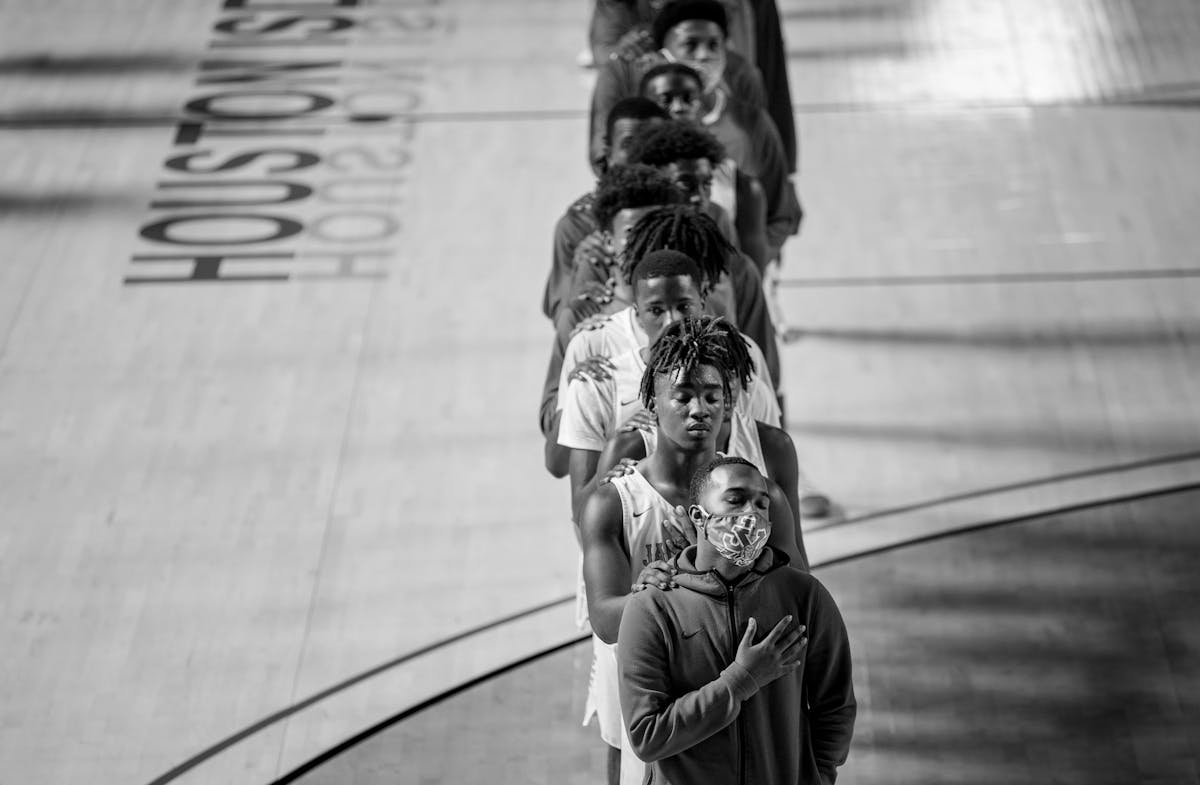 At first the buyers would be well-groomed, sporting neat haircuts and several rings. They worked jobs and drove respectable cars. Six months later, Fonteno saw them walking the streets on the backs of their shoes, wearing wrinkled clothes, living out of old, broken-down cars, everything they had gone.
Crack cocaine had arrived in the Third Ward, and Fonteno began selling it in 1987.
He started smoking excess crumbs; soon he was smoking rocks; then he was no longer dealing for profit but to support his long, mad chase of the euphoria of that first high. The crack trade grew so violent that when he saw men gun one another down steps away from him, scarcely anybody on the street broke their stride.
Cops frequently swept through the community, hollering, "You know what time it is, up against the wall!" Fonteno and a long line of men assumed "the position" — both hands on the wall, feet back, shoes off — so that police could pat them down.
Fonteno served two sentences in the early 1990s for selling crack. One judge demanded to know how a player on the 1985 championship winning team had ended up in his courtroom.
"What went wrong?" Fonteno recalled the judge asking.
He had to admit, privately, that at least part of his decline came from the regret of having blown his chance at a football scholarship, and once he was a "marked man" by the law — that is, a felon — his ambition fell away. Fonteno found some success as a truck driver during a long stretch of sobriety, but he fell back into addiction and pleaded guilty to evading arrest in 2007. He was sentenced to prison the following year for possession of less than a gram of cocaine.
When he got out in 2009, he called a high school friend, Reginal Smith, who had resettled in Minneapolis a year earlier to get sober. Smith had grown up down the street from Floyd and as a child helped Floyd's family move in to Cuney Homes to make a few extra dollars.
How, Fonteno asked, could he get clean in Minnesota?
The answer: Go see Pastor Riles.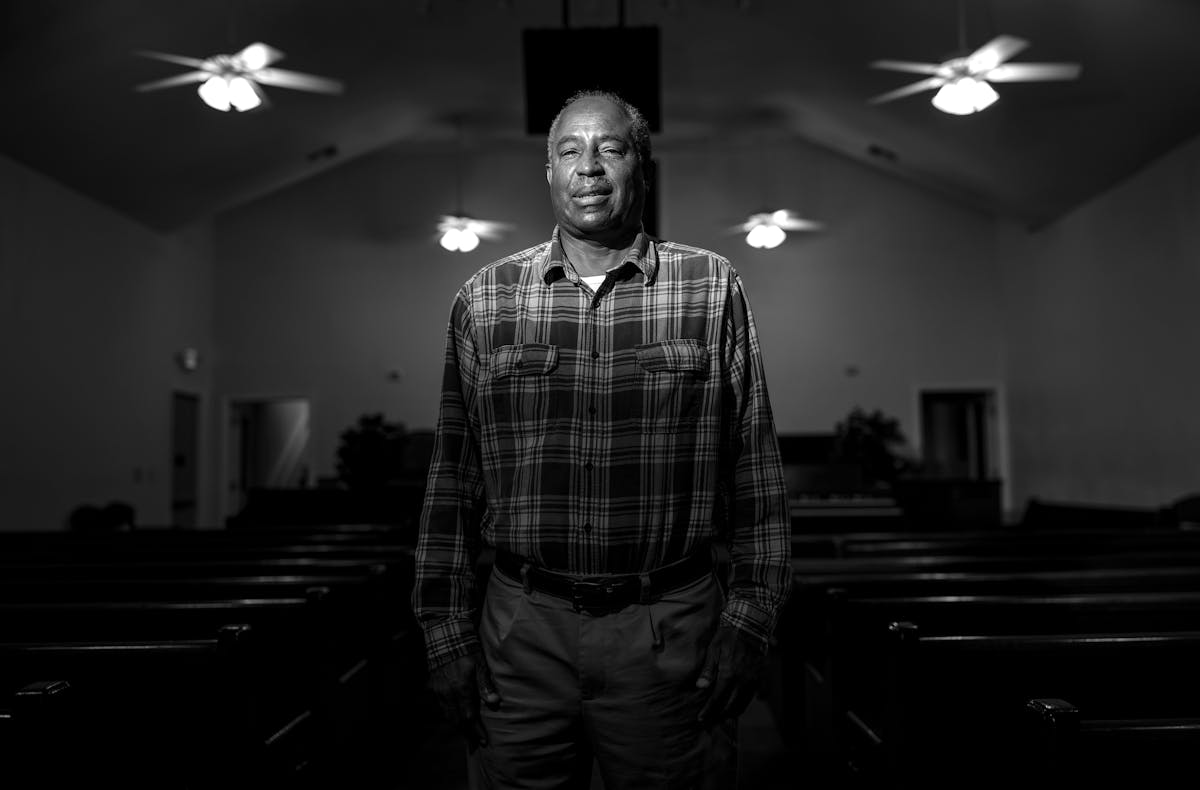 John Riles moved to the Third Ward from the Houston suburbs in 1999 to minister to those with the greatest need. As a pastor, he drew inspiration from the biblical parable of the good Samaritan to start what he called a "people rescue" for the legions of addicts he saw on the streets.
His modest church occupied the same street where Fonteno got his start dealing drugs. The sign out front said, "Your changing station."
Texas offered limited addiction rehab services for patients who were poor and lacking health insurance, so Riles had established informal partnerships with facilities in other states, including Minnesota, that offered longer-term and more comprehensive treatment under publicly funded insurance. Many of these states also offered more extensive job training for ex-offenders.
Sending people away had the added benefit of keeping them far from their drug hookups and other disreputable influences back in Houston. The help-seekers were so broke that Riles was always looking for donated suitcases.
Riles knew society viewed the folks who came to see him as a waste, and that the men themselves felt like they were in a chasm so deep they could not escape. He offered them a way out but stressed that he had no interest in sponsoring failure. Riles believed in moving quickly. If people waited too long to leave, they might go back to their old ways.
Riles was on a mission to save lives.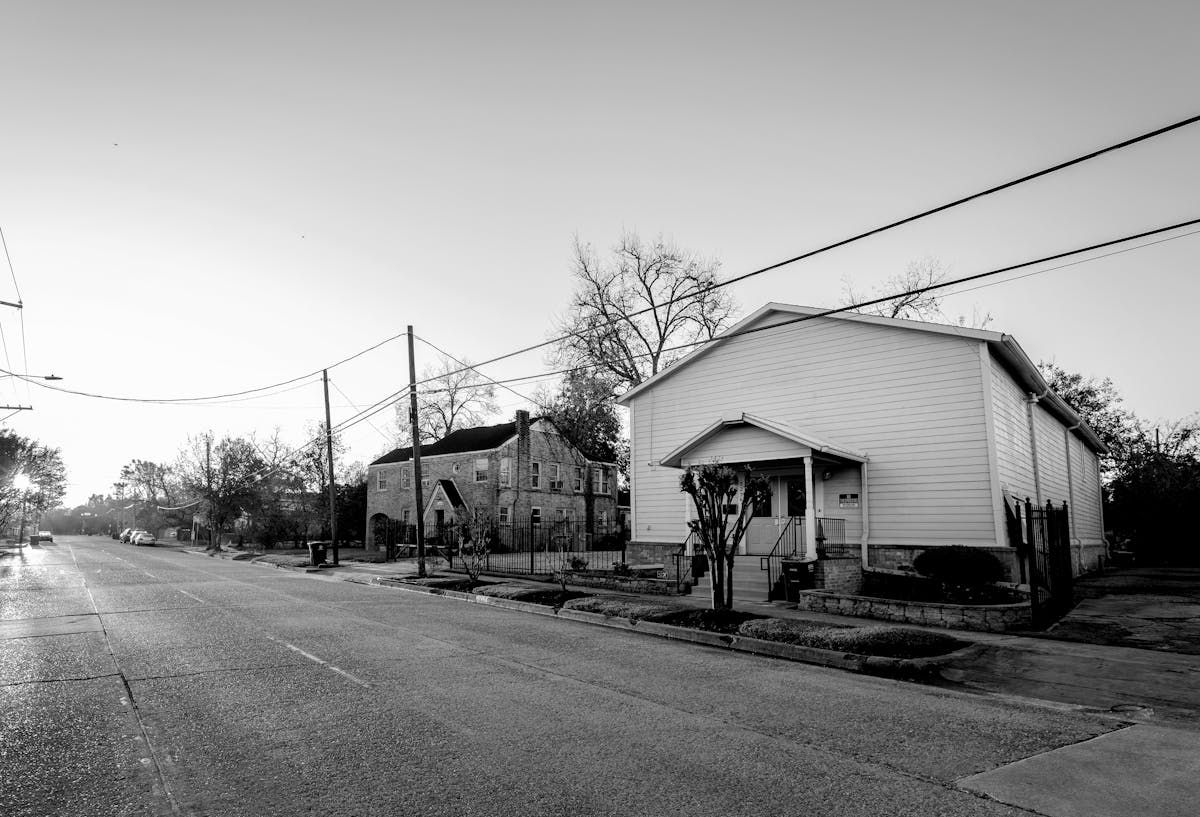 "Please, help me get out of here."
Fonteno stood before Riles on his last tendril of hope, pleading for a Greyhound bus ticket to Minneapolis.
"I'm going to try," the pastor vowed.
Riles was a well-dressed gentleman in an apple cap who punctuated their conversation in his office with a loud "Hey!" whenever Fonteno nodded off. Fonteno's own jeans and shirt were rumpled from wearing them for a few days, and he needed a haircut, not to mention a good night's sleep.
Fonteno was dozing on a pew when Riles burst into the sanctuary and announced that his bus to Minneapolis was leaving in an hour. The pastor invoked Psalm 37 as he clasped Fonteno's hands and prayed, asking the Lord to order his steps and direct his path. Riles drove him to the bus station and gave him $20 to carry him through the ride.
Fonteno's heart floundered as he watched Texas fade through the window. He was speeding far into the unknown, lost in sleep, prayer and yearning as the bus carried him past the hickory and oak forests of the Ozarks and the art deco high-rises of Kansas City and the five-domed Capitol of Iowa and the prairieland all the way up I-35 through downtown Minneapolis.
Snow was on the ground. He had not brought a coat.
Minnesota was a nationally known destination for people seeking treatment for alcohol and drug addiction, but most of its recovery community was white. Turning Point, where Riles knew some of the staff, was different. The rehab center opened in north Minneapolis in 1976 to treat addiction in African Americans. While it embraced the 12-step model of recovery, the staff acknowledged and treated different factors that contributed to Black chemical dependency, especially the stresses caused by poverty, racism and the criminal justice system.
Fonteno enrolled in Turning Point's 90-day program. He appreciated that the Black men who counseled him did not see him as a statistic; many had overcome what he was trying to overcome. Under their wing, he finally emerged from the murk of addiction.
He fostered connections at a Bloomington church recommended by Riles. Smith, his old friend from high school, invited him to spend the holidays with his family. He returned to his career as a truck driver.
Fonteno assumed he would one day move back to Texas. After he finished treatment. Then after he took a few college courses. But years passed, and one day he realized he did not miss Houston.
Fonteno sent money to the pastor on occasion to support the journey for others. He also paid directly for some Texans to travel here over the years, greeting them with snacks, toiletries and pocket money. He never doubted Riles' mission, but grew more discerning about who he helped personally after seeing that a few newcomers had no intention of reformation. Others were just here to hide out from some dope-dealer looking for them down South, and would return to Houston in a month or two.
Fonteno and Floyd had run in overlapping crowds in the streets, and Fonteno encountered him on one visit to Houston years later.
"Font, you're looking good, man," Floyd said. "You've got a glow about yourself." Floyd asked if he, too, could make a turnaround up north.
"You can change if you want to," Fonteno said. "But … wherever you go, you take yourself with you."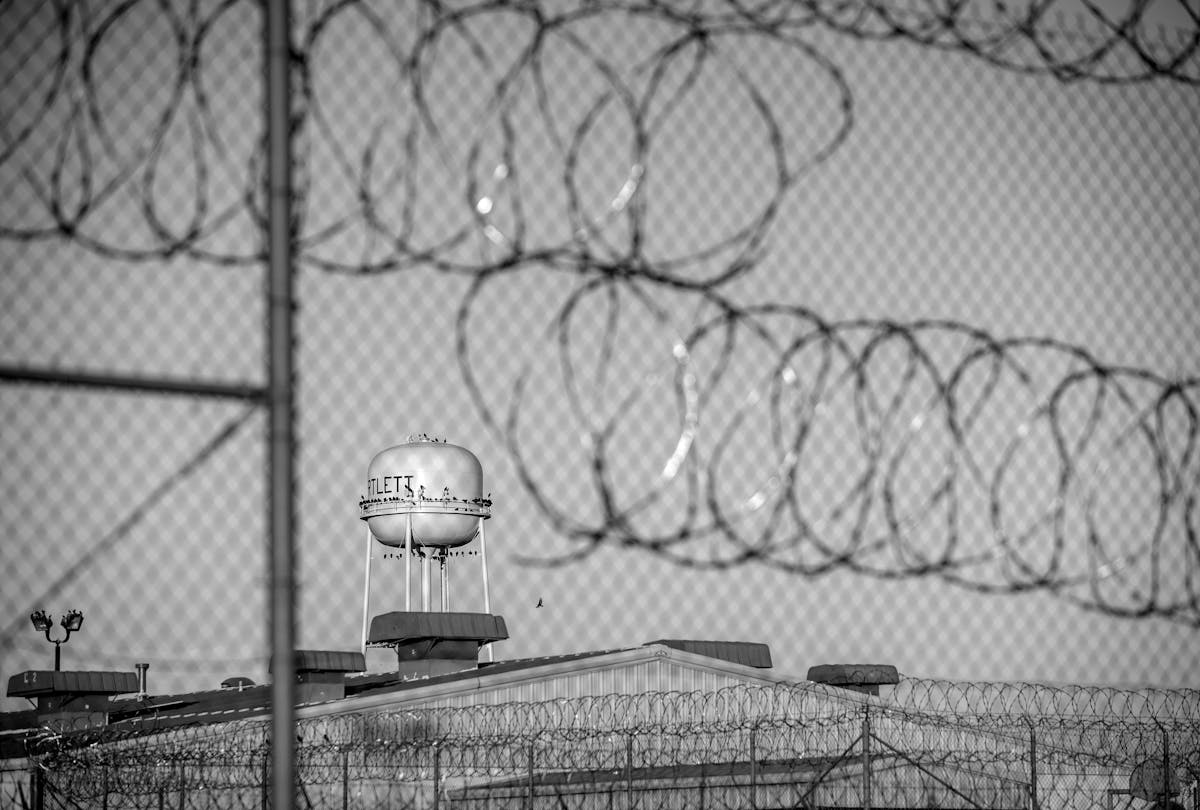 Floyd did not go out seeking attention, but his physical bearing demanded it — people looked at him wherever he went. He was easy to like and often surprised people with his gentle demeanor, but he could seem intimidating at first glance.
Friends believed that Floyd's appearance made him an easy target for the police, who could not miss the large Black man on the corner when they rolled through the Third Ward.
Texas' prison population tripled in the 1990s and the state led the nation in locking people up by the end of the decade, according to a report by the Justice Policy Institute, a nonprofit dedicated to reducing the use of incarceration. Tough enforcement of drug laws ensnared Floyd, Fonteno and other Black people — long before the opioid crisis involving mostly white users led to a push for treatment, not imprisonment.
Travis Cains, who grew up with Floyd in Cuney Homes, recalled that police pulled them over with no explanation in 1996 after they left a gas station with snacks. Officers ordered them out of the car and onto the ground, then searched the car in a frenzy, sending their new tub of ice cream flying onto the street. Finding nothing, cops let them go. It was so typical of the neighborhood that Cains and Floyd laughed it off.
Floyd's journey through the criminal justice system began the following year, when he was sentenced to six months in prison after pleading guilty at age 24 to selling less than a gram of cocaine. Over the next few years, he pleaded guilty to theft and possession of less than a gram of cocaine.
At first, Floyd tried to make the best of it. Smith, his childhood friend, recalled that Floyd kept him laughing every day when they bunked together at Larry Gist State Jail from March to July 2003. Floyd was in on another charge of possessing less than a gram of cocaine, while Smith was doing time for the unauthorized use of a motor vehicle. The pair did 500 pushups every morning and worked in the kitchen.
Floyd served another six months in prison after pleading guilty to making a $10 crack sale in 2004. The Harris County District Attorney is now reviewing that case and others after the arresting officer was charged with murder and prosecutors accused him of lying to obtain a search warrant that led to the killing of two people in a police raid.
As Floyd went in and out of lockup, some worried that he was not careful enough about his associations.
"I would always express to [Floyd] that you have to be conscientious of the company you keep … but he would always try to help people, and that can be a blessing and a curse," said Becky Sue Johnson, a longtime friend who was dating Floyd at the time.
In 2007, two people were at home with a 1-year-old in the northern outskirts of Houston when a large man pretending to be a water department worker forced his way inside, and a group of intruders followed. The big suspect pointed a pistol at resident Aracely Henriquez's stomach and directed her into the living room. He joined the others in searching the home as they demanded money and drugs. Henriquez said she had neither. A second man hit her with a pistol when she screamed for help. The robbers fled in a black Ford Explorer with her jewelry and phone.
Three months later, authorities came across Floyd in the same vehicle. It was not his, but the victims identified Floyd in a photo array as the large suspect. He pleaded guilty to aggravated robbery with a deadly weapon and was sentenced to five years.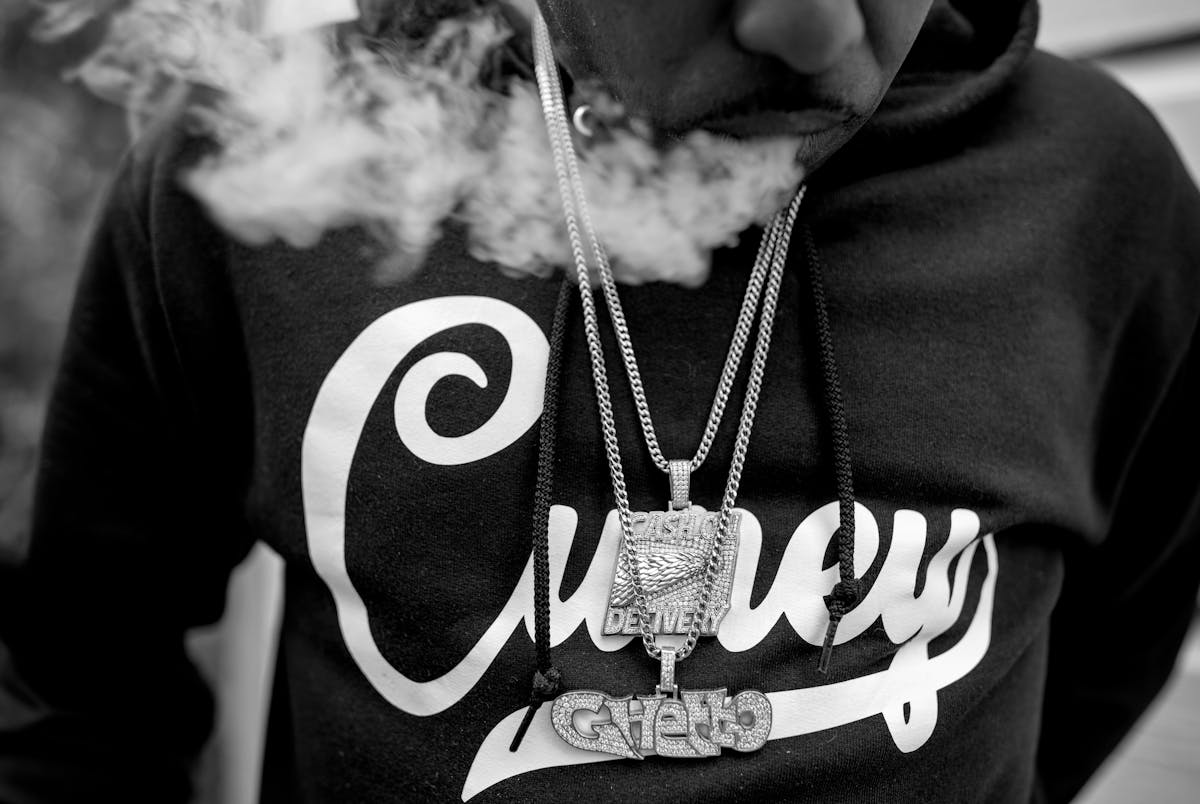 Floyd had not had a reputation for violence, and several friends, including rapper Cal Wayne, said men in the neighborhood knew that Floyd was not one of the guys who participated in the crime. Floyd grew up under the "no snitching" code, according to Wayne, and took the rap because he lacked the money to fight the case and couldn't risk an even longer prison term.
A handful of Floyd's friends said it was common to take a plea deal to avoid longer sentences. They could not pay top lawyers, and did not think judges or juries would put much stock in the word of a felon. That's what Fonteno said he did in 2008, when he said that a cop planted a crack pipe on him. He pleaded guilty to possession of less than a gram of cocaine and served nearly a year in jail to avoid a harsher sentence as a repeat offender.
Facing his longest prison term by far, Floyd lost his usual cool.
Wayne, who was serving an unrelated sentence, rode with Floyd to Bartlett State Jail in 2009. The dozen or so inmates were shackled at the wrist, waist and ankles, constrained, as Wayne put it, "like a serial killer or something."
As the hours in the cramped van passed, Floyd began to panic. He became convinced that he could no longer move his head up or down.
"Calm down, man," said Wayne, whom Floyd's mother took in for a time when he was a child. "Calm down, bro. Calm down!"
 At Bartlett, Wayne recalled how Floyd crumbled whenever the guards kept the inmates in their cells for long periods. "How long are we going to be in lockdown?" he said to Wayne. "How long are we going to be in lockdown?"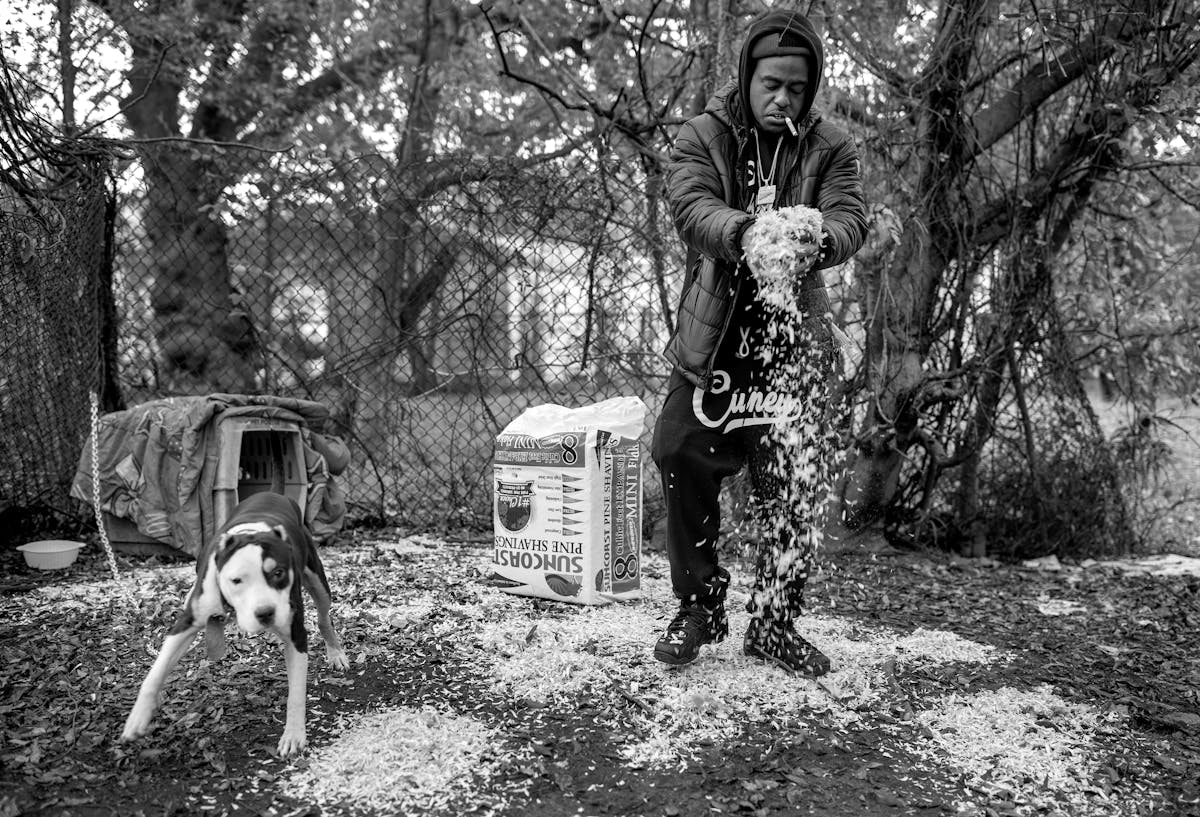 Floyd turned to Jesus Christ in prison, and upon his parole in 2013 was determined to remain a man of God.
When Resurrection Houston held church services on the basketball court at Cuney Homes, Floyd rose early to lay out the chairs, carry equipment and haul out the baptism tub. He helped set up hip-hop outreach concerts and basketball games on behalf of the ministry, encouraging Third Ward youth to attend.
He accompanied church members and vouched for them to skeptical residents as they knocked on doors with offers to pray, bring groceries and give rides to doctor's appointments.
As bullets ripped through the streets, Floyd tried to broker peace, leveraging the clout he had from his days as an athlete and his legacy in the '90s rapping with a hip-hop collective led by the storied DJ Screw. Ronnie Lillard, a Christian rapper who performs under the name Reconcile, recalled Floyd's thinking as, "I'm about change at this point in my life and I'm not just going to flex it from a church pew standpoint, but I'm going to try to be as Jesus as I can from a street standpoint."
Floyd brimmed with Christian colloquialisms, often saying, "God is good, all the time" and "God bless you, brother." He joined hands with others in prayer circles on the street as gang members renounced their life of sin. Floyd impressed people with his authenticity. He spoke often of how he had grown from his past troubles and wanted the Third Ward's next generation to pursue a different way.
Floyd had worked as a security guard and at chemical plants, but steady employment was getting hard to come by. He had several children over the years and particularly worried about supporting his youngest, a little girl named Gianna, who was born after he left prison. He called her Buttercup and liked to playfully pull her around in a wagon outside.
As he contemplated his prospects in Minnesota, Floyd was anxious about leaving his mother, who was then approaching 70 and relied on a wheelchair after suffering a series of strokes. He helped her stretch so that her muscles would not atrophy, moving her legs up and down at the knee while they watched football on TV. Sometimes, he'd lean down and pick her up for a minute.
"Mama, I'm going to help you get out of this wheelchair so we can dance," Floyd would say.
Then he'd hold her up and twirl her around.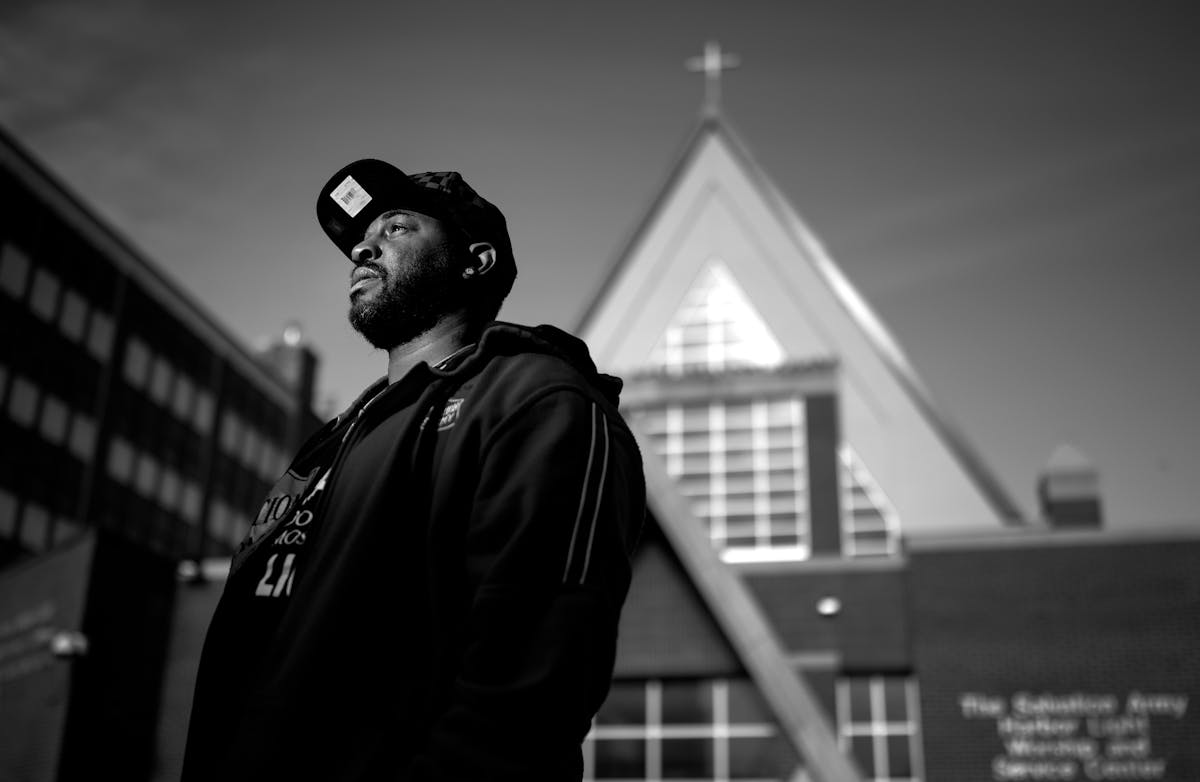 Fonteno still returned to the Third Ward from time to time, though he was careful not to leave the house after sundown or frequent his old haunts. One day he ran into Aubrey Rhodes, an affable man from the neighborhood who asked how he could follow Fonteno's path.
Turning Point had emphasized that by healing their own lives, participants could one day become a leader of many, reaching back to pull others out of addiction. Fonteno embraced that responsibility but did not understate the difficulties ahead.
"You have to be completely sold," he said, "on changing your life."
Rhodes had met Floyd playing basketball when they were teenagers. He was a year younger and not the athlete that Floyd and Fonteno had been. Nor was he fond of school. His father died when he was 5 and Rhodes watched his mother struggle to provide for their family while working as a housekeeper.
Rhodes started selling drugs to support himself, but was not, by his own admission, very skilled at that, either. He kept getting sent to prison — mostly on drug possession charges — off and on from 1995 to 2016.
By July of that year, Rhodes planned to depart for Turning Point as soon as he got paid from his scaffolding job. He gambled away his paycheck on a dice game and sheepishly called Fonteno for help. Fonteno directed him to Riles, who paid for his plane ticket to Minneapolis; Fonteno covered the luggage fees.
Rhodes found relief and recovery in his new environs. When he graduated from Turning Point, he posted a picture on Facebook of himself standing in front of a whiteboard with a list of praise: Worked his program, good person, not selfish, see changes, courageous, working man, a giver, go getter.
He found a job in a kitchen at U.S. Bank Stadium during the Vikings' first season playing there. Months later, Rhodes would look out over the empty stadium's more than 66,000 seats and say to himself, "Thank you, Jesus … Yes, Lord, thank you." The day he saw his first northern snowfall, he excitedly jumped out of the car on the way home from work to take a picture.
That Thanksgiving, Rhodes joined his brethren in sobriety for dinner in Minneapolis. As they bowed their heads, a preacher said: "We pray, God, that you will give them the strength that they will able to make a full recovery and then [reach] back and help someone along the way."
Seeing how Rhodes had changed his life in Minnesota moved Floyd deeply. He told Pastor Riles that he wanted to make the same journey.
Riles knew Floyd's mother and sisters from the neighborhood, and was impressed with Floyd's humble, God-fearing demeanor during their meeting. The pastor suggested that Floyd enroll in a longer-term rehab program at the Salvation Army in Minneapolis.
He bought Floyd a bus ticket, but Floyd never showed up at the station. Riles surmised that his charge had "chickened out." Weeks later, Floyd asked Rhodes for help. Having no money, Rhodes told him to call Fonteno.
Floyd did, and laid out the stakes: If he did not leave, he would die in the streets or go to prison, and die there. After several days of prayer, Fonteno determined that it was God's will that he help Floyd. He was, however, firm.
"If you're going to come, come," Fonteno told Floyd. "If not, you can't ask me again to do this. I've done my part."
Floyd spent his last weekend in Houston hosting a community event in the Third Ward, handing out donated produce and chicken and chatting up the children playing in a bouncy house. He cheered on a "slab parade" of souped-up, old-school cars colored as brightly as lollipops, rolling by with their "swangas," or protruding wire wheels.
The city was still dark when Floyd left everything behind one morning in February 2017.
In Minneapolis, Rhodes, Fonteno and several other H-Town transplants gathered at the bus station to greet him. Rhodes would always remember the sight of that towering figure walking through the crowd in a white pullover beneath an olive-green jacket, brimming with hope, the latest traveler to cross the plains and prairies on the mantle of redemption.
Floyd looked thinner after the hardships of recent years, and he had pulled the hood of his sweater over his head as the temperature fell below freezing.
The men crowded around with hugs and welcomes.
"I told you I was coming," Floyd said, smiling.
Part II
'Minneapolis has been good to me'
George Floyd breathed in the frigid air as he smoked a cigarette outside the bus station.
Standing on the northwest edge of downtown, he could see the gleaming glass panels of a luxury apartment tower and the classic brick high-rises of Loring Park beyond parking ramps and slabs of asphalt to the south. Target Center sat to the east and the Basilica of St. Mary beckoned on the western horizon, its 13-foot bronze cross rising from a majestic dome.
Floyd's destiny lay north, toward the red shield over the Salvation Army's Harbor Light Center. The largest homeless shelter in Minnesota stood just around the corner from the clamor of the bus depot, but it seemed like an urban island, hidden between a wall of parking ramps and an interstate.
That block would soon become a steady backdrop of Floyd's life in Minneapolis. But first, in communion with other men, he would learn that he was greater than his mistakes.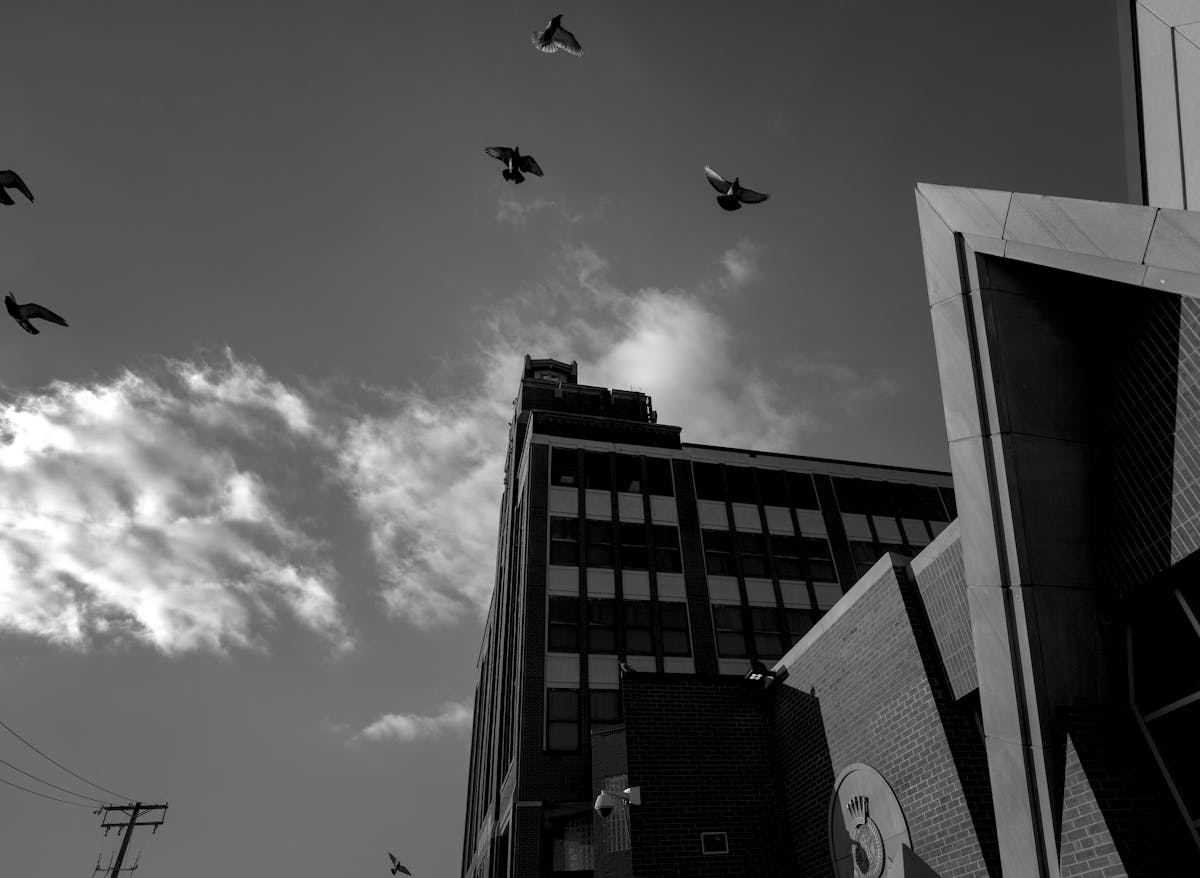 "I am lovable!" Floyd exclaimed. "I am important! I am valuable! I am empowered!"
He and other newly sober men at Turning Point were learning that their lives held worth no matter what happened during the inevitable swings of early sobriety. At the behest of a visiting speaker, the men repeated affirmations, louder and louder, until they were bellowing like fans at a football game.
"I AM LOVABLE! I AM IMPORTANT! I AM VALUABLE! I AM EMPOWERED!"
Floyd had tried rehabat the Salvation Army but did not like the program. With the help of his Houston friend Aubrey Rhodes, he switched after a week to Turning Point in north Minneapolis.
Like Floyd, most of the men who arrived at Turning Point were Black and poor and accustomed to using chemicals as a salve for the economic hardship, violence, incarceration and racism they had encountered much of their lives.
Woodrow Jefferson, one of Turning Point's counselors, believed that people picked up a bottle or a needle or a pipe because they had lost hope. He told Floyd and the other new arrivals that he was their hope dealer.
While Blacks and whites used drugs at about the same rates, the former were more likely to be charged with drug offenses. Jefferson taught them about the systems funneling crack cocaine and other drugs into Black neighborhoods and sending Black people to prisons. But the Black community must lift itself up, he told them. No one else was coming to save them. The men needed to get off drugs, then help their brothers who were still selling understand that they were poisoning their own.
Completing the first 90 days of Turning Point's program was only a first step, Jefferson cautioned. He himself had been through rehab four times before sobriety stuck. He advised them to seek therapy to understand the emotions they had suppressed for so long, find a sponsor, serve their community, and take life slow for a while.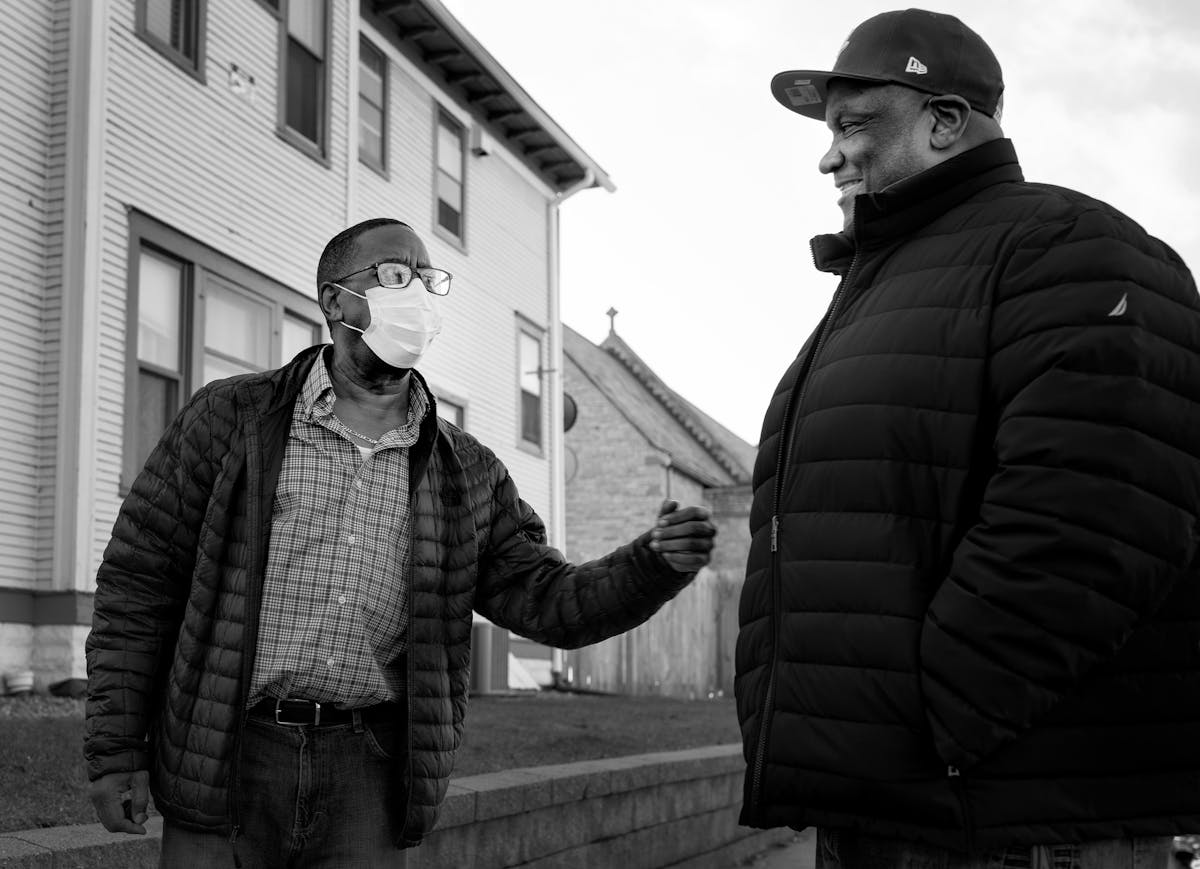 Floyd moved into Miss Bea's House, a nearby lodge affiliated with Turning Point that had 32 beds for sober men. He and the other guys played cards at home and basketball at North Commons Park. Floyd and fellow resident Wallace White cruised the city in a green Pontiac Bonneville, listening to old-school R&B — Maze and Frankie Beverly, the O'Jays, the Isley Brothers — and talking about the sober life. Sometimes they circled Bde Maka Ska and walked out to sit by the cool blue expanse.
Rhodes visited Miss Bea's House regularly from his home in Fridley, once bringing Floyd and another friend to the lake to ride a paddle boat.
"See that turn? I got a license!" Floyd cracked as he paddled slowly, wearing a life jacket that was comically small on his long torso. He held up sneakers that had gotten wet. "Brand new!" he said. Rhodes cheered them on from the dock.
"We're just doing it day by day, taking it one day at a time," Rhodes said into his phone camera.
Floyd's childhood friend Reginal Smith, who had gone to Turning Point and lived in Minneapolis between 2008 and 2016, encouraged Floyd not to focus so much on making money right away.
"Chill for a while, bro," Smith, who was back in Houston, told him. "If you chill, you'll be all right. Let yourself get a chance to heal."
"I need a job, Reg-o," Floyd insisted. "I need a job."
Rhodes had just begun working as a security guard at the Harbor Light Center and introduced Floyd to his boss when another position opened up. Smith, who had worked there years before, called to put in a good word, and Floyd was hired as a full-time security guard months after arriving in Minneapolis.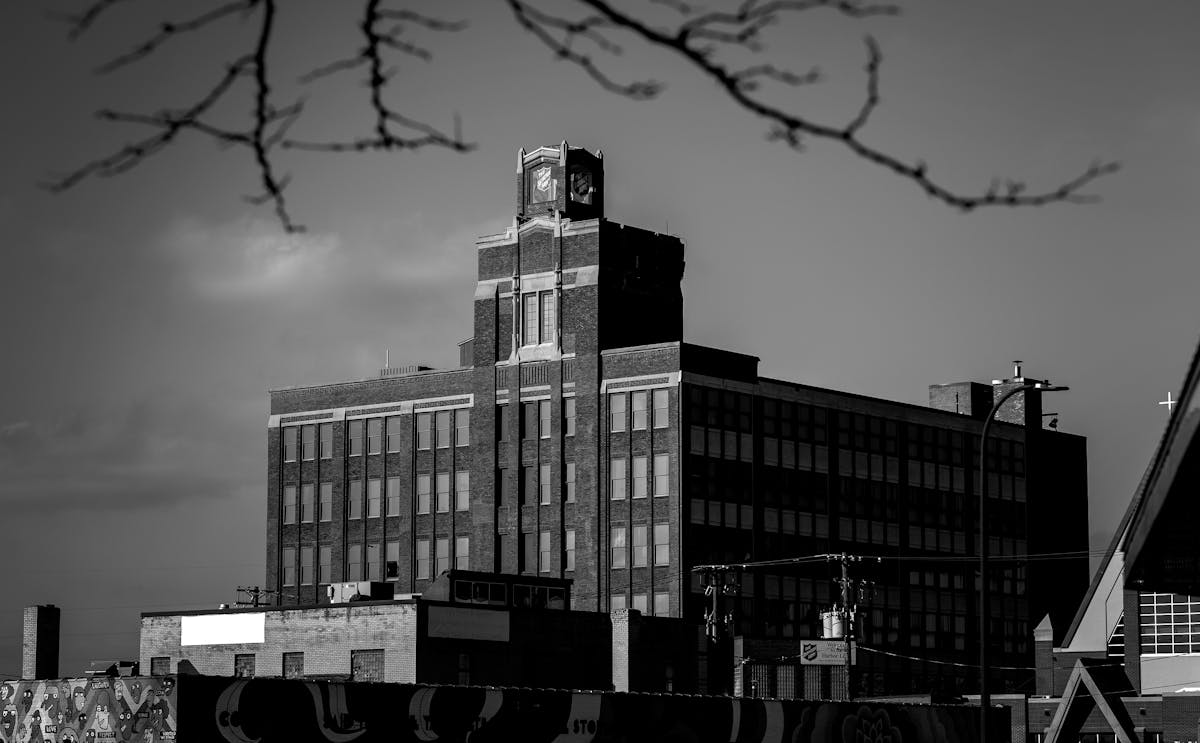 Early in Floyd's new job, homeless advocate Richard Bahr saw him in the lobby ordering a drunk man to leave. The man shouted and resisted, but Floyd pressed ahead, taking his belongings and pushing open the door.
Later, Bahr found Floyd sitting alone in the dark, empty dining hall. He was crying.
"Hey man, what's with the tears? What's going on?"
"I was too hard on that guy," Floyd lamented. "I've struggled with issues in my life too, and I'm not that different than that guy."
They prayed. Bahr attended to other business inside the center, and by the time he walked outside, Floyd was sitting at the curb consoling the man he had kicked out.
Four hundred and fifty people a night stayed at the Harbor Light Center in emergency and longer-term transitional housing. Many dealt with mental illness, disabilities and chemical dependency, and some arrived from other states that gave them one-way bus tickets to Minneapolis because the city offered better social services.
Once, Pastor Harding Smith (no relation to Reginal Smith) saw Floyd help a man who had just arrived at the shelter by bus from Montana. He looked to be about 19 years old and less than 100 pounds, and was giving away his hats, jerseys and other belongings to appease the bullies towering over him.
Floyd would not stand for it.
"You give him back everything," Floyd ordered the others. "You give it back now!"
Then he called over the Montana youth, who looked bewildered.
"Listen," said Floyd, speaking loudly so the others would hear. "As long as I'm here, you don't have to be afraid of anybody. You are safe in this place. Nobody is going to do anything to you, and if anybody intimidates you, we will … kick them out."
Smith believed that he and Floyd bonded because their hearts lay with those who carried a sense of loss. The pastor visited the Harbor Light Center regularly to take residents to the movies, athletic games and other events, and Floyd joined Smith's outings frequently.
When someone got unruly at a Timberwolves game, Floyd would say, "Hey, knock it off." When Smith and other volunteers arranged for homeless people to have their blood pressure checked, get haircuts or go out to eat, Floyd was usually there to help out.
He told Smith that he was looking for a better way of life.
"Well, if you're looking to make changes ... this is the best start you can have, here in Minnesota," Smith replied.
"Regardless of what I'm going through," Floyd said, "I want to make my mark."
From the entrance of the Harbor Light Center, Floyd could see glimpses of the city's prosperity soaring from beyond the long wall of a parking ramp. He could make out the tower and blue-gray glass of the IDS Center and the top of the LaSalle Plaza, crowned with icons of wheat pointed toward the heavens.
Across from the center, on Currie Avenue, stood an empty building that said "$50/month unlimited nationwide talk, text & web" on the battered door. The boarded shop next to it advertised: "Instruments Tools Gold Diamonds Guns Licensed Pawn Broker." Floyd constantly heard the roar and whistle of traffic on I-394 just to the west — the sound of the city literally passing them by.
Working security was not easy duty at the Harbor Light Center, one of the city's most-frequented locations by police. In 2017, Minneapolis officers made 1,580 visits to deal with "unwanted and suspicious people," disturbances, assaults, fights, drunks and thefts.
On New Year's Eve, with windchills 30 to 45 below, a man went inside the shelter's chapel and shouted and shoved a homeless person. Then he threatened to kill the crowd of 30 to 40 people. Floyd stepped in to kick the intruder out for the night, having evicted him for aggressive behavior a week before. When police showed up to take the man away, Floyd said he didn't want the assailant to be charged.
Three weeks later, Floyd tried to expel a man who was waving a 6-inch knife while arguing with a shelter resident and kicking over garbage cans. He came at Floyd, swinging the blade. By the time police arrived, the attacker had escaped.
Despite the hazards, Floyd believed he was doing God's work at the shelter. He was always ready to dole out a cigarette, find a used jacket, fix people a plate of food after the kitchen closed, and let them make a call from his own phone. His generosity was so well-known that inhabitants of the center would inquire at the front desk, "Where's big boy?"
Months after buying Floyd's bus ticket to Minneapolis, Robert Fonteno was leaving an AA meeting near the center when he spotted his friend.
"Floyd!" Fonteno called out. "What's up, bro?"
He thought Floyd looked better than he ever had. He had been lifting weights again and had regained his power and assurance.
"You're looking like the old big Floyd," Fonteno said.
"Yeah, man — I feel like the old big Floyd."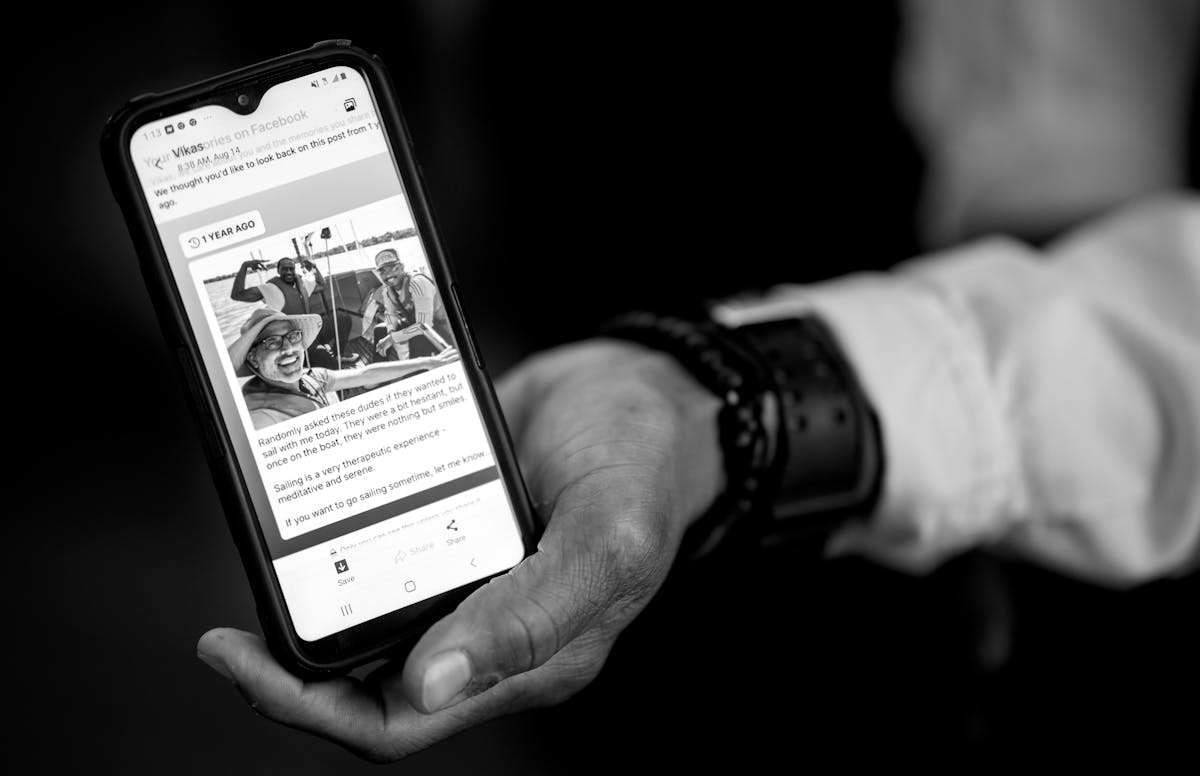 Not long after arriving in Minnesota, Floyd answered a Craigslist ad for a security guard at Conga Latin Bistro, a popular nightclub and restaurant in northeast Minneapolis.
Owner Jovanni Thunstrom was looking for a security guard who could make customers feel welcome while maintaining order on weekend nights that drew several hundred people to the dance floor. He had fired some security employees for being too aggressive, for always trying to play the tough guy. Floyd seemed just the opposite, and Thunstrom hired him immediately.
Floyd soon demonstrated a gift for knowing customers' names, often remembering people whom Thunstrom did not. He walked around greeting patrons, clasping a hand with both of his own. When women complained about an aggressive man, Floyd stepped in to protect them. When dancers drank too much, Floyd said, "You've got to leave," and nobody argued. Even on subzero nights, he was known to stand outside for 5 or 10 minutes in a T-shirt, cheerfully chatting up the people he had just ejected.
Bartender Cintya Canales bonded with Floyd over their interest in the Vikings and spirituality. She saw that he tried to lift up those around him, saying, "Life is good. Trust in it. Trust in God. We got this."
One night, Canales noticed two men fighting by the bar.
"Hey, hey, let's calm down, let's just talk it out," Floyd told them. "Why don't we go outside and just talk about it?"
Soon the trio returned as if nothing happened, and the men caused no trouble for the rest of the night.
Floyd's skill at defusing tensions did not seem to come from just his imposing stature. Tim Brostrom, a Black man about the same size who also worked security at Conga, said customers sometimes dawdled at last call even after he repeatedly asked them to leave. But it took only a look or a few words from Floyd to get them moving.
Even when manning the dark, rowdy downstairs dance floor, Floyd had fewer confrontations than the other security guards upstairs.
"There was something he had — I can't put my finger on it," said Brostrom. "It was just something he had."
Thunstrom tried to teach Floyd how to dance to bachata, a style of music that originated in the Dominican Republic, but he could not master the turns. He showed him how to dance to merengue, but Floyd could not loosen his hips enough. People thought he was a goofy dancer — his limbs were too long, his rhythm not quite right — but they found his willingness to try endearing.
When the staff gathered for beers after the club closed, Thunstrom noticed that Floyd didn't drink. He stayed later than everyone else, too, helping clean up and walking staff to their cars. He often waited outside with drunk bargoers to ensure they got a ride home.
Thunstrom considered Floyd the best employee he had had in his 20 years at the club. And he thought no differently after Floyd opened up about his past.
"Floyd, you're a good person," he said. "You deserve to start all over."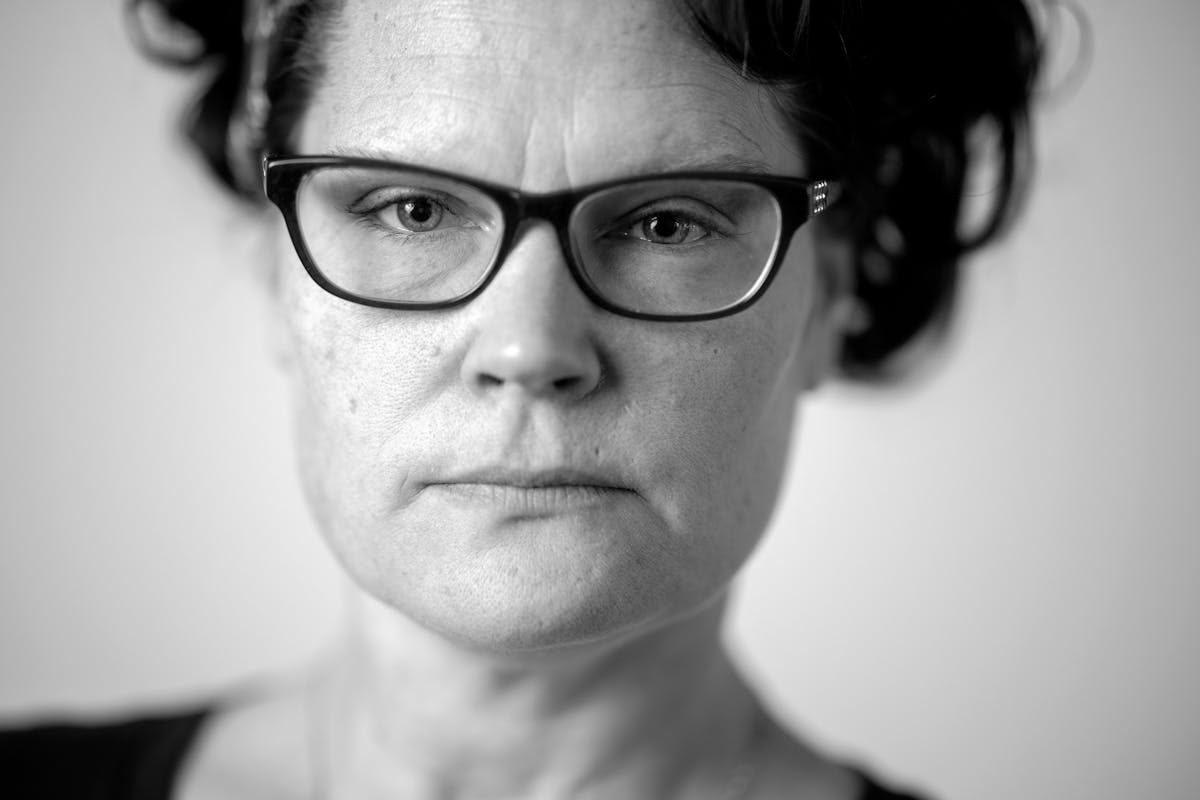 By the time she met Floyd, Courteney Ross had all but lost faith in God and forgotten about love entirely. She was lonely and tired, worried about her debts, stressed from her job working with special education students.
One evening in summer 2017, she hurried to the Harbor Light Center from her second job at a cafe, smelling of coffee and Lysol. Her children's father lived at the shelter. They had broken up a few years earlier, and he became homeless as his health suffered.
She asked the security desk to let him know that she needed to talk, but he didn't come down. Ross waited, distraught. Floyd walked over and put his arm around her.
"Are you OK, sis?" he asked.
No, she told him. "He's just not coming down and I don't know what to do."
Floyd offered to pray with her. Ross was not so sure about God anymore, so she let him say the words.
"Please help this young lady," Floyd said. "She's having a hard time. Please give her the strength to get through the night."
In Floyd's embrace, Ross felt protected from life's calamities for the first time since her father's death four years earlier. Her worries fell away as this funny, generous man looked into her blue-gray eyes, still red from tears, and tried to make her smile.
"Can I call you sometime?" he asked.
She believed they fell in love that very evening, in the Harbor Light Center's lobby.
Ross had grown up a churchgoing Catholic with a father who was active in Alcoholics Anonymous and spoke of a higher power. Still, as she and Floyd began dating, she was taken aback by his unyielding faith and his determination to live what he preached.
He liked the people nobody liked and saw the people nobody saw; he offered a dollar and a handshake to the guys holding cardboard signs outside; he hugged homeless derelicts and asked how they were doing.
She could never tell if he was talking on the phone to one of his big-league friends, like retired NBA star Stephen Jackson, or some guy off the street — Floyd treated them all the same. When she saw how Floyd lived God's word, it made her want to believe.
Floyd was so sanguine that it was impossible to dwell in darkness around him. If she tried, he would say, "Don't let the devil in your head."
They explored the Twin Cities, visiting the Como Zoo, Minneapolis Sculpture Garden, Minnehaha Falls, and the since-closed hip-hop store Fifth Element. Floyd pumped gas for her, opened doors and carried her groceries — things she had done herself for so long that it took time to accept his overtures. He would gently tease her for being too tough to accept help.
Ross' teenage biracial Black son, Gavin, took a liking to Floyd, who returned the sentiment. Floyd always told him, "I got you," and advised him not to make the mistakes he had. Floyd confided disappointment at not having gone further with sports and encouraged Gavin's interest in soccer. When Gavin visited the Harbor Light Center with his high school chess trophy, Floyd talked his success up to everybody. "That's my Gav-man," he said. "He's a smart one."
During one of Floyd's shifts, Gavin's dad had an epileptic seizure and collapsed, striking his head. Blood poured from the wound. Floyd looked after him. He picked him up when the thrashing stopped and took him outside for the ambulance.
Floyd could be evasive with his new girlfriend about getting home in the evenings, and finally admitted that he was staying at Miss Bea's House and had a nightly curfew. He was trying to find a place of his own, but landlords kept turning him down due to his criminal record.
One day he mentioned it to some Houston friends, saying, "It's really messed up — nobody wants to deal with me because of that."
They commiserated. Rhodes had paid many apartment application fees only to be rejected, and finally had to put down extra money to reserve a place. Fonteno had been frustrated to find that even with his good trucking income, he was rejected by landlords who discovered his old drug charges and acted like he was going to turn the place into New Jack City, the 1991 movie about the crack trade.
Thunstrom owned a home in St. Louis Park, just west of Bde Maka Ska, and offered to rent it to Floyd after some of the bartenders at work moved out. A fellow alumnus of Turning Point, Eric "Big E" Cornley, worked security with Floyd at Conga Latin Bistro and agreed to room with him.
In September 2017, both moved in. Rather than spend their first nights alone in separate bedrooms, the men moved their mattresses into the dining room and both slept there.
Weeks later, Cornley didn't show up for his shift at the nightclub. Floyd returned home from work at 4 in the morning and found his roommate dead in the basement. Floyd covered him with a green blanket and called 911. St. Louis Park police officers found Floyd crying in the front yard. He led them downstairs.
Floyd told authorities that he had seen Cornley use crack before and complain of a racing heart. At 6:30 a.m., a transport unit from the Medical Examiner's Office arrived to take the body away.
"Floyd appeared devastated by the death of his friend … and was just trying to wrap his head around it," wrote officer Dana Hegman in the police report.
The cause of death was ruled a cocaine overdose.
Floyd struggled to accept the loss. He felt uneasy every time he came home, sensing his friend's spirit lingering.
"Why?" he kept asking Rhodes, who had roomed with Cornley at Turning Point. "Why, man? Why?"
Despite his roommate's passing, Floyd felt that Minnesota was becoming his home, and didn't even mind the looming winter.
He instructed Rhodes in the proper way to use the snowblower at the Harbor Light Center.
"You're doing it wrong," Floyd said, showing Rhodes that he was improperly blowing the snow toward the building instead of the street, where the plows could remove it.
They had seen snow in Houston, but it usually didn't stick, and the aura of a thick, white blanket was novel. Rhodes shot a video in front of the center to show their friends back in H-Town. He called over Floyd, who wore only sweatpants and a hoodie.
"I'm loving it though, baby, you know what I'm saying? The snow been good to me," said Floyd, laughing amid the big, woolly snowflakes.
Rhodes knew what his friend was really saying.
Minnesota been good to me.
Floyd loved his new state, even telling Rhodes, "If you can't get right in Minnesota, you can't get right anywhere." Several friends from home came up to see him show off his new life during the 2018 Super Bowl at U.S. Bank Stadium.
Back in Houston, Cissy's health worsened.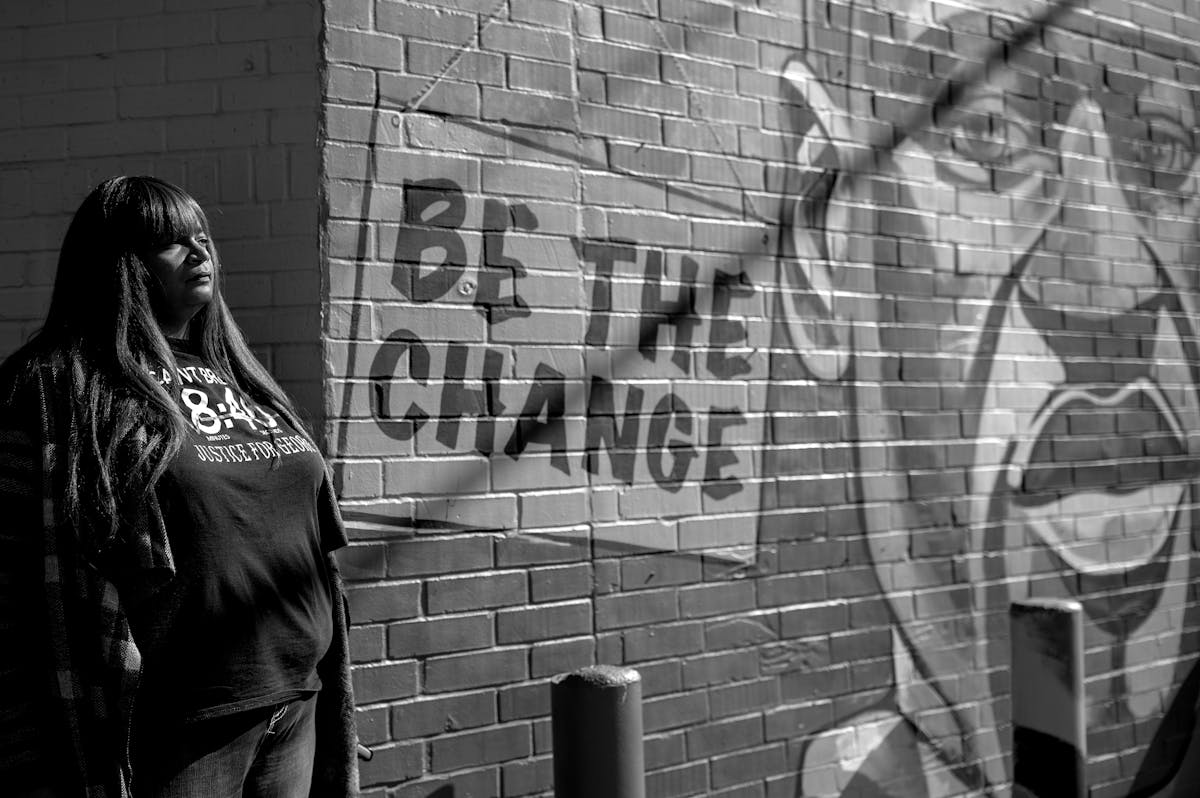 "Georgie, you need to come see about Mama," Tiffany Cofield, who was close to Floyd and his mother, said over the phone from Houston.
Floyd kept putting off his return, immersed in making it in a new city.
"I just can't come right now," he replied. "I got a lot going on."
Money was always tight, and Floyd often spoke to friends of providing for his little girl Gianna in Houston. He hoped one day to gain custody and bring her to Minnesota.
But he lost his job at the Harbor Light Center, and he took it hard. (The shelter would not release details about his employment.) He worked for a while at a metal plating facility but left because the chemicals ate away at his hands. Ross noticed Floyd constantly scratching them, and the irritation became so aggravated that he visited the doctor for treatment. He also loaded furniture, worked in packaging and distributing televisions, built houses and did carpentry jobs.
Floyd applied to the YWCA's Commercial Driver's License (CDL) program in St. Paul, hoping to become a truck driver. He passed the drug test and administrators concluded that his criminal record was not recent or severe enough to pose a problem. For students willing and able to put in the work, the payoff would be jobs that paid up to $30 an hour.
Ray Richardson, then a career pathways coordinator at the YWCA, recalled Floyd as a polite student who could have been a "really good" truck driver. But he found it hard to make the early morning classes if he had worked the previous night at Conga Latin Bistro. Richardson called a few times to check on him, but Floyd dropped out of the program. He was under pressure to earn money right away.
Rhodes, his friend from Houston, sometimes urged Floyd to slow down. Set small goals and see them through, he said. Find a balance.
"You can't do everything in one day," Rhodes would say.
By then, a co-worker named Alvin Manago had moved into the St. Louis Park duplex with Floyd, and Manago's girlfriend soon followed. Floyd had found him a dishwashing job at Conga Latin Bistro after they met while watching a softball game in North Commons Park.
Almost a decade older, Manago chuckled as he heard his new roommate singing songs by Gladys Knight and Patti LaBelle, R&B musicians that he figured Floyd would be too young to appreciate. But Floyd struck him as an old soul.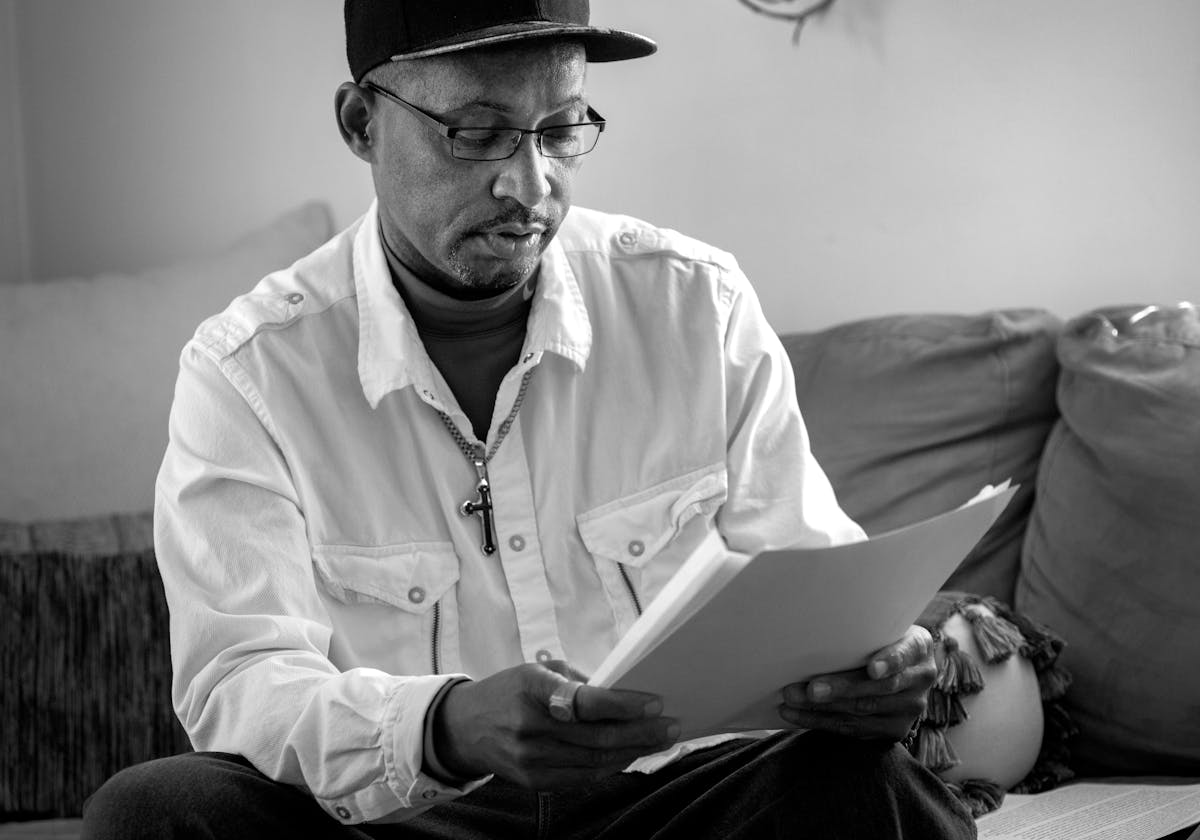 Floyd watched a lot of sports on TV, sometimes moving the coffee table forward so he could stretch his legs to ease the pain of old athletic injuries. He lifted weights and did pushups in the basement. He told Manago how good he felt these days: healthy, alert, buffed up.
Floyd was always scribbling verses of rap on scraps of paper in his room. One undated writing showed a glimpse of his striving:
Let me share something witcha
Give u a piece of my mind
Destruction come wit a warning
With a piece a mind
Seem like I can't do enough/Still want a piece of whats mine.
In another, he celebrated his new start:
Oh my what a day to be black
Plan come together beautiful we back.
Floyd constantly read aloud from his Bible. He highlighted some verses from Proverbs:
"Death is waiting for anyone who wanders away from good sense. … Be kind and honest and you will live a long life; others will respect you and treat you fairly. … Lazy people who refuse to work are only killing themselves; all they do is think about what they would like to have. The righteous, however, can give, and give generously."
Floyd had listened to a church sermon about Ephesians, Chapter 2, one morning in summer 2015 when Resurrection Houston held a service on the Cuney Homes basketball court. The beginning of that passage was one of a handful that Floyd marked in his Bible with a white Post-it:
"In the past you were spiritually dead because of your disobedience and sins. … But God's mercy is so abundant, and his love for us is so great, that while we were spiritually dead in our disobedience he brought us to life with Christ."
The message is, "You are loved through Christ and you can rest in that," said Justin Bouldin, a visiting pastor who attended the service and got to know Floyd. "You don't have to try to make up for all the bad you did, just walk in this new life I'm giving you … that's what George was trying to do."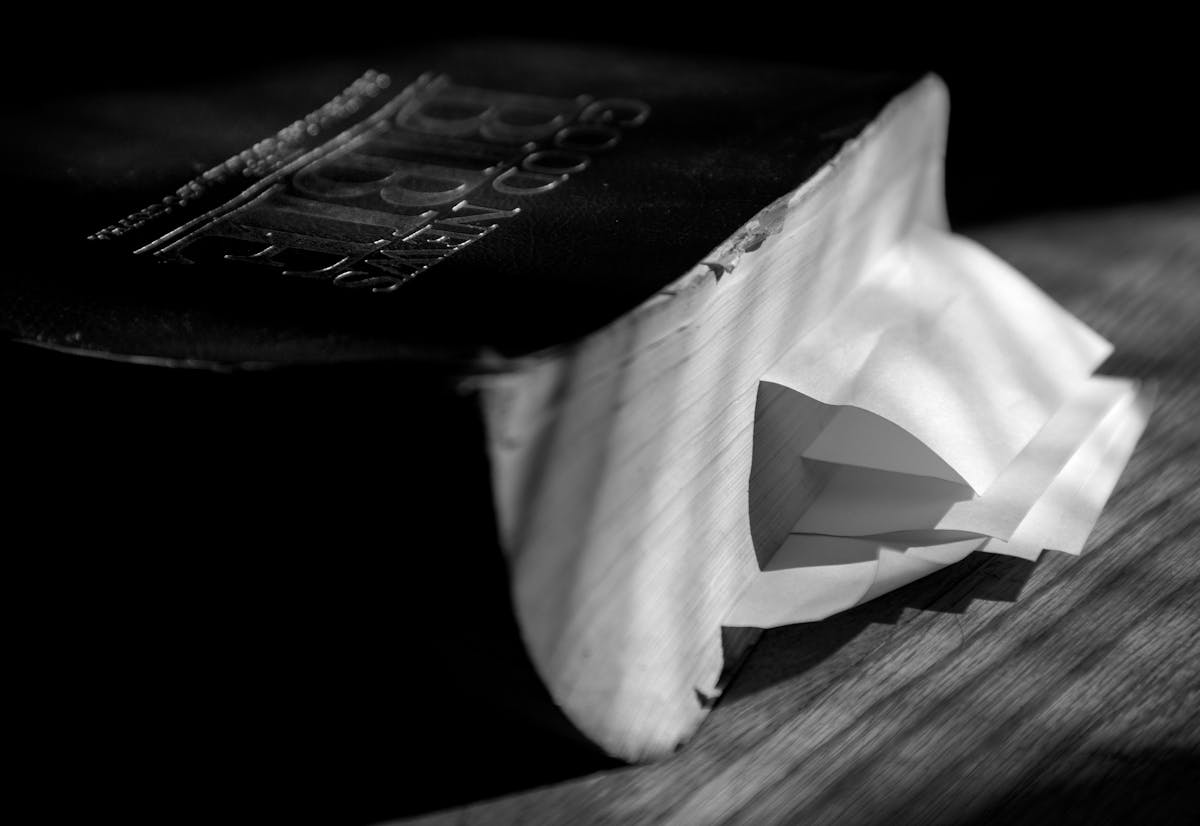 Floyd's first trip back to Houston was in June 2018, for his mother's funeral.
He was so distraught he could barely bring himself to go. Floyd rebuffed an offer from his aunt Angela Harrelson in Eagan to accompany her on the trip down south, and when she greeted her nephew in Houston, she did not see the usual smile in his eyes. He would not look directly at her, and struggled to keep his composure.
"He lost what kept him centered," Cofield said.
For days after the service, she saw Floyd lying on the couch, grieving.
He had been gone only 16 months, but Floyd was spooked by the gunfire tearing apart the Third Ward. A friend's 8-year-old son had been killed and his 5-year-old daughter was wounded in a drive-by shooting. "I need to go back to Minnesota," Floyd told his friend Cal Wayne.
He spent more time alone in his room when he returned to Minneapolis, not wanting to burden others with his anguish. But death became a grim chorus in Floyd's life as news kept coming about the shootings of old neighbors and friends in Houston.
Ross had seen Floyd disappear for days when his roommate Cornley died. Now, when she saw him withdraw, she learned to ask, "Did you lose somebody? What's going on? ... You can't just shut down!"
He and Ross began relapsing in the first half of 2018 on Percocet and other opioids. They used partly to ease their physical pain — the strain of old sports injuries and hard labor jobs for Floyd, the neck and back ailments that had long plagued Ross. But they also sought to escape the private agonies they carried. Ross was not sure, exactly, what could keep a person sober or not from one day to the next.
Floyd began revealing to her more about his time in prison. He had been free since 2013 but evoked his suffering in confinement as if it were in the near reaches of his mind. Everything felt too small for him in prison — even his feet hung off the bed. Sometimes Floyd curled into a shell and Ross would hold him as he described how the walls seemed to close in on him in his cell. She could feel his heart racing, his body trembling, and wondered if Floyd suffered from post-traumatic stress disorder for which he never found counseling.
Ross felt, after listening to Floyd, that prison cells weren't made for someone like him. Sometimes she felt the whole world wasn't made for someone like him.
Like Floyd, Ross had also sold and used drugs over the years. Addiction ran in both their families. It bothered her that Floyd had a criminal record while she, a white woman, did not.
They would stop using for long periods. Relapse — stop — relapse — stop. "We both suffered with that together and we both got sober together," Ross said. "Addiction is funny like that … it comes and goes and it can trap you."
But Floyd never fully surrendered. He never stopped trying.
He always came back to sobriety.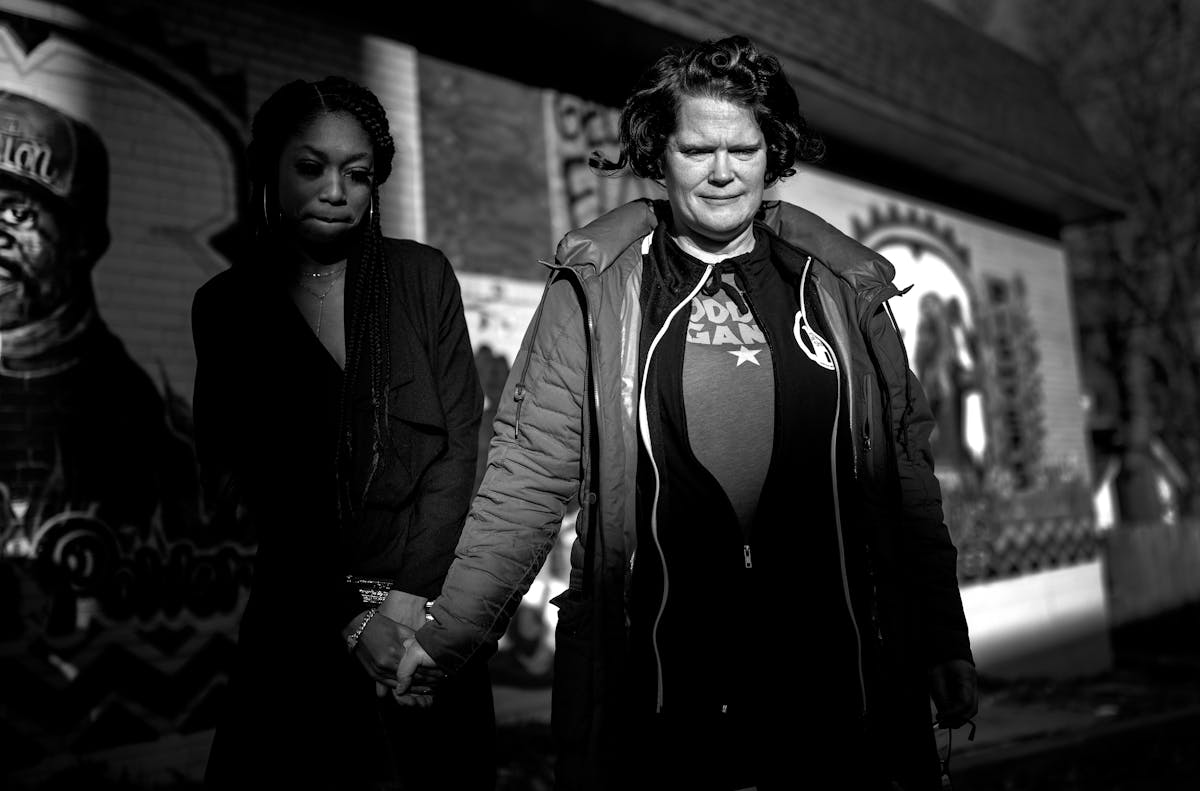 "Keep your hands where I can f — ing see them!"
Floyd panicked. He stammered. He fumbled. A Minneapolis police officer had just approached him at the passenger side of an unlicensed Ford Explorer during a traffic stop on May 6, 2019. Now the cop was ordering him to put his hands on the dashboard.
"Open your mouth! Spit out what you got! Spit out what you got! I'm going to tase you! Spit it out!"
Two officers maneuvered Floyd out of the car and handcuffed him.
"I apologize for it, man," Floyd said. "I apologize, man. I apologize … Why y'all doing me like that? … Please, man … Please, somebody help me, man."
The cops patted Floyd down and found pain pills. Police ultimately never forwarded the case to prosecutors for possible charges, but Floyd whimpered fearfully as a third officer drove him to the police station and tried to calm him down.
"George," she said. "Will you listen to me? Will you relax, please? Just relax."
At the station, officers sat Floyd down for questioning.
"I heard you're high? ... Right?"
"Yes, sir."
Floyd told them he had taken Percocets that day, and — without specifying the kind — that he took eight or nine pills daily.
An officer asked if he usually sold them.
"No, I'm — well, the reason why I don't get involved with that [is] because Minneapolis has been good to me. And regardless of my addiction, I never wanted to see the penitentiary again."
Worried about Floyd's condition, authorities called an ambulance.
"I'm getting f — ed over, man," Floyd said. "Every time, man, every time. Oh man, every f — ing time, man. Every f — ing time, man."
A medical professional named Shelley took his blood pressure and voiced alarm at the reading: 216 over 160. Floyd told her that he had not been taking his medication for high blood pressure, a condition that ran in his family.
She asked if he felt sick if he didn't take pain pills.
"Yeah … People prey on the weak, man."
Shelley tried to comfort Floyd as they waited for help to arrive.
"We're not judging you, we just want to make sure you're OK, all right? Maybe … this is what it takes to get you taken care of. … Maybe this was meant to be."
Part III
Losing Big Floyd
George Floyd looked around the Anoka duplex that his friend Aubrey Rhodes had just bought.
Like Floyd, Rhodes had left Houston's Third Ward in search of a new life in Minnesota. He had gone through treatment, found a job and saved for a down payment.
Now, in these closing weeks of 2019, Rhodes was moving into his own home, and Floyd was there to help.
"I like this," he said.
Floyd admired the friend he called "lil' bro." He wanted Rhodes to show him how to buy a house once he "got all this stuff together," hopeful that his friend's success presaged his own.
In the new year, Floyd found another way of claiming his place as a Minnesotan: He changed the area code on his replacement cellphone from 832 — Houston — to 612. Then he and his girlfriend, Courteney Ross, ran out of the Metro PCS store, holding hands and laughing as they jumped over snowbanks with giddy elation. They bought pizza slices across the street to celebrate.
Minnesota, with one-tenth the Black population of Texas, seemed an unlikely place for Black men from Houston to affix their hopes.
The gulf between the state's mostly white residents and its Black ones — in education, income and homeownership — was among the largest in the nation. Twenty-seven percent of Black Minnesotans lived in poverty, far higher than the 18% of similarly struggling Black Texans.
Law enforcement agencies across the state — especially in Minneapolis — had been dogged for years by accusations of biased policing. Officers rarely faced serious consequences for their actions, but the city had paid out millions of dollars in legal settlements to Black victims of police abuse.
Months after Floyd moved here in 2017, a jury acquitted police officer Jeronimo Yanez of manslaughter for fatally shooting Philando Castile, a Black man, during a traffic stop. Thousands of people marched to the State Capitol to protest the verdict.
"There has always been a systemic problem in the state of Minnesota," his mother, Valerie Castile, declared outside the Ramsey County Courthouse after the decision. " … The system continues to fail Black people and it will continue to fail you all."
The following year, Castile met Floyd at an event serving the homeless outside the Harbor Light Center.
"What happened to Philando never should have happened," Floyd told her, and Castile could feel the kindness in his embrace.
Pastor John Riles in Houston and some of the men who followed the path he laid out for them did not dwell on racism in Minnesota. They were heartened by the tranquillity of the landscape and the friendly people; how residents of different cultures seemed to get along, compared to the segregated and punishing milieu of Houston.
Rhodes brightened when describing his first visit to the Minnesota State Fair, where he saw such an impressive mingling of citizens. He felt at peace at the Salvation Army Northwoods Camp in Finlayson, where he strolled the forest at night and prayed, basking in the quiet.
Floyd's friend Reginal Smith, when he moved to the Twin Cities from Houston, had heard that the Minneapolis police were quick to shoot. Yet he never felt that he drew their scrutiny, and when he moved back to Texas with his partner in 2016, he did not pass on any warning to Floyd. He wanted him to experience Minnesota as he had: a place where a Black man would be judged for who he was, not his past.
Floyd voiced surprise to his white girlfriend about how pleasant people were here. She told him to be leery; Ross knew how they could be in private. Sometimes, when she harshly criticized the police, he would suggest they were only doing their job.
Still, they agreed that Ross should drive whenever they were together, knowing that cops were less likely to pull over a white woman than a Black man.
Once she took Floyd to an auto shop in northeast Minneapolis to repair a tire. The staff had always treated her well when she came on her own, but with a Black man at her side, she found workers dismissive and rude. Ross was furious.
Floyd told her that they would find another shop. He believed that Minnesota had a heart for him — for everybody. He often urged her to be thankful for the state's abundance.
Ross considered herself far more pessimistic about Minnesota, about white people.
"Well, we're not equitable enough," Ross told him. "We need more."
Last year, Floyd tried again to become a licensed truck driver. He completed the training but told Robert Fonteno, the Houston native who paid for his bus ticket to Minnesota, that he failed the road test and needed to save some money in order to retake it.
Floyd was still working part-time at Conga Latin Bistro when he began another job as a delivery driver, traveling rural roads late into the winter nights. In January, police in western Minnesota ticketed him for speeding and driving without a valid endorsement for his noncommercial truck. He was cited again less than a week later for falling asleep and hitting a car at a red light. No one was injured, but Floyd lost his job.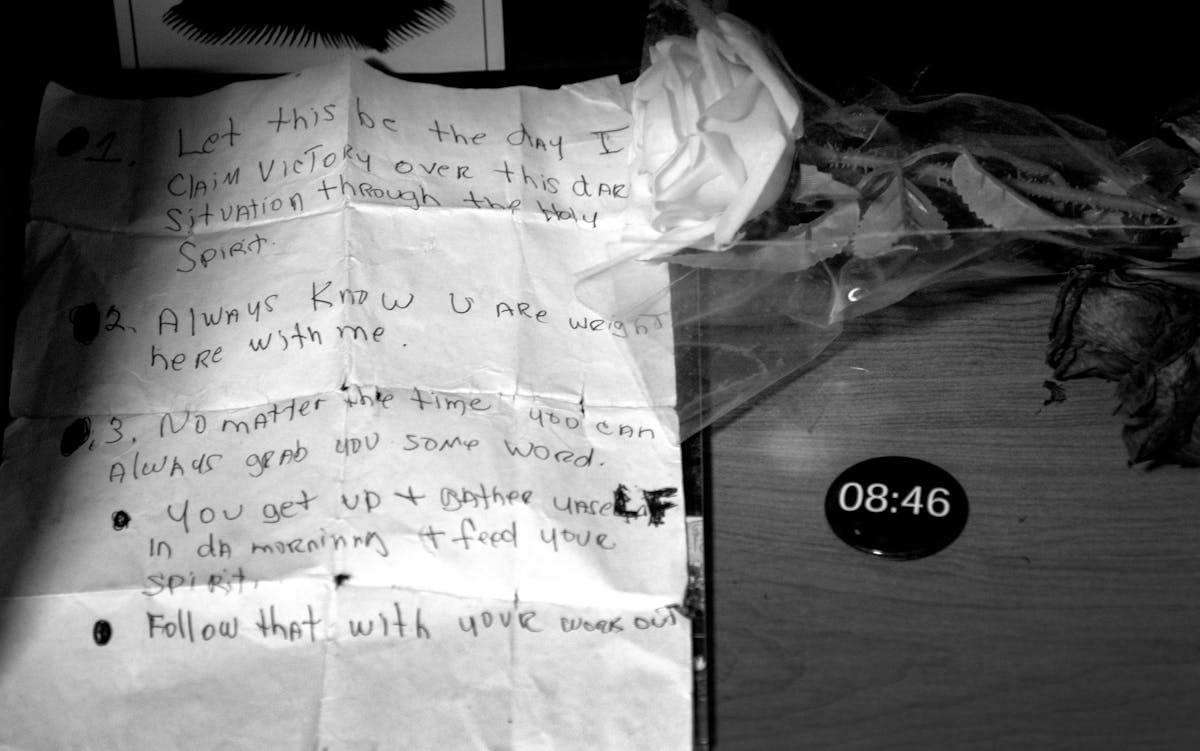 He sought to discipline himself. Floyd wrote a series of affirmations on the back of a February document related to his blood pressure medicine, and taped the list to his bedroom wall:
•Let this be the day I claim victory over this dark situation through the Holy Spirit.
•Always know u are wright here with me.
•No matter the time you can always grab you some word.
•You get up & gather yaself in da morning & feed your spirit.
•Follow that with your workout.
Floyd was still looking for another job when the pandemic struck in March. Then he tested positive for COVID-19. Though hypertension put him at higher risk, Floyd appeared to recover quickly. But his finances worsened after the state ordered the shutdown of restaurants to slow the spread of the virus. He worked his last day at Conga Latin Bistro on March 15.
Floyd tried not to let his misfortunes darken his resolve at first, writing on a piece of paper:
Look into my eyes & tell me what u see
You cant miss my heart its so dam big
A man of God u cant change me
But at some point he drew a line under that verse and penned another:
Man at dat point again.
Back stuck all up in my addiction.
It get worse got corona & 300 bucks
Man life suck
But life never ever sucked
but I dam sho did.
Further down the page, Floyd wrote: Get addicted God.
He could not make rent that April, nor May. Floyd called his landlord and boss Jovanni Thunstrom with an offer to pay half and gradually catch up on the rest. When Thunstrom came to collect the $300, Floyd asked when he was reopening the club.
"I really miss working there, boss man," Floyd said.
At home, Floyd often prayed with one of his roommates, Theresa Scott. One day in May, they stood together at the top of the stairs and prayed much longer than usual. Alvin Manago, his other roommate, would hold onto the image of Floyd closing his eyes and saying, "Amen," because it was the last time he ever saw him.
And for months afterward, Manago would ask himself, what was happening that day?
The enforced isolation of the pandemic was sapping Floyd, who derived much of his light from the company of others. He spent the next two weeks crashing with friends in north Minneapolis.
Floyd's friend Tiffany Cofield spoke with him by phone from Houston in mid-May. Something seemed to be weighing on him, and he was stressed. He could not figure out why Texas had denied the renewal of his driver's license — records show it was for an unspecified outstanding violation — which posed another barrier to earning his truck driving credentials.
"I don't know what you got going on in Minnesota, but you need to come back home," Cofield said. "I can't help you. I'm too far away."
"I got so much going on up here," Floyd said. "I just can't move now."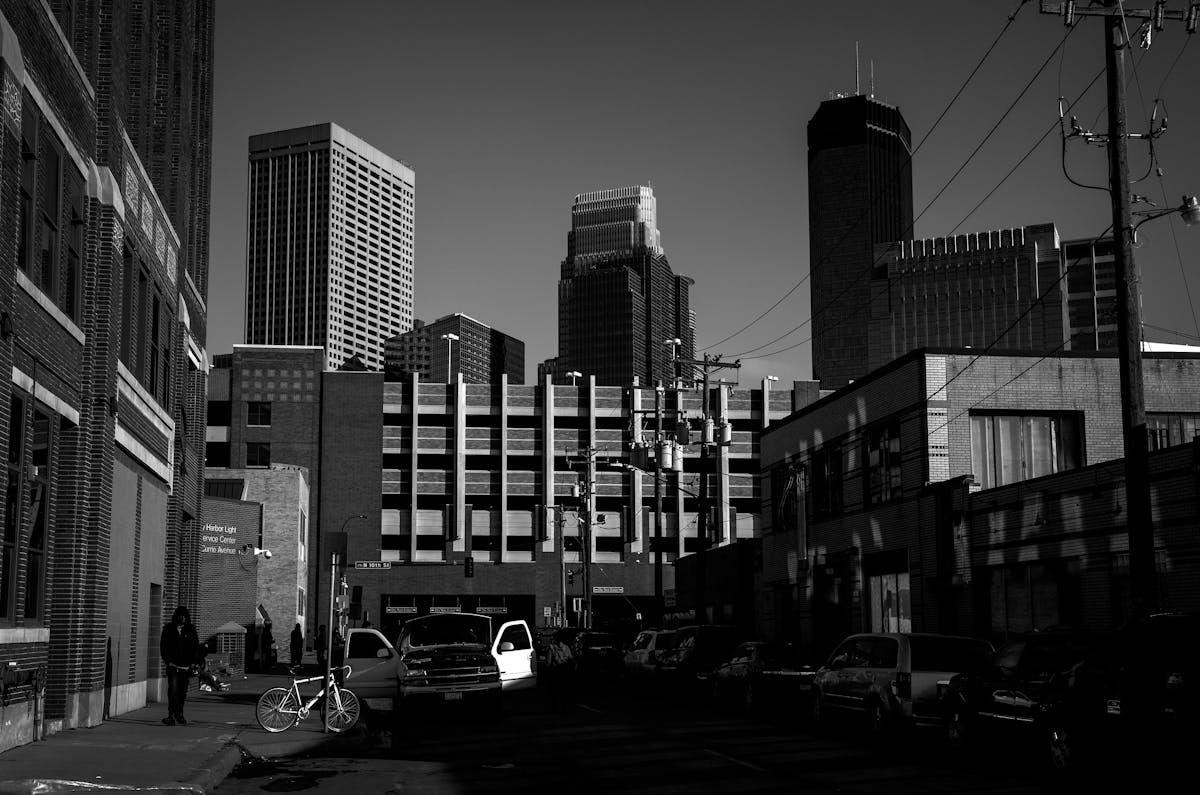 Floyd always had a heart for people from his hometown, and in recent years he had begun spending more time with Houston transplant Maurice Hall.
Hall had moved to Minneapolis in 2011, also with the help of Pastor Riles. Smith said Hall did well at first, going to Turning Point, working at a slaughterhouse and vowing "to get my life right." He was supposed to spend the 2012 holidays with Smith's family, but borrowed his car and was arrested for burglary two days before Christmas.
"I really thought he was going to do the right thing," Smith said.
Hall served four years in prison until 2017 and was sent back the following year for not complying with the conditions of his release. He was out in months and began staying at the Harbor Light Center. The homeless shelter had remained Floyd's hangout long after he stopped working there — he liked to visit Rhodes and others — and Hall and Floyd became friends.
Minneapolis police kept the block in front of the shelter under surveillance because they considered it a hub of drugs, assaults and other crimes. On a sweltering afternoon in August 2019, officers watching a safe zone camera said they saw suspicious activity involving Hall's Ford Crown Victoria in the parking lot.
Ross said that she, Floyd, Hall and another woman were sitting near Hall's sedan when several squad cars came screeching up. "Get your hands against the wall, get your hands against the wall!" police yelled, according to Ross.
She watched as authorities briefly questioned Floyd in the back of a police vehicle. It had been three months since police had caught Floyd with pills but not charged him, and she feared that he would have another panic attack.
They asked his name and he said Floyd; they asked his last name and he said Floyd. He cried, barely able to speak.
Ross told the officer his first name was George and that he was nervous. Police let Floyd and the others go. A search of Hall's car yielded nothing.
Two weeks later, authorities apprehended Hall outside the Harbor Light Center and found 23 grams combined of cocaine and meth in his backpack. Officers also discovered a gun — which Hall was barred from carrying due to his criminal convictions — in his locker at the shelter.
By then, several men in the Houston crowd had backed away from Hall. Floyd would not. He was known to befriend those who faced struggles, and referred to Hall as "my boy."
Earlier this year, the center hired anti-violence outreach group MAD DADS to patrol the block and ward off drug dealers. One of the supervisors was Wallace White, Floyd's friend from Turning Point and Miss Bea's House.
White invited Floyd to join MAD DADS, figuring he would be an ideal outreach worker to patrol Currie Avenue, Nicollet Mall or the North Side. White saw a dapper-looking Floyd on May 24 at the Harbor Light Center and urged him to come to his office the next day to finalize his hiring.
"OK, I'm going to come up there, Wally man," Floyd replied. "I'm going to be up there tomorrow."
Floyd never showed up.
That afternoon of May 25, Floyd invited Rhodes to a Memorial Day barbecue, but Rhodes was working a double shift. As the day waned, Floyd, Hall and another friend named Shawanda Hill drove in a Mercedes-Benz to Cup Foods in south Minneapolis, where Floyd had gone to pay his phone bill over the last two years.
Hall went inside first and a clerk rejected his $20 bill as counterfeit, according to Cup Foods spokesman Jamar Nelson. A short time later, Floyd walked in and paid for cigarettes with a bill the clerk also believed was fake. Floyd returned to the car and was sitting in it with Hall and Hill when the police arrived.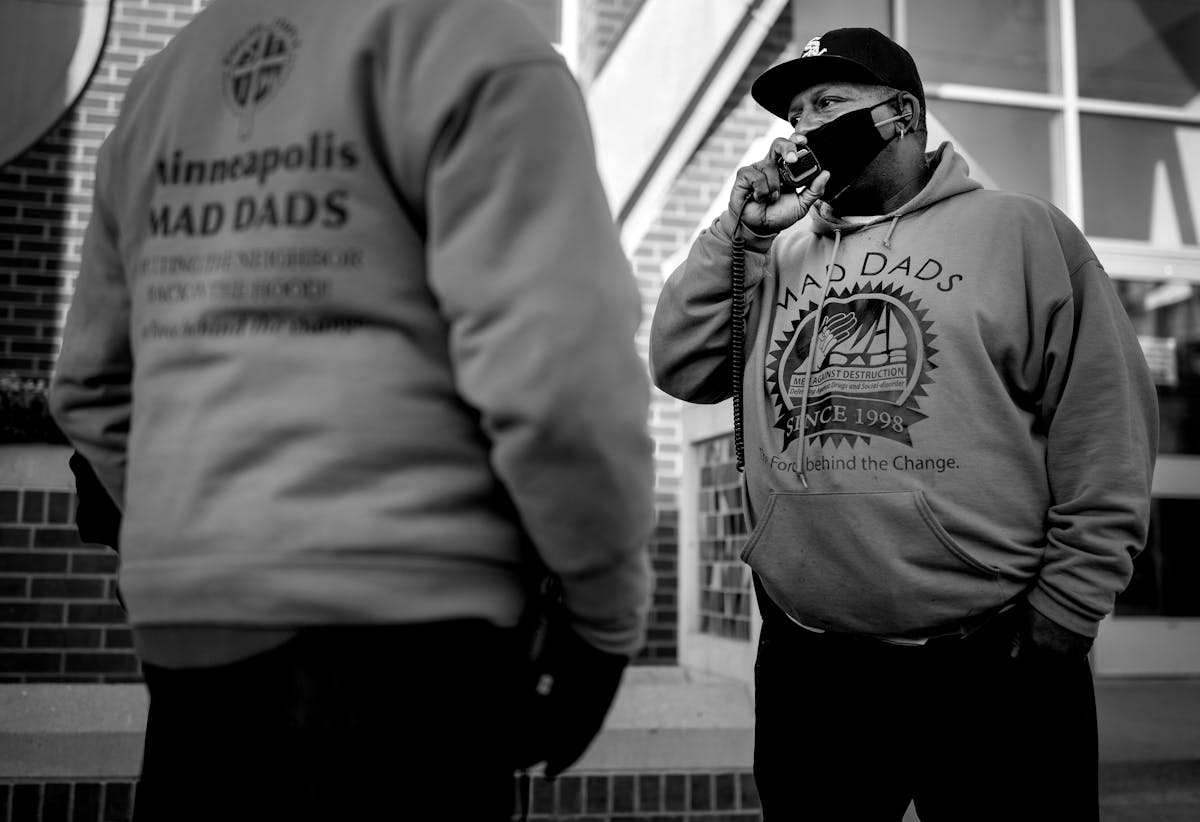 Floyd looked up, startled.
Officer Thomas Lane was rapping on the window of the Mercedes with his flashlight.
He screamed and cursed at Floyd to put his hands on the steering wheel. He briefly flashed his gun.
Floyd said he was sorry, Mr. Officer. He cried.
"Please, please, please, man. Please, please, I didn't know, man."
Lane and officer J. Alexander Kueng pulled Floyd out to handcuff him. They walked Floyd across the street. They tried to maneuver him into the back of a squad car. Floyd panicked. He said he had anxiety and claustrophobia.
"Man, I'm scared as f —, man," Floyd said. He asked to be put on the ground. "I'm going down, I'm going down, I'm going down." He said over and over that he could not breathe.
Finally, Floyd tumbled onto Chicago Avenue. Lane held down his legs. Kueng applied pressure on his back.
Officer Derek Chauvin knelt on his neck.
Floyd begged for help. He called out, "Mama! Mama! Mama!"
"My stomach hurts. My neck hurts. Everything hurts. Need some water or something. Please. Please. I can't breathe, officer."
"Then stop talking, stop yelling," said Chauvin.
"They will kill me. They will kill me, man."
"It takes a heck of a lot of oxygen to talk."
"Come on, man. I cannot breathe. I cannot breathe. They'll kill me. They'll kill me. I can't breathe. I can't breathe. Please, sir. Please, please, please …"
Floyd went silent.
Chauvin did not lift his knee.
A crowd of onlookers, kept back by officer Tou Thao, shouted at the cops.
"Get the f — off of him! … He's dying, bro!"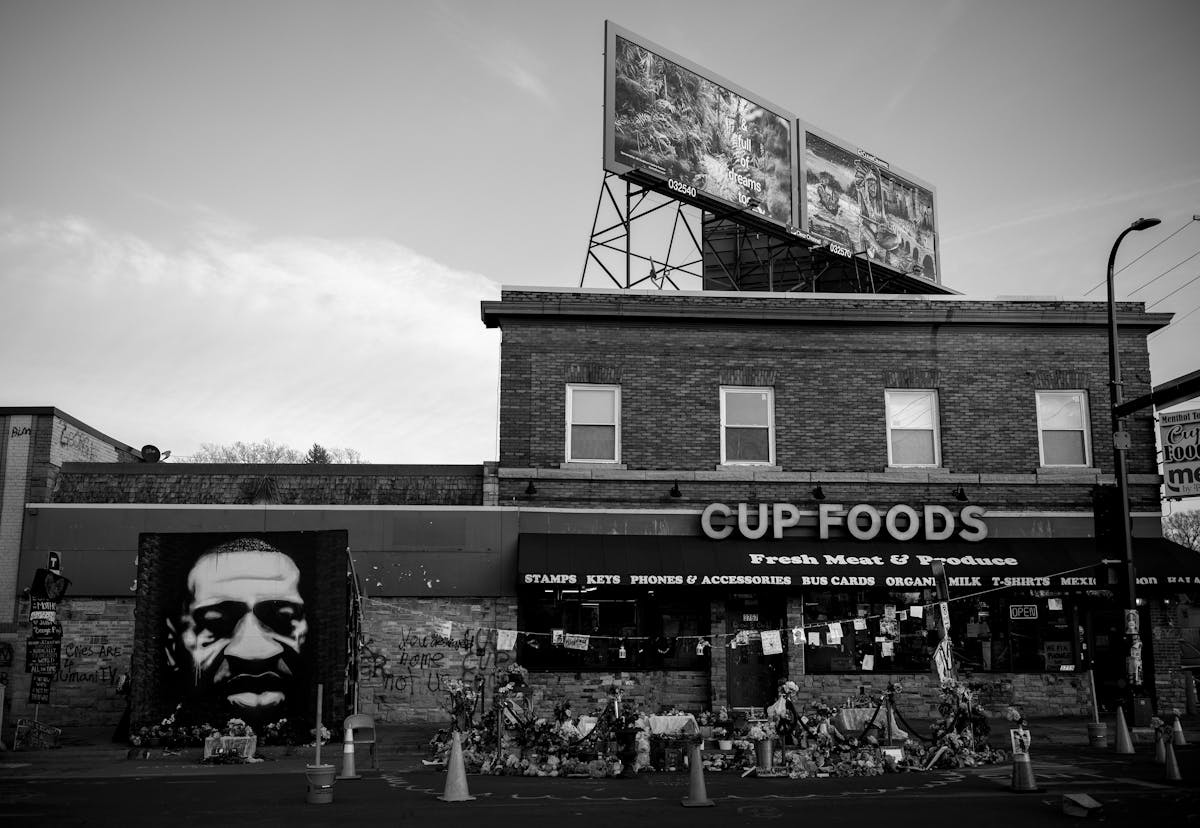 Fonteno was driving his truck when a friend called to tell him.
"You know they killed Big Floyd?"
Fonteno was distraught. Then he was angry. He thought of how little had changed since his parents told him a half-century earlier about the Houston police killing of a Black activist, shortly after a Black man's death in officers' custody stirred a neighborhood uproar.
How brutality against Black people even today seemed to be the accepted order of things.
How a Third Ward hero who had worked so hard to build a new life died over so little, in the city that he hoped would save him.
Fonteno kept running down the varied trails of fate in his mind, imagining: What if Floyd had stayed in Houston? Even as he believed that all the world's happenings were divinely inspired — even as he believed that Floyd's death was a racist murder — his conscience felt unsettled.
After some time, Fonteno called the pastor.
"You know, Pastor Riles," he said, "if I had never brought him up here, would he still be alive?"
Riles had been asking himself the same question. He had gone numb in those days after Floyd's death, sleeping fitfully as he imagined the anguish of Floyd's final moments.
But he told Fonteno that he believed God had chosen him to influence Floyd's passage in that moment. He convinced him that Floyd's death had not been fruitless, that it was already changing lives.
When Fonteno thought of Floyd's fate — that of a Black man who had passed through so many of the same doors, overcoming the heavy hand of criminal justice in Texas only to meet a more oppressive one here — he also realized that it just as easily could have happened to him.
Life suddenly seemed finite, and Fonteno decided to do more to help people, much like others had aided him and members of the Houston-to-Minneapolis pipeline. He returned to college to pursue degrees in psychology and addiction counseling, with plans to become a licensed master social worker and to open a center to serve addicts, ex-offenders and the mentally disabled.
During his last conversation with Floyd, they mourned a high school friend of the H-Town crowd nicknamed Big Dood, who died in Minneapolis in mid-May of meningitis. Floyd called for their Houston brethren to band together.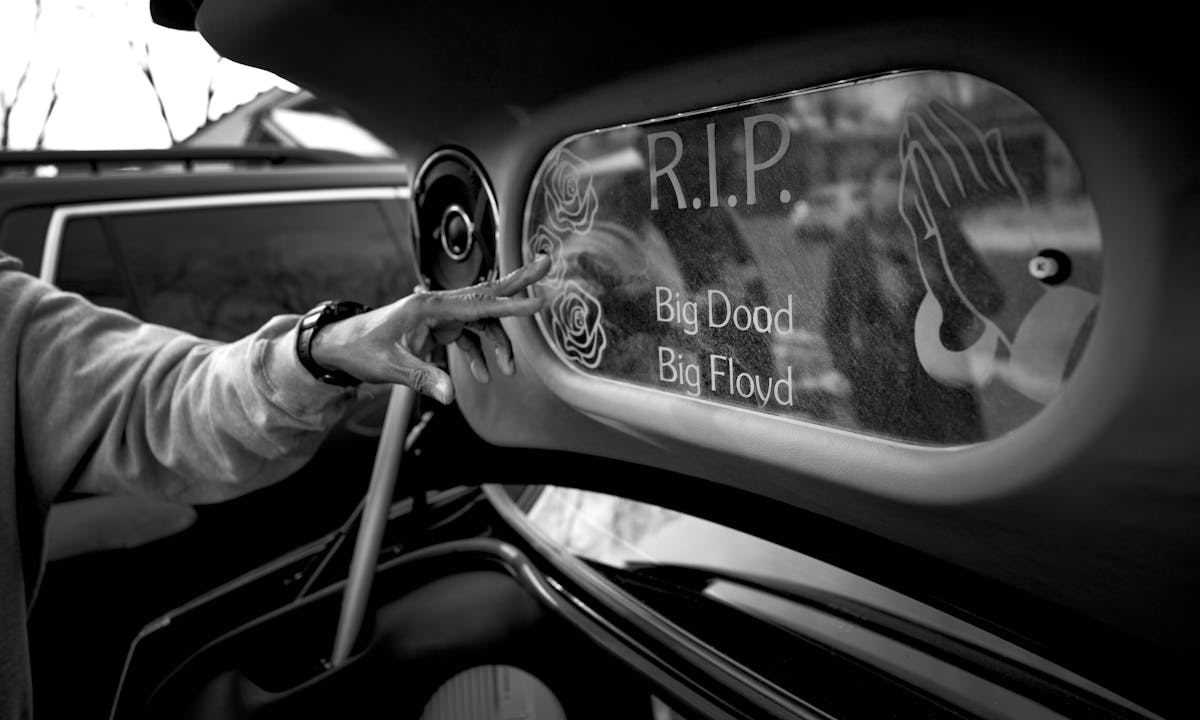 "We have to hold on," Floyd told Fonteno. "We need to get together more often. We need to become … more like family, because we're all we have up here."
The sentiment stayed with Fonteno. He began talking to Rhodes more often and visiting him at work.
Rhodes, privately, was grappling with his own guilt.
"I actually told him how to get here," said Rhodes. "That really messes with me. … I was trying to guide him but I didn't know that it would come down to that."
One of the biggest mysteries to Rhodes and other friends was that the clerk's 911 call began over suspicions of Floyd using a fake bill — something they did not believe he would do knowingly. He had many friends who had helped him out with money before and would have done so again.
Ross, for her part, was surprised to hear that some friends from Houston were haunted by the question of whether Floyd would have been better off in Texas. She believed there should be no regret, because Floyd lived a series of beautiful years here.
She still feels Floyd's spirit, hears him talking to her all the time. She once asked him for a 24-hour sobriety medallion he received from Alcoholics Anonymous, because she used to love the ones her father gave her. Sometimes she still holds Floyd's in remembrance.
The medical examiner ruled Floyd's death a homicide, and the four officers were fired and charged in his killing. The autopsy showed fentanyl and meth in Floyd's system. Ross and others were distressed and angry that some blamed him for his own death.
Then maybe I should be out there too, she thought. Put me on the ground and put a knee on my neck and take my life, because I've done it.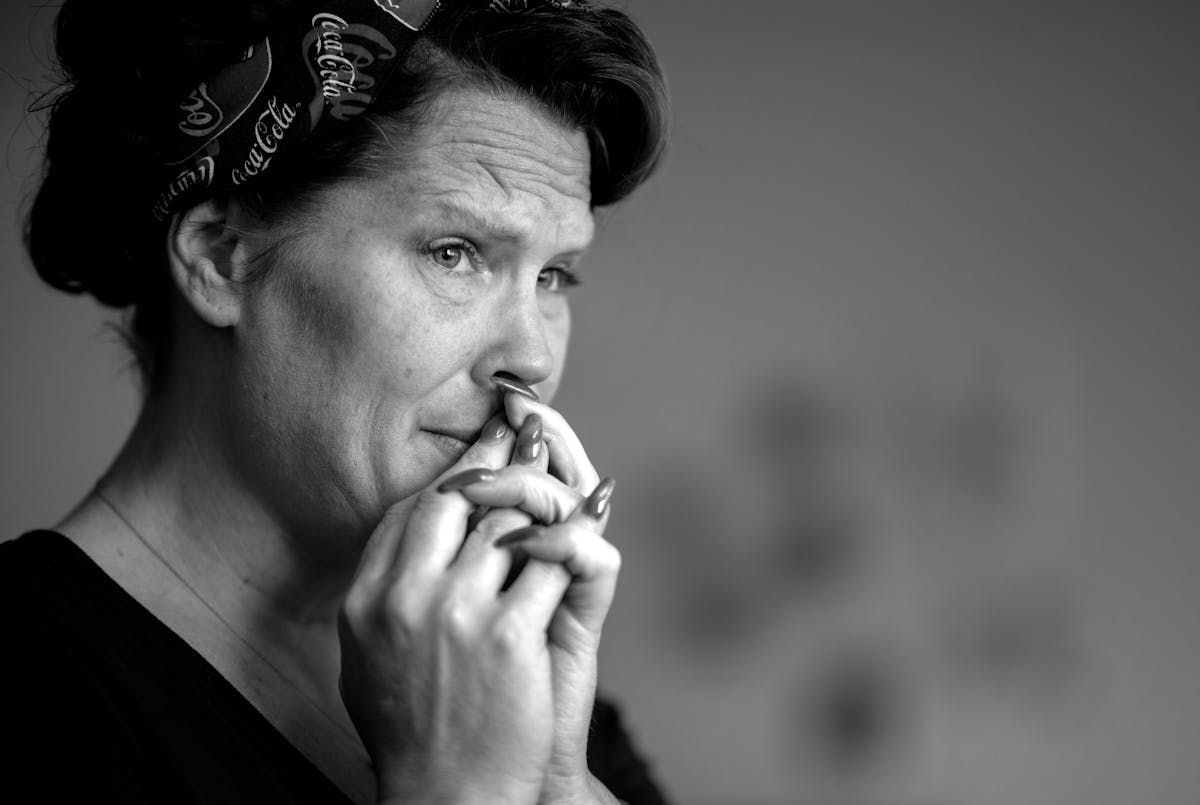 For months afterward, Rhodes assumed his usual post behind the security desk of the Harbor Light Center and looked toward the door. He kept waiting for a smiling Floyd to walk in and greet him. "What's up, Deuce?" he'd say, calling Rhodes by his nickname.
Everybody was talking about Floyd when Rhodes went to work on May 26, the day his death became widely known. "We came here to better our life not to be killed by wicked cops," Rhodes posted on Facebook, still stunned. He kept reporting for duty as protesters stormed the streets. He kept reporting for duty as the city burned. "Work," he said, "helps me stay on my square."
He missed only a few days to attend Floyd's funeral in Houston. When he returned, a crowd gathered in front of the Harbor Light Center with red and white balloons. They stayed silent for the close to 9 minutes that Chauvin knelt on Floyd's neck, and a friend from Houston finally said, "That shows us our brother's suffering, but he shall suffer no more."
Everybody cheered as the balloons they released became wisps twirling toward the sky. The Harbor Light Center meant so much to Floyd that the George Floyd Memorial Foundation would later make its first donation of $5,000 there.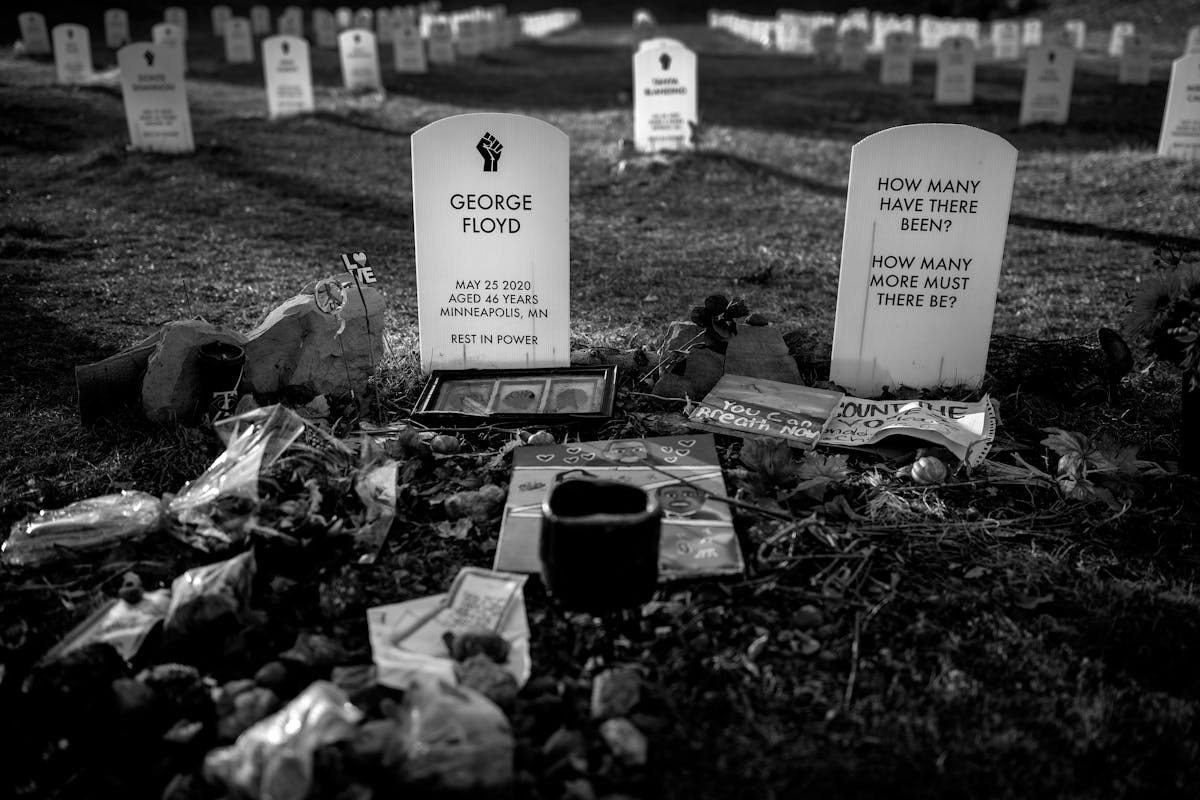 Rhodes started wearing Black Lives Matter bracelets. Though he'd had his share of run-ins with the police in Texas, Rhodes had not felt bound to the movement until the loss of one of his closest friends. He joined protesters at the Mall of America, where he once surprised Floyd with a birthday shopping trip, and they walked to Cup Foods to demand justice. He attended the March on Washington and stood before the Lincoln Memorial wearing a T-shirt bearing Floyd's image, raising his fist.
The cops could kill you in Houston. The cops could kill you anywhere. This, he knew. So Rhodes did not see Floyd's loss as a reason to leave Minnesota, nor would he dissuade other Third Ward residents from moving here.
He stayed.
Rhodes found tenants for the other half of his duplex and decorated his living room with mementos of the North and the South. On a shelf on one side of the fireplace, he displayed a cake tin in the shape of a 3 to represent the Third Ward; on the other, he positioned a Houston Rockets cap between two Timberwolves caps.
Rhodes bought a pickup truck to start a side business delivering equipment. He marked his fourth year of sobriety. He had charted a strange confluence of promise and loss all year, and some days, in the midst of his gratitude, Rhodes broke down and cried.
Hall, who has publicly maintained that Floyd did not resist arrest, is expected to be a witness in the trial against the four former officers. He declined to speak to the Star Tribune, but Hall's attorney said he is back in the Twin Cities after being treated for post-traumatic stress disorder at the Menninger Clinic, a leading psychiatric hospital in Houston.
Rhodes received a call from Hall in November seeking a ride, but Rhodes was in Minnetonka picking up a red kettle for the Salvation Army's fundraising drive and declined to meet him. He held nothing against Hall but had tried to help him a few years back and believed there was only so much he could do for the time being.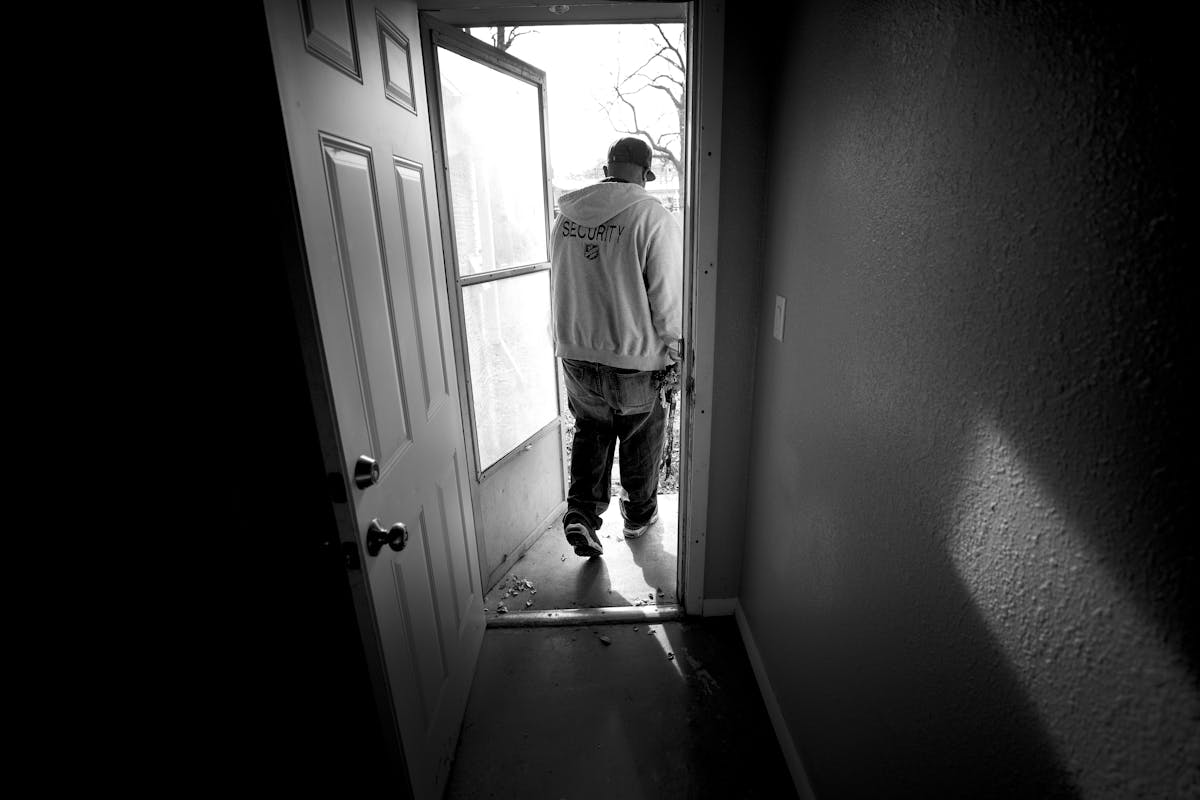 Rhodes stepped outside the Harbor Light Center one recent afternoon, the fierce chill foreshadowing his fifth northern winter. He walked east along Currie Avenue, past the bright swirls on a mural that read Come in she said I'll give ya shelter from the storm. He turned the corner and stopped at the Greyhound bus station, now quiet, and recalled the moment Floyd appeared after his long journey from Houston.
"I remember this like the back of my hand; he walked out that door," Rhodes said. "It's just shocking every time I think of it. Shocking that he's gone."
He is determined these days, as he puts it, to "live a normal Christian life." Even if it would be easy to use Floyd's death as a reason to give up.
Rhodes refuses.
He knows what Floyd would say.
Man, this just a hurdle. Just go do what you do.
He pictures Floyd smiling down, urging him onward.
Keep striving, lil' bro. Keep striving.
So he does. For himself. For Floyd. For the next weary Texan who steps off the bus praying for a whole new life.
About this story
This story is based on interviews with 38 people about Floyd and his world, and draws on court records, police reports, videos and photos. Courteney Ross shared some of Floyd's writings. Quotes attributed to Floyd were heard directly by people who spoke with the Star Tribune.
Credits
Reporting Maya Rao
Photography Carlos Gonzalez
Photo editing Cheryl Diaz Meyer, Deb Pastner
Videography Carlos Gonzalez, Mark Vancleave
Video editing Mark Vancleave, Jenni Pinkley
Editing James Eli Shiffer, Baird Helgeson, Eric Wieffering, Catherine Preus, Holly Willmarth, Amy Kuebelbeck
Illustration Charles Chaisson
Art Direction Greg Mees, Josh Penrod, Anna Boone
Design Anna Boone, Josh Penrod
Development Anna Boone, Jamie Hutt
Audience engagement Tom Horgen, Alexis Allston, Colleen Kelly