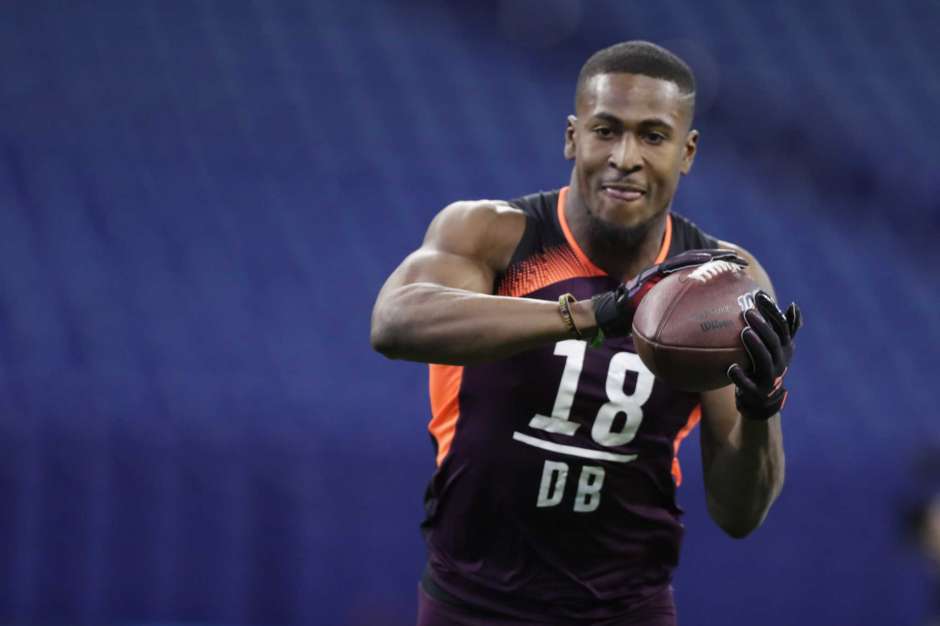 Leading into the NFL Draft starting Thursday, April 25th, the Star Tribune will assess the Vikings roster, draft history and college prospects during this eight-part series.
No. 8 need: Quarterbacks
No. 7: Running backs
No. 6: Receivers
No. 5: Linebackers
No. 4: Defensive backs
Four of the Vikings' more experienced defensive backs enter the final seasons under contract. That includes cornerbacks Trae Waynes and Mackensie Alexander, as well as safeties Anthony Harris and Jayron Kearse. The long-term outlook, combined with cornerback Mike Hughes' recovery from a torn ACL and cornerback Holton Hill's four-game suspension, again make the secondary an area to add in the draft.
This NFL Draft class is regarded as deep at cornerback and, in particular, safety, where the Vikings may seek to bolster its own depth considering Harris is playing on a one-year deal and both safeties Andrew Sendejo and George Iloka left in free agency.
Level of need
No. 4. The Vikings' stingy secondary doesn't have many long-term fixtures at this point. Only one proven cornerback, Rhodes, is signed beyond this season. Vikings coaches obviously expect big things from Hughes, but he may not be cleared for team drills until training camp. Depth needs to be addressed at both cornerback and safety.
Contract years

Cornerbacks
Xavier Rhodes (2022)
Trae Waynes (2019)
Mackensie Alexander (2019)
Mike Hughes (2021)
Holton Hill (2020)
Craig James (2020)
Duke Thomas (2019)
Safeties
Harrison Smith (2021)
Anthony Harris (2019)
Jayron Kearse (2019)
Derron Smith (2019)
Jordan Martin (2021)
Draft history
Cornerbacks
Mike Hughes (2018, 30th overall)
Jack Tocho (2017, 245th overall)
Mackensie Alexander (2016, 54th overall)
Trae Waynes (2015, 11th overall)
Kendall James (2014, 184th overall)
Jabari Price (2014, 225th overall)
Safeties
Jayron Kearse (2016, 244th overall)
Antone Exum Jr. (2014, 182nd overall)
Harrison Smith (2012, 29th overall)
Robert Blanton (2012, 139th overall)
Mistral Raymond (2011, 170th overall)
Don't forget about
S Anthony Harris. Harris grabbed hold of the starting job in Week 8, and this time he didn't let go. The former undrafted safety out of Virginia has made the leap to starting material, leaving a reputation as one of the most intelligent players in the room. The Vikings gave him the second-round restricted free agency tender (worth $3 million), showing the team's brass thinks highly of him. A long-term contract extension down the road wouldn't be a shock. Even then, depth may be added. The Vikings have five safeties under contract, including two signed from the defunct AAF.
Five names to know
CB Isaiah Johnson, Houston: Johnson is just two seasons into playing cornerback after moving from receiver. That makes his team-leading seven deflections as a senior more impressive. He's likely a mid-round project pick with a lot of upside. NFL teams should be drawn in by height (6-2) and arm length (33″) just shy of Xavier Rhodes. The Vikings hosted Johnson at team headquarters on a top 30 visit this month. He's projected as a fourth-round pick.
S Amani Hooker, Iowa: As an intelligent hybrid safety, Hooker has a lot to offer to NFL defenses trying to combat the rise of athletic tight ends. The Park Center, Minn. native practiced against 49ers tight end George Kittle and current first-round prospects T.J. Hockenson and Noah Fant throughout his time at Iowa. Hooker (5-11, 210 pounds) has had formal visits with the Vikings and Titans, he told the Star Tribune. The Seahawks have also shown a lot of interest. He's a projected mid-round pick.
S Marquise Blair, Utah: A second-team All-Pac-12 honoree, Blair made his mark as a hard-hitting safety with two tackles for a loss, two interceptions, two deflections and a forced fumble. The junior college All-American played two seasons at Utah. Draft analysts say Blair (6-1, 195 pounds) will need to play with more discipline in the NFL due to targeting penalties in college. Mike Zimmer might not mind that, as he says he'd rather tell his defenders 'whoa' than 'go.'
CB Alijah Holder, Stanford: An All-Pac-12 honorable mention as a senior, Holder progressed toward the end of his college career and should be an intriguing late-round project. It's because he stands 6 feet and 1 inch and has fairly long arms that could ease his transition to the NFL. He had just two interceptions to 24 deflections at Stanford, illustrating his work in progress.
CB Derrick Baity Jr., Kentucky: Baity Jr. (6-2, 197 pounds) has the size coveted by the Vikings and Zimmer, who was at Kentucky's pro day last month and worked closely with Baity Jr., according to reporters at the school. Didn't produce a lot of deflections and picks despite being a three-year starter, so he could be a late-round or undrafted project. Zimmer also saw Baity Jr.'s teammate, cornerback Lonnie Johnson (6-2, 213 pounds), who is a possible Day 2 pick.
How it'll happen
Our best guess is the Vikings draft another cornerback, perhaps as early as Day 2. General manager Rick Spielman has taken three first- and second-round corners since 2015, so you know they want pedigree at the position. A safety could be on his way to bolster depth, perhaps as a late-round pick.