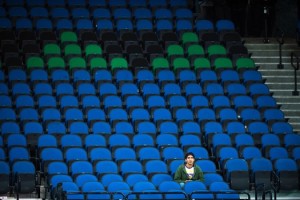 The Timberwolves will carry one of the NBA's worst records and the NBA's lowest average attendance into their next home game Friday against Detroit. Those two facts are very much intertwined — particularly when the franchise has been losing for more than a decade and there are so many options for local sports fans.
The product is almost always going to be the No. 1 determinant when it comes to attendance, good or bad, in all sports.
That said, there might be another factor at play with the Timberwolves. In online comments recently on an attendance column written by Chip Scoggins and again when I sent out a Twitter query recently, many Wolves fans expressed disdain for the organization's ticketing system. The Wolves went exclusively with "Flash Seats" as its method last season, eschewing paper ticketing for an electronic system.
There were some initial grumbles over the ease of use, though those have largely dissipated. What still remains, though, in Year 2 of the system are gripes about what happens when you try to give away (or in particular try to sell) a Wolves ticket under the Flash Seats system.
With Flash Seats, ticket purchasers use an app on a mobile device or scan a credit card or ID to claim their seats upon entry to Target Center. A handful of other NBA teams use Flash Seats, though the Wolves and Lynx were early adopters in requiring its use for all tickets.
In response to this Twitter question: "Has the mandatory use of Flash Seats for ticketing impacted your attendance habits?" I got a deluge of responses. A few people said they liked Flash Seats. A few people said the on-court product was the only deterrent. But the majority said the ticketing system had at least some impact. In many cases the impact was significant, such as the respondent who replied, "flashseats was biggest deterrent for me not getting ticket package this year."
Some — particularly corporate season ticket holders — have complained that merely transferring a ticket to another person is cumbersome.
But the biggest problem in the eyes of fans is that with Flash Seats, there is a price floor when it comes to reselling tickets. That means if you buy a season ticket package for, say, $100 per game, there is a minimum resale price (which was 75 percent of face value last season). You couldn't just unload them for $40 at the last minute.
Unsold/unused tickets frustrate both the original holders and those who were used to finding good deals on tickets via StubHub or other secondary markets that are no longer available since the Wolves started using Flash Seats as their exclusive ticketing system for both original seats and re-sold seats.
Said one Twitter respondent: "Used to make game day decisions about going. Now don't even look because price is always high." And another: "HUGE YES. Would be season ticket holder but for Flashseats. Limits on ability to resell biggest factor. Never really own your seat."
My guess is the Wolves don't necessarily mind this part of things — nor do some season-ticket holders — because it serves as a way to maintain the value of a ticket. If you buy seats for $100 and end up sitting next to someone who bought them for $20, you might be a little annoyed.
Still, it's a big enough issue to be the focus of a class-action lawsuit filed earlier this year. Flash Seats, the suit alleges, allows the Timberwolves to "control the use, resale, and transfer of tickets by season-ticket holders — and to employ minimum resale prices, added fees, and other draconian restrictions on subsequent transfers of the tickets."
I checked in for an update this week with Brian Gudmundson, an attorney for the Minneapolis firm Zimmerman Reed, which filed the suit. He said the case is very much alive and that dozens of other ticket buyers have joined the two named plaintiffs.
"I do a lot of cases, and the level of outrage among people affected is on a different level," Gudmundson said.
But is it really impacting attendance? The raw numbers say it's possible, since the Wolves are averaging 13,125 fans through 10 home games (down about 800 from the same point last season) even though they theoretically had a more promising and appealing team this season. Even if you take away last year's nearly 19,000 fans who came to the home opener (vs. less than 15,000 this year), average attendance is still down.
But again, the on-court product does have some influence. The Wolves were 9-12 at this point last season, whereas they are 6-15 entering Thursday. Brad Ruiter, the Wolves' VP of Communications, said Wednesday of Flash Seats, "The vast majority of the feedback we have received from our ticket holders has been positive." He praised Flash Seats for its convenience and ease of communication and said the Wolves have seen a small increase in season ticket holders from last year to this year.
While it is dangerous to rely on a small sample size of Twitter respondents — which often tends to give you those who have had a bad experience, not a good one — it's pretty clear the feedback the Wolves have been getting is different than the feedback I'm seeing.
If the Wolves were 15-6 (as the organization and its fans had hoped) instead of 6-15, Flash Seats might not be an issue. Fans wouldn't expect to find cheap seats and reselling seats for a good price would be much easier.
Maybe it's more a case of bad timing than a bad system, but this is the reality: the team is struggling and there are real people saying the ticket system is a factor in their ticket buying.