Many years ago I took a class put on by one of the largest manufacturers of metal brackets, Simpson Strong-Tie.   That class was a real eye opener - I realized afterwards that just about every deck that I inspect is constructed wrong.  Not all of the installation defects are major, but they're always worth pointing out.  Today I'll talk about one of the most common installation defects that I find with joist hangers on Minnesota decks - improper nails.
You thought I was going to say missing nails, didn't you?  Too easy, too obvious.
Wrong Nails If the wrong nails are used at a joist hanger, it won't perform as intended. To know what nails are supposed to be used, you first need to know what joist hanger you're working with.  The most common joist hanger I find on decks is a LUS28*.  This joist hanger can be used with 2x8 and 2x10 joists.  Now that I know which hanger I'm using, I can go to the Simpson Strong-Tie web site to find out what fasteners are specified.  To see the full page I'm looking at, click here.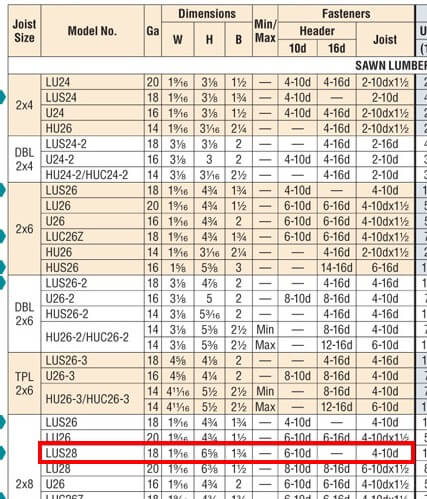 As you can see, this hanger requires 6-10d nails + 4-10d nails.  The big defect that I often find is that 10d x 1 1/2" nails are used in place of 10d nails.  If you look down on the far right column of the above chart, you'll notice only a few hangers will allow a 10d x 1 1/2 nail.  So what's the difference between the two?  Quite a bit.  The photo below shows the two next to each other.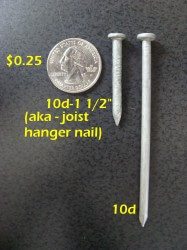 Now here's what the nails would look like if driven in to the floor joist.  You can see that the smaller nail isn't long enough to even begin to penetrate the ledgerboard.  Click the photo for a blowup.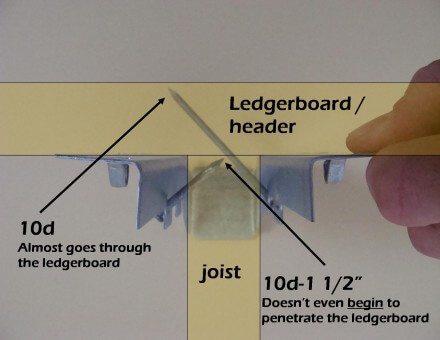 The really crazy thing about this is that the nails that are so much smaller are actually called "Joist Hanger Nails" at the big box stores.  They're called joist hanger nails because that's about the only thing they're good for... but they're usually not even good for that.   If you go to Home Depot and you look at their joist hanger display, you'll probably find boxes of joist hanger nails sitting with the rest of the joist hangers, and no other types of nails.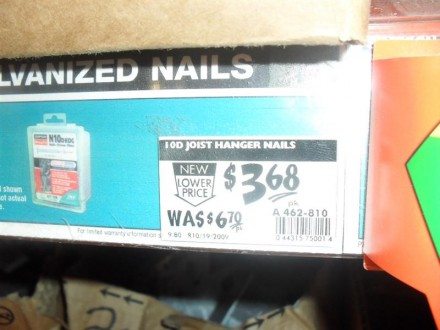 To identify these "Joist Hanger Nails", you can usually just look at the head of the nail.  They usually have a big "10" stamped on them.  Standard 10d nails don't have this.  If the nail doesn't have a "10" stamped on the head, it may or may not be correct; the only way to know is to pull one out.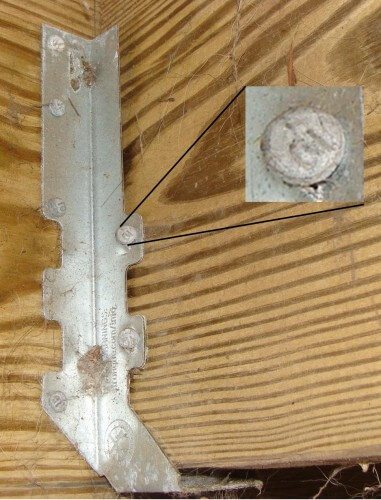 How serious of a problem is this? The manufacturer will allow these nails in to the header, but the total load will need to be reduced to 64% - a huge reduction.  Simpson Strong-Tie does not allow these nails in to the joist.  I confirmed this with one of their territory managers, who said they wouldn't even calculate this load.  
* Joist hangers meant to be used outdoors or in contact with treated lumber will often have "Z" at the end of the model number.  In my example, the joist hanger used for a deck would actually have a model number of LUS28Z.
Reuben Saltzman, Structure Tech Home Inspections - Email - Minnesota Deck Inspector