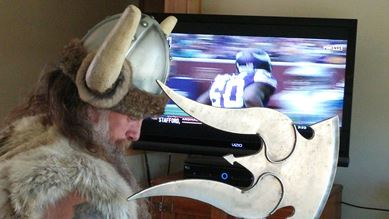 A few different Vikings fans have asked me what was up with the absence of traditional mascot "Ragnar" from the team's home opener on Sunday. While I haven't heard anything official from the team yet, this post on Ragnar's Facebook page on Sunday afternoon provides a fair amount of insight. It reads:
"It doesn't feel right sitting at home. This is not by my choice…I don't make those decisions..At this point it was made for me.I miss all my fans and your support …let's all stay positive as we move forward."
He also posted the picture you see above.
UPDATE: At 5:20, I received this statement from the Vikings:
This offseason, Joe Juranitch's (Ragnar) contract with the Vikings expired. Since then the team has had multiple conversations with Joe but has not been able to reach an agreement on his role with the team moving forward. The Vikings greatly appreciate what Ragnar has meant to the organization and to the fans over the last two decades. We intend to honor his 21 seasons on the field during a 2015 Vikings home game and we will welcome him to future ceremonial events. We will always consider Ragnar an important part of Vikings history.
Ragnar had asked for $20,000 per game over the next 10 years, according to a source familiar with the negotiations. With eight regular-season home games per season, that would be $1.6 million over the decade. He had made about $1,500 per game last year, according to the source.
Ragnar first appeared on the field at a Vikings game in 1994; since 2007, he had been coexisting alongside newer mascot Viktor (who is in the official Vikings media guide in the staff section, while Ragnar is not). Here's more about Ragnar/Juranitch from a short 2013 profile.
It's pretty clear, though, that Ragnar has a devoted following — as evidenced by a petition to have him reinstated and by the comments on his Facebook post:
No one puts Ragnar in the corner … who is responsible for this??? Seriously, Not funny, I have been a fan since 1960….RAGNAR IS THE VIKINGs!!!!!
and
Miss you!!! Bring back Ragnar!! Vikings aren't the same without you!!!!
and
This is not okay!!!! We need you!!! Someone needs to explain!!!!
Those are just a few examples. Here is the full Facebook post with comments. Attempts to reach Juranitch have been unsuccessful.