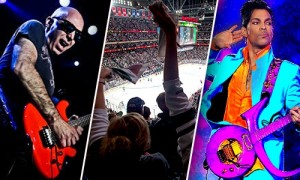 The Wild traditionally has used Joe Satriani's "Crowd Chant" as the song played after the home team scores a goal. You might not know what it's called, but it is VERY recognizable, especially if you're even a marginal Wild fan.
As far as goal songs go, you can do far worse. Some even think the Wild's song is among the best in the NHL.
That said, the song has its detractors. Maybe it's gotten stale? Maybe the team could do better?
Fast-forward to Game 6 of the last year's first round of the playoffs against the Stars. It was the first Wild home game since the death of Minnesota icon Prince. The organization had many tributes to Prince during the game — including using "Let's Go Crazy" as its goal song.
A lot of people — myself included — mused that this should maybe be more than a one-game switch.
Power to the people: the Wild is listening. The organization recently sent an e-mail to season ticket holders with a five-question survey attached, along with the image seen above. After querying fans about expectations and the Wild's brand, the final question was this (thanks to Twitter follower Randy for passing it along):
After Prince passed away in April, a few fans reached out to see if the Wild would consider changing the home ice goal celebration song to "Let's Go Crazy", in honor of the legendary Minnesota artist. We did use it as our goal song for Game 6 against Dallas. We thought it would be a good time to ask our best fans, our Season Ticket Holders, what they thought. Should the Wild change the home ice goal celebration song at Xcel Energy Center?
The four options presented:
NO! The current song (Joe Satriani's "Crowd Chant") is perfect!
YES! Honor Prince by adopting "Let's Go Crazy!"
Yes! But let us pick the new one from a number of options.
Yes! And here is the song that I recommend:
Smart.
While this isn't anywhere near the most pressing question in the offseason and fans would surely keep the current goal song if they could hear it more often during the season, it's an in-touch move by the organization to crowd-source a question like this.