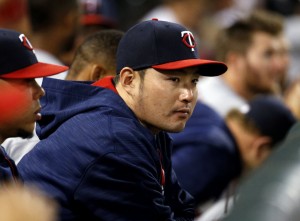 This time last year, Byung Ho Park was the talk of the Twins. The Korean slugger, signed by the Twins in November 2015 to a four-year contract with about a $25 million commitment between a fee paid to his previous team and the contract doled out to Park, made a positive impression on Twins fans in late January 2016 at TwinsFest.
From there, he geared up for spring training — with the Twins and their fans treating his upcoming season with a mix of curiosity, trepidation and hope.
The curiosity came from Park being a brand new player from a foreign league. The trepidation came from the unknown of how his skills would translate to the majors, mixed with the scars of how poorly the Twins' last similar foray went (Tsuyoshi Nishioka). The hope came from the 105 combined home runs that Park smashed in his final two season in Korea. Maybe he would be the missing piece for a team that had won 83 games the year before?
And, well, Park's season was a little bit of all three things. He crushed nine homers in his first 29 games and had early mention as an AL Rookie of the Year candidate. But he hit just .145 with 46 strikeouts in his next 117 at-bats before being demoted to Rochester. From there, after a hot AAA start, he tailed off and eventually needed season-ending surgery on his hand.
That trip to the minors combined with the injury served to put Park out of sight, out of mind — to the point that at TwinsFest this year nobody could give you a consensus opinion on what to expect from Park this year, let alone whether he even fits into the Twins plans under the new Derek Falvey/Thad Levine regime.
Well, we started to get some clarity Friday. To make room on the 40-man roster for recently signed relief pitcher Matt Belisle, the Twins announced Park had been designated for assignment and bumped off the 40-man roster. Park could very well still start the year in Rochester and work his way back to the Twins, but the move does give a signal that the new bosses don't view Park as much of a key player moving forward.
And it's not hard to understand why.
He's a first baseman/DH on a team full of guys who figure to get at-bats at one or both spots (Joe Mauer, Kennys Vargas and Miguel Sano notably among them). He's a strikeout/home run hitter on a team with a lot of those, too. Were the recurring problems with his wrist and hand at least in part to blame for his 2016 struggles? Or is his swing simply not tailored to catch up to most major league pitching? Should we focus on the 22 combined home runs in 372 plate appearances between the Twins and Rochester or zoom in on those 112 strikeouts?
If Park was a mystery going into 2016, he's an even greater one this season. In that sense, he's like a lot a bunch of other Twins players. If you look at several key Twins players — Sano, Byron Buxton, Max Kepler and pretty much every pitcher on the staff not named Ervin Santana — there is a pretty wide range between floor and ceiling in 2017.
The Twins' 2017 season will likely be defined by how many of their either-or players turn in something closer to best-case or worst-case scenario performances. Park still fits that category, though it seems the Twins are bracing more for the latter than the former.
[Note: This was updated/reworked after the uncanny timing of the Twins announcing they were designating Park for assignment about 5 minutes after the post -- originally asking what Park's role on the 2017 would be -- went up].