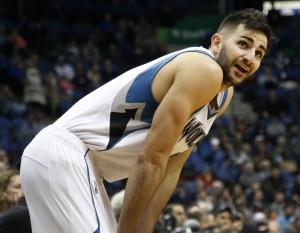 This had all the makings of the summer of the deal, with three prominent Minnesota teams either publicly stating they were willing to trade or being strongly linked to a major deal.
But so far, it appears none of them has found the deal of the summer.
Wild GM Chuck Fletcher went into the offseason publicly professing a willingness to make trades as a means of retooling the roster. Earlier this month, he was quote as saying, "I don't think I've ever spoken to more managers more often than I have the past few weeks." As of late July, though, the volume on trade talk is low.
Before being fired by the Twins last week, Terry Ryan was open about the last-place club looking to deal. Interim GM Rob Antony continued that thread, saying recently, "We have had some good dialogue with teams. I hope it comes to fruition." As of Tuesday afternoon, with the nonwaiver trade deadline looming Sunday, nothing has happened and even the rumor mill isn't churning out much of note.
There was all sorts of speculation about potential Wolves trades just a month ago. The Vertical's Adrian Wojnarowski — almost certainly the most respected national NBA reporter, and perhaps the most trusted sports journalist in the United States — tweeted on June 23, "Minnesota has been shopping Ricky Rubio throughout the week. His future in Minnesota is likely coming to an end." Yet here it is, July 26, and the only moves the Wolves have made have come via free agency.
If you're a Minnesota fan who's been hitting the refresh button on various trade rumor sites, it's been in vain.
The quietness combined with the constant clamor for something to be done underscore two things:
1) It's not easy to make a trade, or at least it's not easy to make a good trade. With contract terms, public perception, potential vs. known and various other factors all weighing into deals in a sports landscape that has become both more lucrative and more scrutinized, nobody on either side wants to be left thinking they got the short end of a trade.
Even Antony, who has limited time to make an impression before the GM search widens, has maintained he needs to do the "right things" when presented with offers.
2) Trade rumor season is just as exciting (if not more so) for some fans than the actual season. I can't even really criticize this rationale because I know from my own online behavior I'm far more likely to click on a link this time of year that's about a potential trade than a game that has just been played.
Much like player drafts, trades offer subjective winners and losers that can be analyzed and dissected. If the Twins lose 5-2, we can second-guess some decisions. But there's no doubt they lost.
I get the sense there are some Minnesota fans who are disappointed right now. Maybe this is just the calm before the storm.
Or maybe everyone will just have to re-calibrate and set their sights on Vikings training camp battles if they want some controversy.