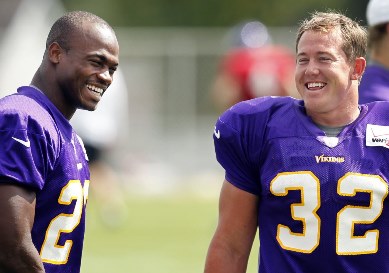 Peter King of MMQB/Si.com offered up some more Adrian Peterson speculation this week, mostly rehashing old chatter (which is still notable when someone with as much inside knowledge as King is willing to write it). King writes:
There's no question he wants out of Minnesota. He feels the Vikings weren't fully supportive of him when the allegations of excessively disciplining his son with a tree branch first surfaced last year. And he also knows—or must know—that if he wants out, now is the best time to make a clean break, with two contenders (Dallas, Arizona) in major need of running back help, and Peterson loving both of those contenders.
King also notes, though, that neither team would make a silly "offer they can't refuse" trade in exchange for Peterson. Again, the reasons are familiar: he's 30, he makes a ton of money, and good running backs are available in the draft.
What mostly caught our eye was the last paragraph: I see Dallas or Arizona—or my upset special, Jacksonville, still awash in cap money—making this deal only if Peterson can make the financials easier on them, and if the Vikings are willing to take a lesser pick for him. For now, I don't think the Vikings are willing to do that. And so it's a stalemate.
King leaves things where they have been for a long time, with no ideal solution any way around. But the mention of Jacksonville does make me think of one player in particular: Toby Gerhart.
Gerhart, of course, was drafted in 2010, ostensibly as a replacement for Chester Taylor and a backup to Peterson with the Vikings. the change of pace/third-down back role was not ideal for Gerhart or the Vikings. Minnesota should have used the pick it spent on Gerhart (a second-rounder) to improve in another area. Gerhart should have gone to a team where he could have been a featured back. Instead, he got 276 career carries in four Vikings seasons (about the equivalent of one season for a featured back).
When his rookie deal was up after 2013, he escaped to Jacksonville on a three-year, $10.5 million deal. It wasn't huge money, but the idea was that he would get a chance to be an every down back. He had a dismal year, averaging just 3.2 yards per carry on 101 attempts. And now — though it's just speculation as King's "upset special" to acquire Peterson — he could have that same familiar running back following him to Florida.
Even if Gerhart might be better suited as a backup, after all, I couldn't help but think if I was him and hearing the rumors, "What do I have to do to get away from this guy?"