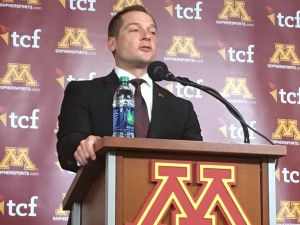 New Gophers football coach P.J. Fleck used the word "elite" 27 times Wednesday as he talked for nearly an hour about the Gophers recruiting class — the first since he was hired as head coach last month.
He talked about the most "elite talent," the "most elite staff in America" and 25 more elites in describing a class that by all accounts improved in the short amount of time he had to work on it.
I know this because I counted.
I counted because outside of the big question — will Fleck succeed at Minnesota? — the next biggest question you tend to hear about the new coach is some variation of, "what's up with this guy and the word 'elite?'"
Neighbors. Friends. Relatives. Readers. They've all asked. It even became a discussion point on a recent Timberwolves broadcast on Fox Sports North, of all things. Fleck has been at a pair of recent Wolves home games, and during one of them FSN analyst Jim Petersen remarked that if he had one piece of advice for Fleck it would be to stop saying "elite" so often.
It's certainly … different (a very Minnesotan thing to say).
Elite? That's not such a Minnesotan thing. Pardon us all, P.J.
It's going to take a while to get used to that word.
For starters, Minnesotans don't tend to boast. If anything, we tend to understate. An outstanding meal is "not so bad" or if we're feeling generous "pretty good." A beautiful sunset? "Not the worst thing I've ever seen." The idea of referring to anything in earnest as "elite" feels like bragging to many of us.
And also: the last Gophers football coach who came in with a big personality and all sorts of enthusiastic words … yeah, that didn't turn out so well. Tim Brewster will not have a statue built anywhere in Minnesota. Not an elite statue. Not any statue.
Then there's the matter of the last half-century or so of Gophers football, which have been decidedly un-elite. The Gophers had their moments of competence, but elite? Can someone really come in with a straight face and start tossing that word around? Fleck apparently can. He's either believing it or selling it. Most likely it's both. And that's all that matters to him.
It's probably all that should matter to us. Once we get used to it, maybe we'll even like it?
For Fleck's part, he seems to have elite self-awareness.
"I'm not for everybody," Fleck said Wednesday. "I know that."
He acknowledged that his style "might seem weird in the beginning" and that "I'm not saying you have to be 'pro-me.'"
Minnesotans probably won't ever rise up and use the word "elite" en masse to describe the Gophers, but if Fleck is successful he might get us all to use the state equivalent: darn good.