Joey Erickson
Faribault high school
Joey Erickson, who has Down syndrome, has had the same devoted friends since middle school and they've made sure that Joey's senior year, despite COVID-19, has been his best ever. His classmates voted him homecoming king and he was asked to prom by two of his favorite friends. Last July 4th, Joey's loving Circle Lake neighbors named him master of ceremonies for a lengthy boat parade. Friend Zach Siegert, with whom Joey works at Two Rivers Health Center, takes Joey out for lunch, includes him in his hockey games and helps him with school. Chriztopher Ferris, pictured at right, is Joey's favorite cowboy and the reason Joey is obsessed with wearing cowboy hats. The two swam and played football together. Kendal Severson, at left, is the best friend of Joey's sister, Molly. Kendal wrote: "From tubing out on the lake to the vacations spent with his family, the memories will always hold a special place in my heart. But I'm most grateful for the privilege of watching Joey grow up into the smart, energetic and absolutely hilarious person that he is today." (As told by Joey's mom, Tina Erickson, and many friends.)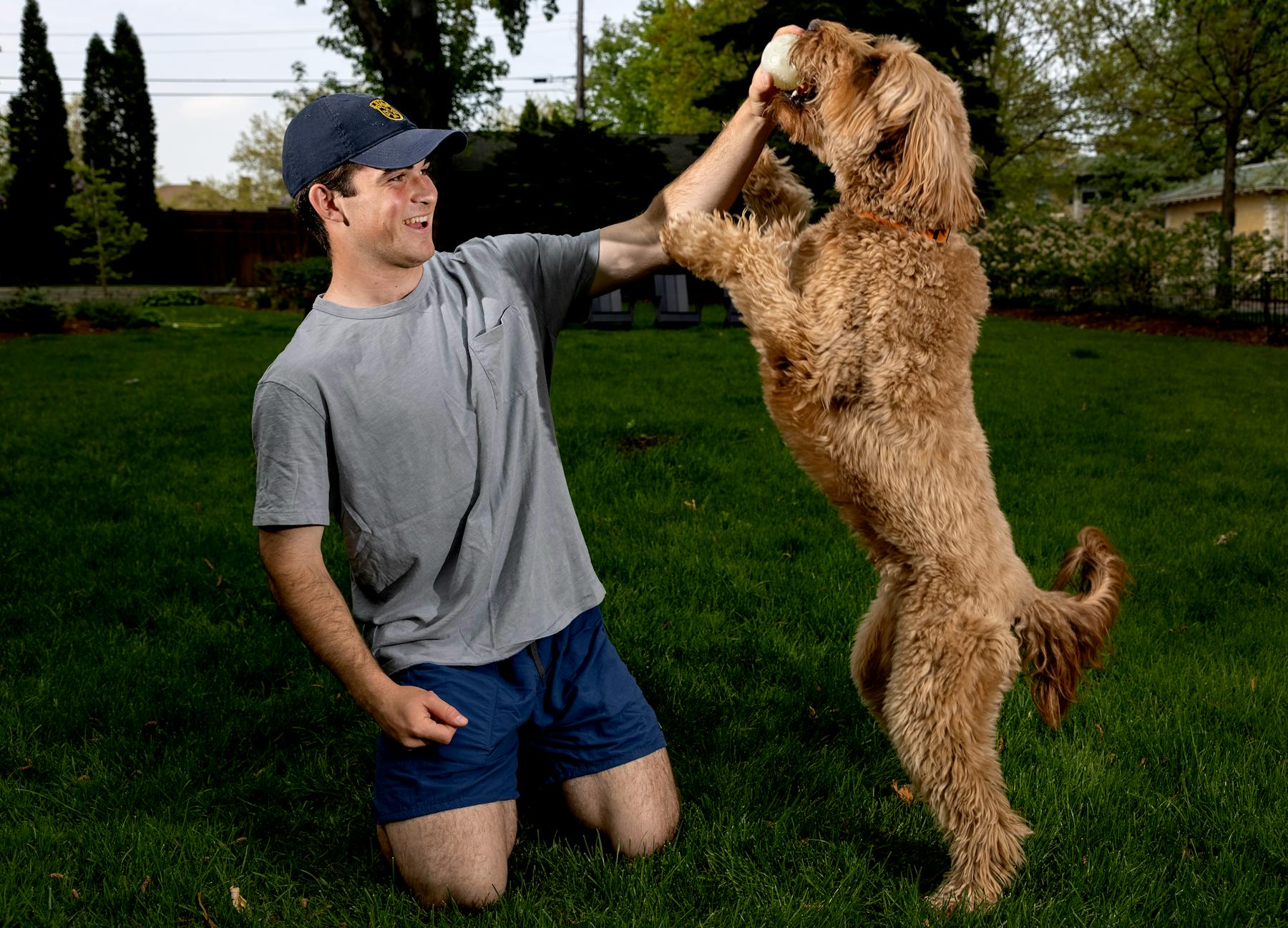 William Guttery
St. Thomas Academy
A few years back, my dad told me something that has stuck with me ever since. Regardless of how poorly I did on a test, how badly I played in a game, or how dumb I sounded in front of my friends that day, I could come home and know that my dog still loves me the same. My dog, an energetic and friendly Goldendoodle named Bevo, has been my number one fan ever since he joined our family about five years ago. And he was especially helpful to me throughout the pandemic. I was lucky that St. Thomas Academy was all in-person for me this year. But in all honesty, this year has been tough for everyone. From social distancing to contact tracing and quarantining to families losing their loved ones, it hasn't been easy to stay positive. Every day when I would get home from school or an outing, I could count on my fluffy orange buddy to greet me at the door with his tongue hanging out and his tail wagging. Whether it was his excitement when I put on his leash to go for a run, or him putting his paw on my arm when I seemed sad, Bevo never failed to put a smile on my face. I'm pretty sure he won't be able to read and appreciate this, but I truly am grateful to him for helping me make it to the finish line this year. I'm heading to Boston College this fall to study psychology. I know I'll miss coming home to Bevo after school, but I'll definitely catch up with him over FaceTime! Thanks, Bevo.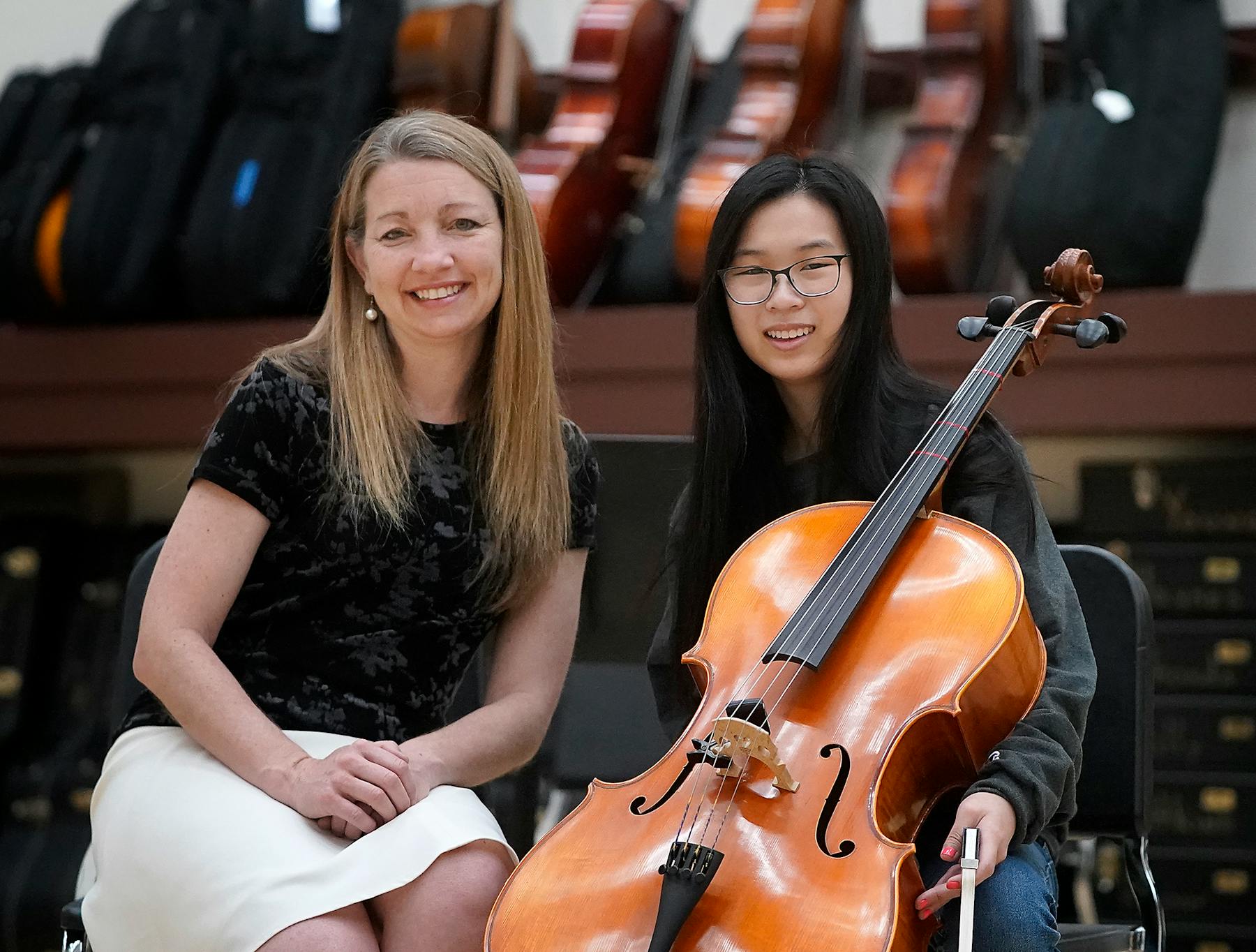 Vivian Hadley
Hopkins High School
Alison Swiggum has been my orchestra teacher for three years and she has been doing an amazing job. I've played cello since fifth grade, but COVID-19 was kind of like an adjustment. We were in-person one day, then two days hybrid. We had to cancel an orchestra trip to Disneyworld during spring break. But Mrs. Swiggum always found ways to make practicing fun. At the beginning of the term, she asked a question to help us get to know each other. She gave us fun videos to watch that kept us engaged in music and helped us feel like we were keeping up our skills. When we would have in-person orchestra class, it would give me a nice calm break from regular online classes. Mrs. Swiggum was always in a good mood; no matter what the weather, news, or bad thing that may be going on, there was always a smile on her face. I'm going to Iowa State University in the fall to study hospitality management, but I hope to join an orchestra club that's not too competitive. Her energy helps me really want to get out my instrument and play.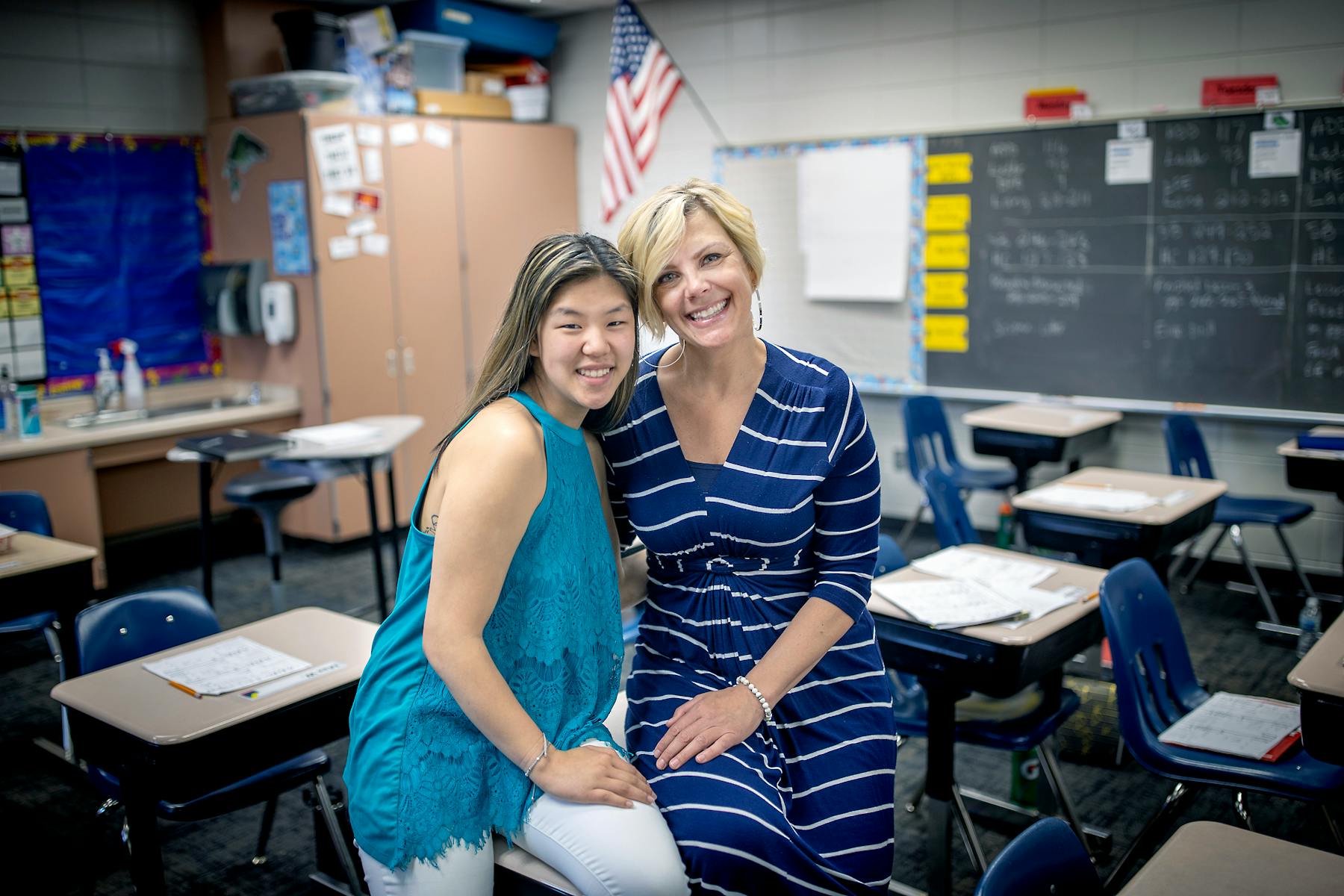 Jenna Moseng
Maple Grove senior high school
For teachers who wonder if they have a long-term impact on their students, I want to tell you about Lisa Thompson. Mrs. Thompson was my fifth-grade teacher. It was real obvious that I had ADHD back then. Sitting still and being focused was my biggest problem. Reading was so boring for me. I would read words but I wasn't able to understand what I was reading. Mrs. Thompson told my parents about some supportive educational services available that helped me improve my comprehension and attention span going forward. Without my new skills, I am sure I wouldn't have been able to handle the pandemic. I wouldn't have done well in high school. I'll be attending Minnesota State University, Mankato, in the fall, with support from a $5,000 scholarship from the Moe123 Scholarship Fund. To win the scholarship, I wrote an essay about my earlier challenges and how Mrs. Thompson helped me. I recently saw her and told her how much of an impact she had on my life and she just loved it. She's an amazing teacher, definitely a teacher I'll never forget.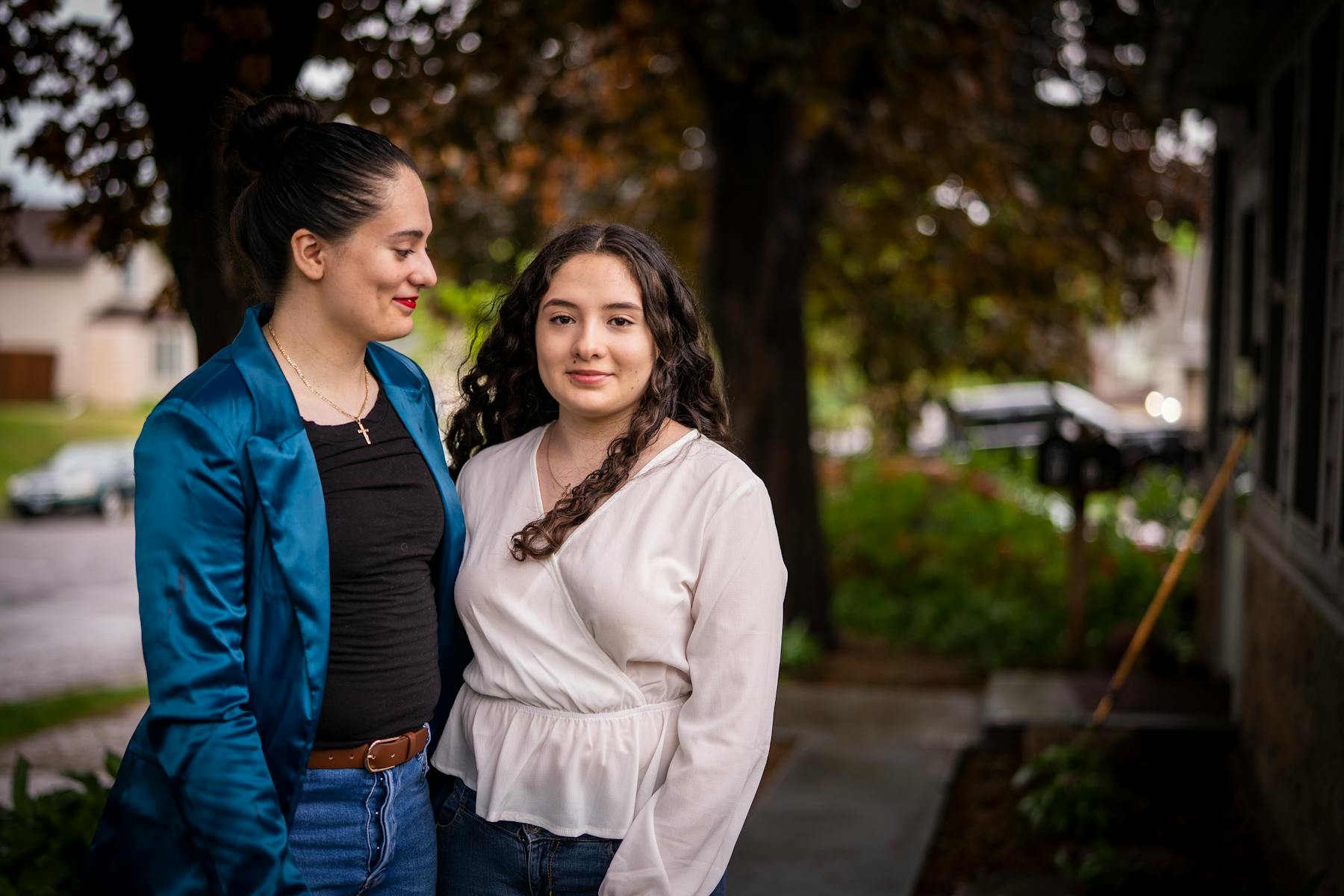 Lucia Morales Quintero
South St. Paul high school
My sister, Cristy, is 24 and she was the first person in our family to graduate from high school and go to college. Now she's applying to law schools. She paved the way for me to go to college, too. I'm attending the University of Minnesota-Twin Cities in the fall and am considering studying biology. I've always looked up to Cristy, especially since she's the oldest. Our family is from Mexico and we talked a lot about how stressful it was for her working and going to school. But in our family, it's always been important to pursue an education. I always knew that I was going to go to college. I was first introduced to biology in seventh grade. I really liked learning about cells, all the different components of a cell. Before COVID-19, Cristy and I hung out a lot. She would take me shopping. Sometimes, she'd take me with her to the U campus. That really helped me make my decision. With COVID-19, my school year shifted to being completely virtual. Cristy helped our little brother, Junior, who is 7, with his online school. That was really nice. Junior looks up to Cristy, too. He wants to be an astronaut. But we didn't just study during COVID. We had fun, too. Cristy and I would order food and watch movies. My high school graduation is June 10 and we're only allowed to bring two people with us, so Cristy will be watching on livestream. It means a lot to me to have a role model like her to look up to. My parents are really proud of us. They are very grateful they made the sacrifices they did for us to have a good education.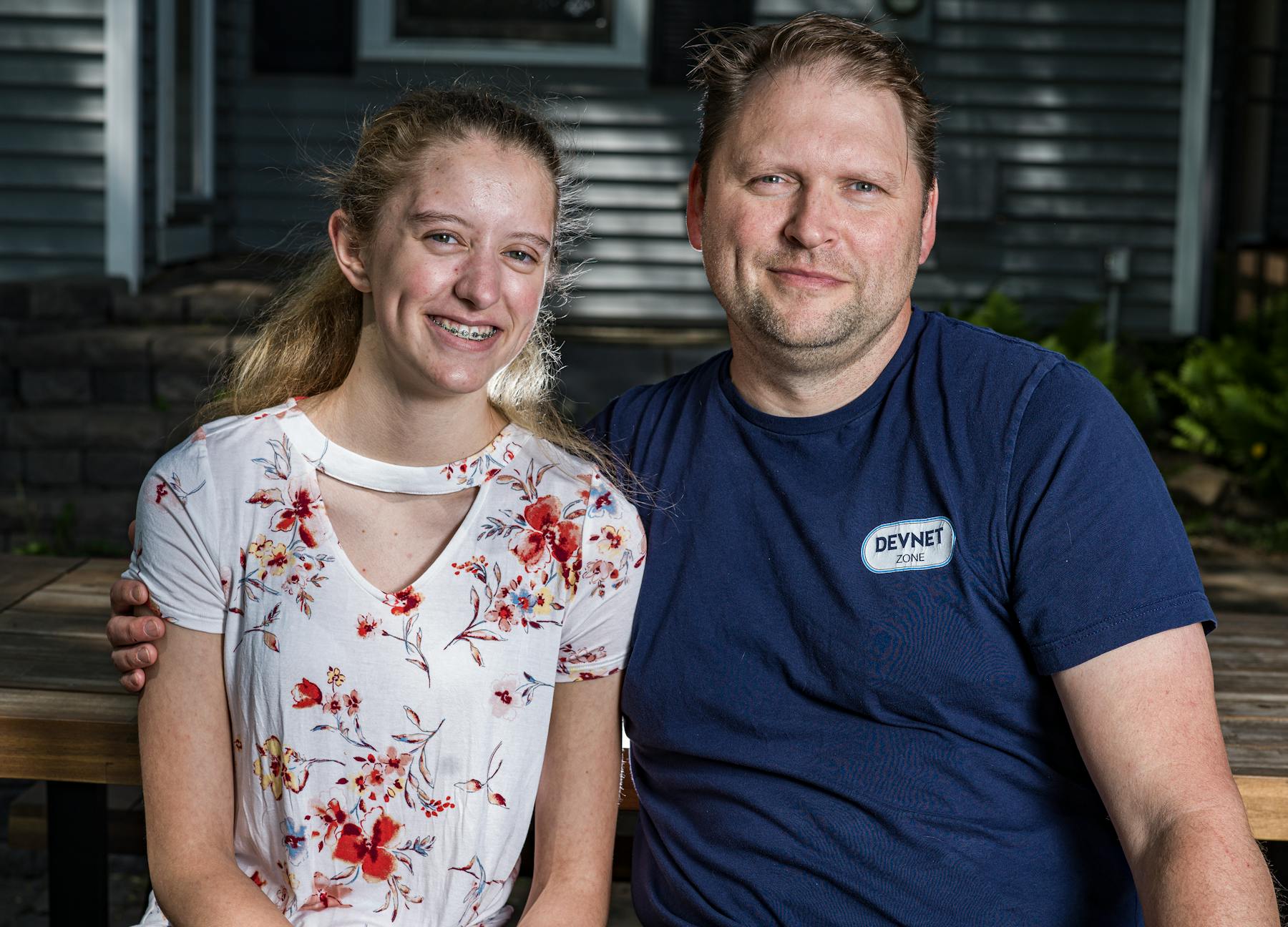 Emma Sampson
Hastings high school
The hardest part of COVID-19 was not being able to see people, just being limited socially and confined to my house for most of the time. School started out as a hybrid model, then went virtual, then hybrid again. My dad, David Sampson, who is in IT, always worked in an office. But when COVID-19 happened, he started working from home, so he was always there to talk to when I had a hard time with online school day after day. During COVID, he was always encouraging my older brother and me to go outside, take hikes and be near the water. He usually took the dog on walks in the mornings and the evenings and no one would go with him. Now I'll take the dog on a walk. It's a habit I gleaned from him, going outside. It helps. My dad and I have always had a close, nice, special connection. We are very similar and that's part of the reason. Watching my dad's resiliency helped me get through, too. If I had a bad day, he would tell me, "Stay strong, keep going, you're going to get through this and it's going to be OK. You have to persevere." He never stopped encouraging me and pushing me to be myself and achieve what he knows I'm capable of.