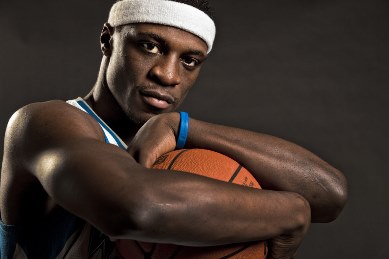 So a few days ago, HBO's John Oliver received a most unusual gift/donation. The Star Tribune's Artcetera blog was all over it, including the back story:
For the past month, HBO's "Last Week Tonight With John Oliver" has skewered TV evangelists by establishing a fake on-screen church and asking viewers to donate seed money. Contributions have included tens of thousands of dollars (mostly singles), actual planting seeds — and a dozen bobbleheads of former Timberwolves point guard Jonny Flynn.
Oliver presented the tray of collectibles on this past Sunday's show, noting that the gift was, "to be honest, at least 11 too many." Rachel Dratch, playing his TV wife, wondered aloud why the Timberwolves had drafted Flynn when they already had Ricky Rubio. "That's a solid basketball point," Oliver said.
Sigh. Yes, it's a solid basketball point particularly when considering STEPH CURRY WAS PICKED RIGHT AFTER FLYNN.
But I digress. I'm not here to get shouty about the past. I'm here to talk about a hilariously confounding thing, with the main question being: who would have that many Flynn bobbleheads and the wherewithal to pull off such a stunt? And, well, we have our answer thanks to that person on reddit who goes by "thenome" fessing up to sending the dolls to Oliver, telling his (at least I presume it's a he) story of how he came upon so many of them and providing an image of one of the bobbleheads that was with him at the time of posting as quasi-verification:
I have season tickets for the Wolves and went to the last preseason game last year and they had a sale of all their old stuff that they hadn't sold or given away in years past such as 2011 team signed balls, tons of Kevin Love signed photos and other things.
Well they had a lot of Johnny Flynn bobble heads at a dollar each. Well I made a deal with the attendants where they sold me 2 boxes (24 bobbles) for 20 bucks and we went back to watch the game. At that point my friend and I started to joke about what all we could do with like 100 bobble heads and then headed back to the stand and offered like 30-40 more bucks I cant remember for the rest of what they had and they took that offer so I ended up with 9 full boxes and 2 partial ones.
Having been to Wolves sales like these, this story is extremely plausible. Much of the rest of the reddit thread, by the way, is people trying to acquire Flynn bobbleheads from thenome. What a time to be alive.
H/T to Panndder on Twitter for the reddit find.