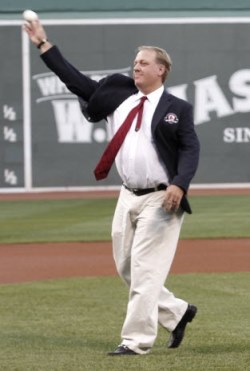 Kirby Puckett has had his dirty laundry aired in public (at least in the media) on multiple occasions, perhaps most notably in this 2003 Sports Illustrated piece, three years before his early death.
It is a part of the Puckett story that most Twins fans either honestly don't know about or choose to forget about — or, at the most, gloss over when thinking about the baseball hero.
The less-than-perfect side of Puckett the human, in fact, gets buried so deep that it becomes somewhat shocking when someone brings up his name in a negative way. But that's exactly what Curt Schilling did in a radio interview Sunday, which was replayed Monday on the Mike and Mike Show (Insider required for link). Talking about the character of Hall of Famers, Schilling offered up this:
"You know there are a lot of guys with plaques who say really cool stuff and then you know the other side of the story. For every John Smoltz, there's a Kirby Puckett. And there's a story. People are human. We do a lot of the same dumb things a lot of other people do. The difference now is guys who hang around the game, they used to protect players. And there are a lot of guys who they protected who went into the Hall of Fame who were racist, who were gamblers, who were whatever, who other people knew about."
The broad point was not new: that many of our sacred athletes were hardly saints, and that in a different era these players were protected a lot of times by those who wrote about them (whereas now much more is made public). Schilling, it should be said, hasn't had the perfect off-field life either — though it should also be said that it is possible to criticize someone else even if you are not, in fact, perfect.
Maybe it shouldn't be jarring that the name Schilling reached for was Puckett while making his counter-point to the sterling character of Smoltz. But it felt jarring to hear it.