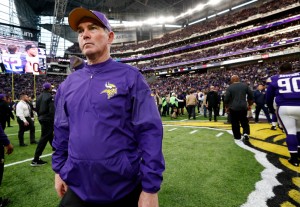 What if the NFL planned a schedule-release date, complete with a two-hour TV special on its network, but the schedule wasn't done?
Apparently that almost happened this year, according to a fascinating piece by MMQB's Peter King on how the NFL schedule is made. As of Tuesday, King wrote, the league's schedule-making gurus — using tons of technology while trying to take into account the requests of teams, conflicting events in NFL cities, prime time TV considerations and countless other things — were "pessimistic" about having a schedule ready to go Thursday night.
Finally, though, a new version fixed some lingering problems. Per King:
A breakthrough happened while the schedule-makers slept. At 2:21 a.m. on Wednesday, schedule number 52,129 shot out of a computer and fixed the four problems.
Think of that: it took more than 50,000 versions to get it right.
It came from a computer in Western Europe. So if you love or hate the Vikings' slate of games, you (kind of) know who to thank or blame. King also notes that in Week 16 — when the Vikings play the Packers on Saturday, Dec. 23 — there is no flex scheduling. So that game and the rest of the ones that weekend are locked in on the holiday weekend.
King's piece illustrates how hard it is these days to put together a satisfactory schedule. He wrote:
Every team's going to have some anger about some parts of its schedule, to be sure. "But we're throwing away schedules, lots of them, we would have used 10 years ago," said NFL broadcasting and schedule czar Howard Katz. "One weekend, the computer spit out 297 schedules we considered playable. We threw them all in the garbage because they had flaws we weren't willing to accept. But they would have been acceptable before."
Conflicts this year included the World Junior Hockey Championships in Buffalo and marathons in Detroit and Chicago that have finish lines right by their stadiums. Plus there are five international games (four in London, one in Mexico City) that create bye week and other challenges.
The final version for the Vikings wasn't bad, though it wasn't what I considered their optimal schedule when I pondered such a thing earlier this week. Of the first eight games on the schedule, five are at U.S. Bank Stadium and another is more or less a neutral site game in London against the Browns (even though it's technically Cleveland's home game). That could allow Minnesota to get off to another strong start, but it will test them in the second half of the year when they have five of their first seven away from home after their bye.
That said, given everything that apparently goes into making the schedule it probably shouldn't be perfect for anyone — just palatable for everyone.