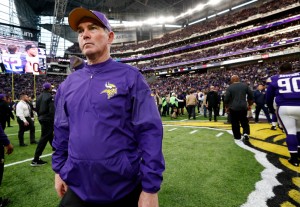 Number repetition tends to be more of an interesting quirk than a predictor of future events. With that said, the Vikings are entering a season that falls along a scheduling and timing pattern that has led to the firing of three of their last four head coaches.
NFC teams, as you probably know, rotate through each of the four AFC divisions on their schedule every four years. One year they play the entire AFC South (as they did last year, going 3-1 in those games). As long as the scheduling pattern doesn't change, they'll play that division again in 2020.
This season, it's the Vikings' turn to play the AFC North — Pittsburgh, Cleveland, Baltimore and Cincinnati. The Vikings also played that division in 2005, 2009 and 2013.
Two of those three seasons led to a head coach getting fired: Mike Tice after 2005 ended and Leslie Frazier after 2013 ended. The third (2009) ended with an overtime loss in the NFC title game to New Orleans. Brad Childress was fired in the middle of the next year. (In 2001, Dennis Green was fired. The Vikings played the Ravens, Steelers, Jaguars and Titans that year from the AFC).
Again, that's more of an interesting historical footnote than a reason for Mike Zimmer to be wary. That said, 2017 does feel like it has the potential to be a make-or-break season for the Vikings. Will they get back on track and be the playoff team they were in 2015 and started out looking like they'd be in 2016? Or will they continue on the same path that led to a 3-8 finish over the final 11 games of last season?
Many factors will have an influence over the Vikings' 2017 trajectory, but an underrated thing will be their schedule. It will be officially announced Thursday night, but we already know the Vikings' opponents and who they will play home and away. Sometimes it's not just who you play but when you play them.
Here, then, is one attempt at an ideal schedule order — one that could set the Vikings up for a bounceback season in 2017:
Week 1: Home vs. Bears. Chicago was 3-13 last season and will be breaking in a new starting quarterback after the departure of Jay Cutler. Getting the Bears early before the new QB is presumably synced up with his teammates could lead to a 1-0 start for the Vikings. Sure, last year's 5-0 start didn't end up meaning anything. But a good start could be important this year.
Week 2: Away at Carolina: The Vikings smothered the Panthers with a fierce pass rush last September. Maybe they can get the Panthers again while doubts are still lingering over last year's disappointing season.
Week 3: Away at Green Bay: Enough of these frigid games at Lambeau. Get this one out of the way early. Even a loss isn't the end of the world at this point.
Week 4: Home vs. Detroit: You never know what you're going to get from the Lions, but they're a combined 11-21 in the two most recent season following their last two playoff berths. They could be due for another clunker this year after slipping into the playoffs last season in large part because of two narrow wins over the Vikings.
Week 5: Away at Pittsburgh: This won't be an easy game no matter what, but in recent seasons the Steelers have been slow starters and fast finishers. Playing them early could be beneficial and takes potential bad weather out of play, too.
Week 6: Home vs. Tampa Bay: The Vikings need a home game here, and the Bucs are as good a choice as any team.
Week 7: Vikings vs. Browns in London. We already know this game will either be Week 7 or Week 8. This one is preferable because …
Week 8: Bye week. NFL teams playing in Week 9 after a bye the previous week have a high winning percentage in recent seasons. And it would be nice to have the bye after the long trip overseas. If the Vikings were 4-3 at this point in the season — not unreasonable — they would probably feel pretty good.
Week 9: Away at Chicago: This game was the real "uh-oh" moment for the Vikings last year. Coming out of the bye week strong and winning in Chicago would be a big statement.
Week 10: Home vs. Baltimore: Another winnable toss-up game at the right time of the season.
Week 11: Away at Washington: Winnable game, but a slip-up here isn't the end of the world. The Vikings could even be 5-5 after this game and be in decent shape for the stretch run.
Week 12: Home vs. Bengals: Emotional game, with Zimmer facing his old team for the first time. I think he might have a few defensive tricks for Andy Dalton.
Week 13: Away at Detroit: Winnable game in an indoor venue late in the season.
Week 14: Home vs. Saints: I have this leftover impression that the Saints are still good, but they've gone 7-9 in four of the last five seasons. This is a game the Vikings should win at home.
Week 15: Away at Atlanta: This one wouldn't be easy at any point in the season, but might as well have December games indoors.
Week 16: Home vs. Rams: It's always nice to have a likely win sitting on your schedule late in the year.
Week 17: Home vs. Green Bay: The Vikings have played the Packers in the season finale twice in the last five seasons and won both times — 2012 and 2015. Those are also the last two times the Vikings made the playoffs.