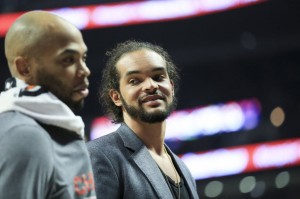 NBA free agency begins Friday, when the clock starts ticking on the negotiating window with players. They can then be signed starting on July 7. The Wolves don't figure to be extravagant players in the market for a couple reasons:
1) Historically they've had a hard time luring top-tier free agents (like Kevin Durant) to Minnesota. Even if that could change at some point given the growth potential of the team, it doesn't appear to be the case with Durant — who reportedly is set to meet with six teams, none of them being the Wolves.
2) They're a team built from the bottom up, using high draft picks. Guys like Karl-Anthony Towns and Andrew Wiggins are on relatively modest contracts now, but someday they will get paid big (more on that in a minute). If the Wolves spend foolishly now, they could pay for it later with a clogged up cap.
That said, this free agency period is fascinating league-wide — with the Wolves included. Here are a few items of note as we head toward Friday:
*Joakim Noah, the former Bulls big man, is considered a great fit to sign with his former coach Tom Thibodeau, in Minnesota. But the Derrick Rose trade to New York might be throwing a wrench into those plans. Rose is already recruiting Noah to play with the Knicks and the New York Post reported that there might be some mutual interest on Noah's part. Washington could also throw a ton of money at Noah. (Again, more on that in a minute).
*Other free agent names of note: Al Horford, Hassan Whiteside, DeMar DeRozan, Nicolas Batum, Chandler Parsons, Bismack Biyombo and Arron Afflalo.
*That free agent list isn't all that exciting, right? Either a player would appear to be out of the Wolves' reach or could be exceedingly overpaid this year. Why? Because this year's crop of free agents will be the first to cash in on the expected crazy jump in the NBA salary cap, thanks to 2016-17 being the first season of the league's ridiculously lucrative new 9-year, $24 billion TV contract. The salary cap is projected to go from $70 million to $94 million, and the max contracts will jump accordingly.
*That salary cap jump is going to make a player like Ricky Rubio (under contract for the next three seasons at roughly $14 million per year) seem like a better value. Combined with the fact that the Wolves just drafted point guard Kris Dunn — and despite any assertions that Dunn and Rubio can play together — that could help Minnesota find a trade partner if they are, indeed, shopping Rubio (and when it comes from Woj, you don't doubt it).
*That cap jump is also part of the reason a trade for Jimmy Butler still makes sense if the Wolves decide they want to keep Rubio and if those trade talks can be rekindled after cooling down post-draft. Butler signed his max deal last offseason at five years for roughly $90 million ($18 million per year). His max contract this offseason reportedly would be roughly $22.2 million per year with that cap jump. So basically any player who is locked up long term right now and is productive is going to look like a relative bargain for a while (I use the term relative because all the money is obscene).
The flip side of that is if the pieces required to get Butler are, say, Dunn and Zach LaVine the Wolves would be trading away two players still on rookie scale deals for a big contract. But if the Wolves aren't going to be major free agency players and the cap is going way up, their best chance at getting an already-established star to complement their young core at a "reasonable" price is through a trade like that one.
*It's way too soon to wonder how the Wolves are going to afford to pay all of their young players eventually given how expensive contracts are going to be throughout the life of the deal. The salary increases will be in step with increased revenues and increased cap room. But in the short-term, the jump from $70 million to $94 million is going to create a very interesting free agent market — and perhaps trade market — in the league.