Trevor Plouffe's 2014 was quietly impressive.
With super prospect Miguel Sano out for the season with UCL surgery, there was little pressure to Plouffe's job security. Some believed he would not be able to respond without the push but not only did the 28-year-old infielder make strides at the plate, supplying value in the lineup as a run producer, he turned a corner in the field as well.
The Twins have been lacking severely as of late in the department of defense but Plouffe defensive capabilities were markedly improved in 2014 and the data backs that up. Mark Simon at ESPN Stats & Info passed along the critical defensive data that highlights what areas the third baseman has improved: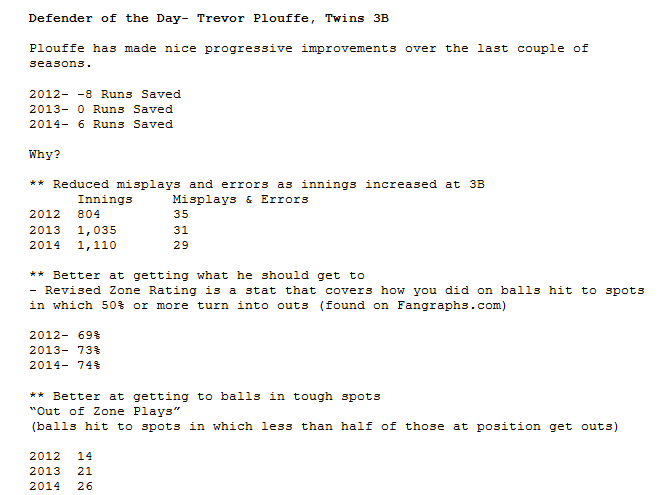 Simply put, Plouffe has increased the amount of runs saved by reducing the number of errors and misplays (plays that don't result in outs but are not necessarily errors), converting on more of the plays that are in a standard third baseman's zone, and increasing the number of out-of-zone plays.
According to BillJamesOnline.com, Plouffe finished ranked 12th among third basemen in runs saved. Ultimate Zone Rating says he was sixth. Inside Edge's Fielding rated him 23rd in terms of making the plays right at him this season. While the last one might be a bitter pill, all of those stats show progress in his defense. He has come a long way since his inaugural season at third.
What has led to this improvement?
This first factor is simply better throws.
Early in his career, a lot of his misplays and errors were a product of his throws. He was coming off a season in which he made 11 throwing errors at short and continued that in 2012.
In his first season at third, Plouffe demonstrated a side-arm slinging motion when throwing the ball across the diamond. That year, while playing 801 innings at third, he made eight throwing errors. That was the sixth most among third basemen with a minimum of 500 innings yet the ones ahead of Plouffe found themselves with nearly twice as many chances. Additionally, after reviewing clips of his plays, opportunity for more errors were there had veteran first baseman Justin Morneau not saved some of his offline throws.
Watch this play in which Plouffe makes a nice pick up only to throw wide and pull Morneau off the bag. Look at Plouffe's throw. He tilts his shoulders and delivers an almost submarine side-arm sling:
Here is another example of this in 2012. The Orioles have the bases loaded so the Twins bring the infield in. Plouffe makes a good play on a grounder to him but rushes the throw home, once again tilting and delivering a submarine side-armed throw that sails above Mauer's head.
Now here is an example from 2014 of almost the exact same play. Notice how Plouffe sets himself and keeps his shoulders square on his throw to Suzuki at home:
When asked heading into the 2013 season about his throwing woes, then manager Ron Gardenhire told reporters that Plouffe is "doing fine. He'll be fine. We all know about the throwing part and all those things. I know Plouffie worked his butt off out there trying to get better. That's half the battle. You've got a guy willing to go out and do extra work, tried a lot of different things."
*** CLICK HERE TO READ THE REST OF THE ANALYSIS AT TWINS DAILY ***
---
For more, check out other articles and discussions at TwinsDaily.com:
How will Ricky Nolasco perform in 2015?
FSN's Marney Gellner joins the No Juice Podcast to talk Twins.
Will Phil Hughes regress next year?
And be sure to buy your Winter Meltdown tickets here.