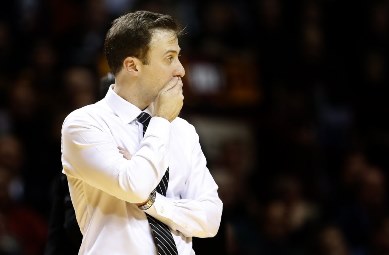 With the Gophers men's basketball team entering the official start of fall practice Friday, head coach Richard Pitino met with members of the media to discuss the offseason and upcoming season. It was a good chance to catch up with Pitino, who also let us watch a good chunk of the early part of practice and had plenty of good things to say about all of the team's newcomers.
I asked Pitino specifically about his starting lineup (as of now), his reaction to Norwood Teague's departure and thoughts about a $400,000 raise that was announced over the summer. Here's what he had to say:
ON STARTING LINEUP THOUGHTS:
I would say my idea if I was playing tonight it would probably be Nate (Mason), Carlos (Morris), (Charles) Buggs, Joey (King) and Bakary (Konate). But again, in six weeks (before the first game) so much can change. In my ideal world, that's a big lineup and pretty talented. But one thing you learn is that you make a plan and you know it's going to change. But I like the size of that lineup. I like the speed. I like the athleticism. But if guys aren't doing what they're supposed to do, you have to be willing to change.
ON THE DEPARTURE OF NORWOOD TEAGUE, THE ATHLETIC DIRECTOR WHO HIRED PITINO:
It certainly was difficult because not only did he bring me in, but he was great to me. Certainly that's something I was extremely appreciative of. He hired me after one year as a head coach and after not really accomplishing a whole lot. He also believed in me to give me an extension when again I hadn't accomplished a lot. So he saw something in me and that's something I'm extremely grateful for.
With that being said moving forward, I think we're going to pick up right where we left off in terms of fundraising and all those other things. (Interim AD) Beth (Goetz) has done a great job. Certainly you don't like losing an AD, but he had a great staff that was still intact. I don't see us missing a beat moving forward.
But for me as a friend of his, that's always difficult. I hope he's doing well. He believed in me, and that's something I won't forget.
ON HIS RAISE AND WHETHER THAT'S A VOTE OF CONFIDENCE:
It's funny, I think what I look at to be honest is getting two more years. That's what excites me because the President (Eric Kaler) and Norwood at the time believed that even though we weren't where we want to be, we're on the right track and that with more time we can do great things. I really feel like we're starting to turn the corner with the guys in this program and with the recruiting moving forward. I feel like we're really positioned to move in the right direction.