The Vikings were hoping a late first-half scoring drive would help build some offensive momentum, instead they went into halftime with a 21-0 deficit to Seattle after a turnover and touchdown pass on back-to-back plays.
Teddy Bridgewater was intercepted and then Russell Wilson threw his first of three touchdown passes on a 20-yard connection over the middle with wide receiver Doug Baldwin with 1:08 left in the half. Here's a look at how the play developed:
Frame 1: The Seahawks lined up in a shotgun four wide-receiver set with one tight end. Baldwin lined up to the left. The Vikings were in nickel personnel running zone coverage with four deep defenders and three in the underneath zone. Safety Antone Exum Jr., cornerback Terence Newman and linebacker Chad Greenway, who will all factor into the play, are lined up to the right.
"Being down 14 and going into the half that's nothing, but that last touchdown [of the half] … ," Vikings running back Adrian Peterson said. "When you go down 21 that kind of changed things. "
Frame 2: Seattle ran three vertical routes out of the trip side with an underneath crossing receiver. Baldwin cuts inside past Vikings linebacker Eric Kendricks to find a opening in the middle of four defenders. Greenway squeezes into the middle of the field and opens up the passing lane for Wilson, while Exum drifts back just enough to give Baldwin the room he needs to secure the catch.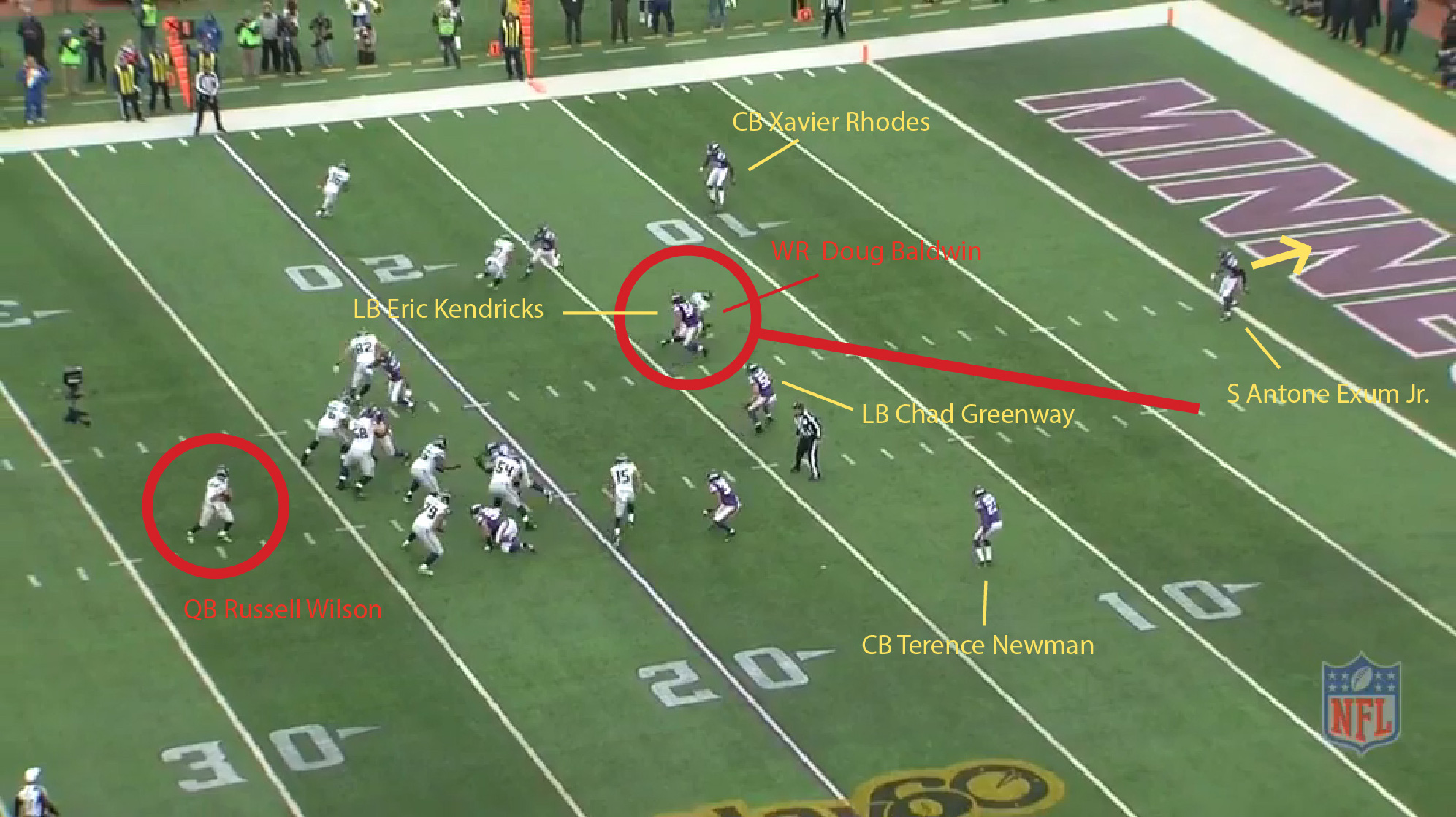 "We just gotta go out there and play ball. Turnovers, it happens in the game," Rhodes said. "We've got to go out there and do our job … try and stop them from scoring off those turnovers."
Frame 3: Wilson takes advantage of the open passing lane and delivers the pass perfectly. With Greenway out of the way, Wilson has an open window and can avoid going over the top. Initially, Newman has nobody to worry about, but is late to shift into the play. Exum doesn't react quick enough to Baldwin's route and the Seahawks led 21-0 after the extra point.
"The guy didn't play it right. … It was the safety's man," Zimmer said referencing Exum.