Vikings second-year quarterback Teddy Bridgewater threw for a career-best four touchdowns in Sunday's 38-17 victory over Chicago.
The first touchdown pass showcased Bridgewater's potential to mature into a consistently successful passer and gave the Vikings' 7-0 lead on their way to a season-high offensive output. Here's a look at how the 15-yard connection with Diggs came together:
Frame 1: The Vikings are in their 11 personnel with three wide receivers wide. They put running back Adrian Peterson in motion out wide to the left, telling Bridgewater that the Bears are in a man coverage. Wide receivers Jarius Wright and Mike Wallace line up to the right with tight end Kyle Rudolph. Diggs lined up to the left in the slot. Chicago cornerback Tracy Porter runs up to the line just before the snap to press Diggs, while the low safety follows Peterson to the left.
"The coverage that he got was one [good thing]," Vikings coach Mike Zimmer said. "[Bridgewater] has options in [this play call], but he saw the guy playing bump and run on Diggs and he knew Diggs was going to the corner and that's a confident throw. There was a couple other safer places he could have made the throw, but he decided to try to hit the big one. I think that play probably shows as much about his confidence level right now."
Frame 2: The Bears are in their nickel defense with four defenders on the pass rush against the Vikings' five-man front. Peterson runs a hitch and sits low, forcing the safety to come down. Meanwhile, Diggs takes off towards the end zone and the offensive line maintains a clean pocket. Bridgewater quickly releases the ball about two seconds after the snap and Porter still has a step on Diggs.
"It was just a matchup that I liked and we wanted to take advantage of it," Bridgewater said about Diggs vs. Porter. "That's what you talk about, giving your guys a chance and Diggs did a great job at the line of scrimmage of getting a good release, and all I had to do wa just put it in an area where he could come down with it and he did just that."
Frame 3: The Bears' single-high safety Chris Prosinski didn't have time to get in position because of Bridgewater's quick release and Diggs had beaten Porter by the time they reached the end zone. Bridgewater dropped the over-the-shoulder pass perfectly for Diggs and just out of the reach of Porter for the touchdown.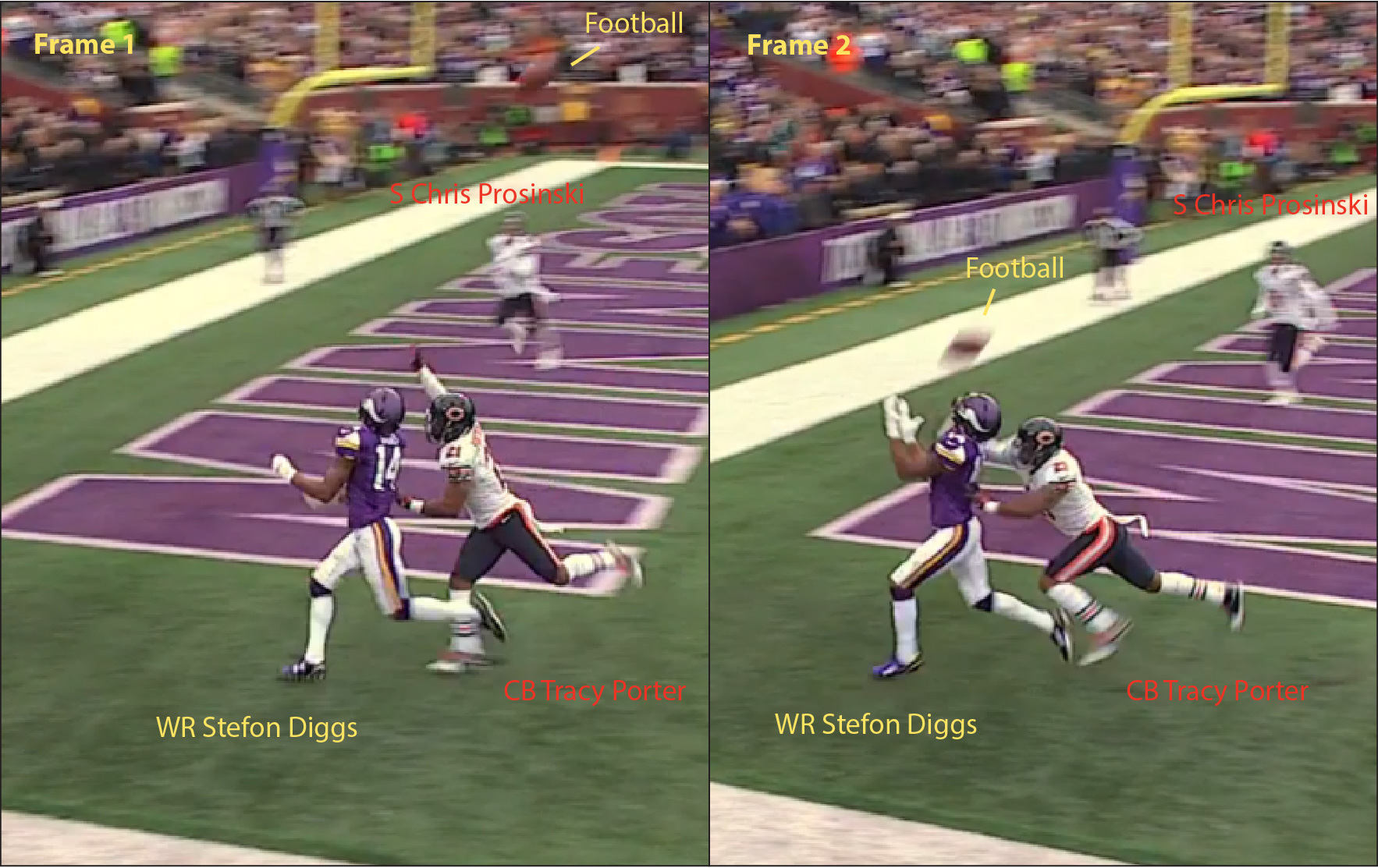 "As far as how we practice it, he puts it in the same place every time," Diggs said about his quarterback's accurate fade pass. "So it is just following it and timing and knowing where you need to be, and after that making a play on it."