What the 12 candidates said about key issues in last night's presidential debate
With a dozen participants, the debate was the largest in modern history.
It was the first time White House hopefuls gathered in a little more than a month. In that time, the political landscape has changed with Trump facing an impeachment inquiry. Meanwhile, Bernie Sanders returned to the campaign trail following a heart attack and Elizabeth Warren found herself the subject of ire as the new frontrunner.
Impeachment inquiry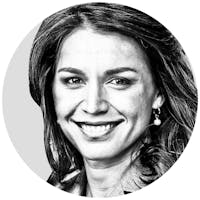 Rep. Tulsi Gabbard
(Hawaii)
"If impeachment is driven by these hyper partisan interests, it will only further divide an already terribly divided country."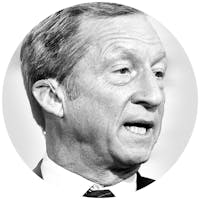 Tom Steyer
(Philanthropist)
"Every candidate here is more decent, more coherent, more patriotic [than Trump]."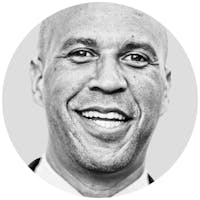 Sen. Cory Booker
(N.J.)
"This has got to be about patriotism and not partisanship."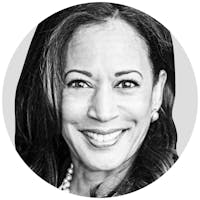 Sen. Kamala Harris
(Calif.)
"He has committed crimes in plain sight, I mean, it's shocking. … He has been selling out our democracy."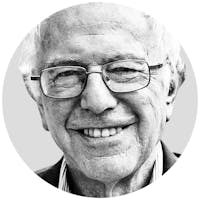 Sen. Bernie Sanders
(Vt.)
"Trump is the most corrupt president in the history of this country. … The idea that we have a president of the United States who is prepared to hold back national security money ... to get dirt on a presidential candidate is beyond comprehension."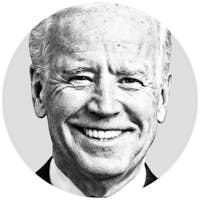 Joseph Biden
(Former vice president)
"My son did nothing wrong. I did nothing wrong. I carried out the policy of the United States government in rooting out corruption in Ukraine. … What I think is important is we focus on why it's so important to remove this man from office."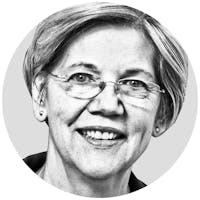 Sen. Elizabeth Warren
(Mass.)
"No one is above the law, and that includes the president of the United States."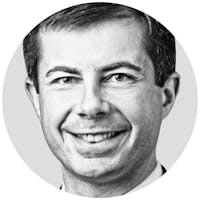 Mayor Pete Buttigieg
(South Bend, Ind.)
"The president has left the congress with no choice. … It's also about the presidency itself."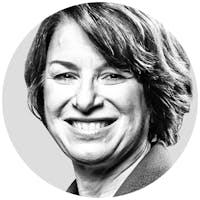 Sen. Amy Klobuchar
(Minn.)
"We have a constitutional duty to pursue this impeachment, but we can also stand up for America."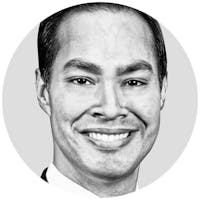 Julián Castro
(Former HUD secretary)
"Not only did the Mueller report point out 10 different instances where the president obstructed justice or tried to … he is in an ongoing way violating his oath of office."
Health care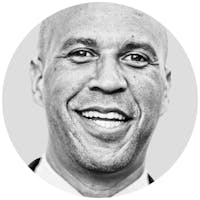 Sen. Cory Booker
(N.J.)
"We are seeing all over this country women's reproductive rights under attack. … Women should not be the only ones taking up this cause and this fight."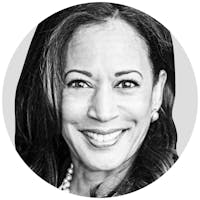 Sen. Kamala Harris
(Calif.)
"It is not an exaggeration to say, women will die .. because these Republican legislatures … who are out of touch with America, are telling women what to do with our bodies."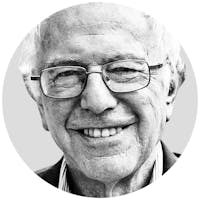 Sen. Bernie Sanders
(Vt.)
"The issue is whether the democratic party has the guts to stand up to the health care industry."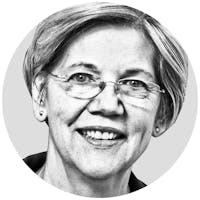 Sen. Elizabeth Warren
(Mass.)
"It is hard enough to get a diagnosis that your child has cancer … what you shouldn't have to worry about is how you're going to pay for your health care after that. … I will not sign a bill into law that does not lower costs for middle-class families."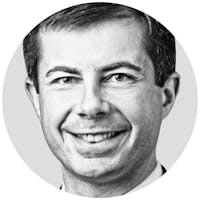 Mayor Pete Buttigieg
(South Bend, Ind.)
"No plan has been laid out to explain how a multi-trillion dollar hole [in Sen. Warren's plan] … is supposed to get filled in."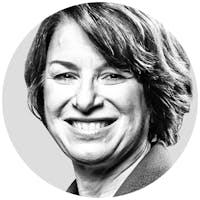 Sen. Amy Klobuchar
(Minn.)
"The difference between a plan and a pipe dream is something you can actually get done."
Jobs and economy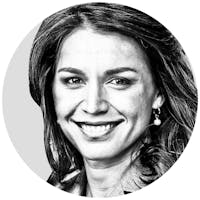 Rep. Tulsi Gabbard
(Hawaii)
"I think universal basic income is a good idea to help provide that security so people can have the freedom to make the kinds of choices they want to see."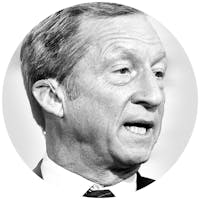 Tom Steyer
(Philanthropist)
"There have been 40 years where corporations have bought this government. … And those 40 years have meant a 40 year attack on the rights of workers."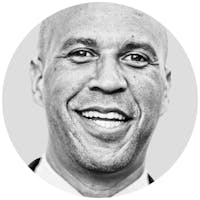 Sen. Cory Booker
(N.J.)
"Improve worker conditions and make sure every American has a living wage in this country."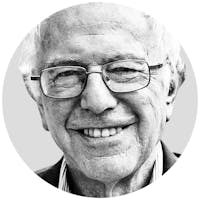 Sen. Bernie Sanders
(Vt.)
"We can put 15 million people to work rebuilding [our infrastructure]. … The green new deal that I have advocated will create 20 million jobs."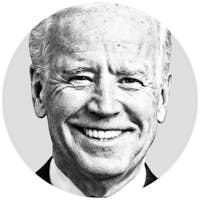 Joseph Biden
(Former vice president)
"We have to start rewarding work not just wealth. … We need to go out and make it clear to the American people that we are going to raise taxes on the wealthy."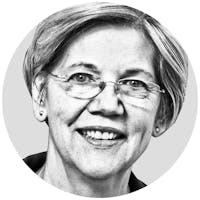 Sen. Elizabeth Warren
(Mass.)
"We need to make it easier to join a union and give unions more power when they negotiate."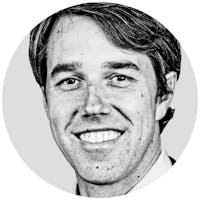 Beto O'Rourke
(Former Texas congressman)
"What [workers] want is a shot. … Part of the way to do that is through our trade deals. … If we elevate the role of unions in this country … we will make sure that every single American has a shot."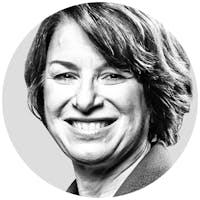 Sen. Amy Klobuchar
(Minn.)
"No one on this stage wants to protect billionaires. Not even the billionaire wants to protect billionaires."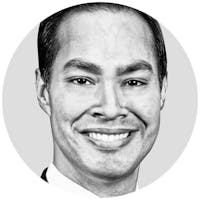 Julián Castro
(Former HUD secretary)
"We need to support working families. We need to invest in things like universal child care."
Foreign policy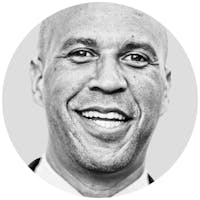 Sen. Cory Booker
(N.J.)
"This president is turning the moral leadership of this country into a dumpster fire. … Russia and Putin understand strength. And this president time and time again is showing moral weakness."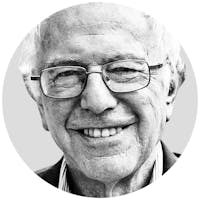 Sen. Bernie Sanders
(Vt.)
"Turkey is not a U.S. ally when they invade another country and engage in mass slaughter."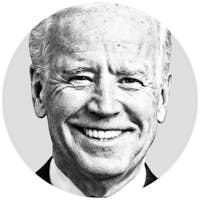 Joseph Biden
(Former vice president)
"We have an erratic, crazy president who knows not a damn thing about foreign policy. … If he is re-elected I promise you ...we will be in real trouble."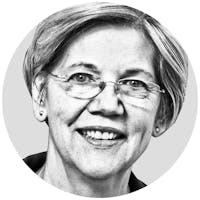 Sen. Elizabeth Warren
(Mass.)
"I think that we ought to get out of the Midddle East … but we have to do it the right way, the smart way."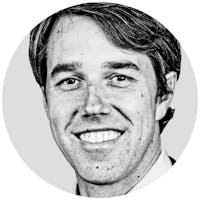 Beto O'Rourke
(Former Texas congressman)
"We must be unafraid in ensuring that we hold Russia accountable for invading the world's greatest democracy."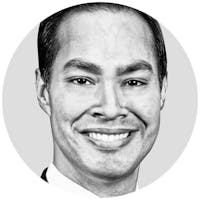 Julián Castro
(Former HUD secretary)
"We gotta boot Donald Trump out of office so that people will trust us again. ... He has made a tremendous mistake, a total disaster in Syria."
Guns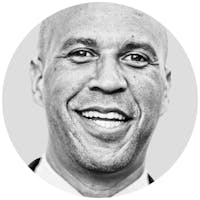 Sen. Cory Booker
(N.J.)
"There are more duck and cover drills … than there are fire drills."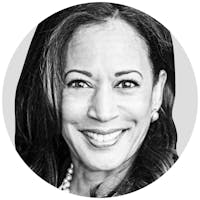 Sen. Kamala Harris
(Calif.)
"We need action. And congress has had years to act and failed because they do not have the courage. … It is time to act."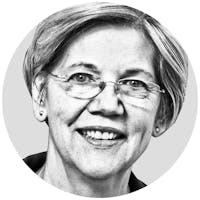 Sen. Elizabeth Warren
(Mass.)
"This is not going to be a one and done. … We have to reduce gun violence overall and the question we have to ask is 'why hasn't it happened?'"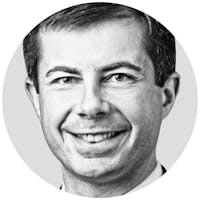 Mayor Pete Buttigieg
(South Bend, Ind.)
"We can't wait [for background checks]. People are dying in the street right now. … we have to just get something done."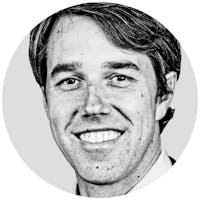 Beto O'Rourke
(Former Texas congressman)
"We're gonna make sure that the priority is saving the lives of our fellow Americans."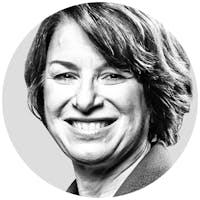 Sen. Amy Klobuchar
(Minn.)
"The public is with us on this. … The majority of Trump voters want to see universal background checks right now. … Let's not mess this up."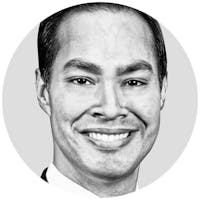 Julián Castro
(Former HUD secretary)
"Police violence is also gun violence, and we need to address that."
Opioid epidemic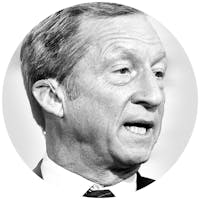 Tom Steyer
(Philanthropist)
"This is one of the most heartbreaking experiences that America has had. … I think we have to treat this as a health crisis. We have to move the resources and the support there."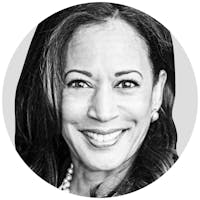 Sen. Kamala Harris
(Calif.)
"I do think of this as being a matter of justice and accountability. Because [pharmaceutical companies] are nothing more than a bunch of high-level drug dealers."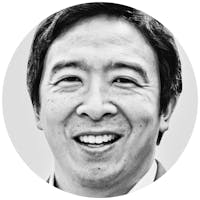 Andrew Yang
(Entrepreneur)
"This is a disease of capitalism run amok. … If the government turned a blind eye .. then the least we can do is put the resources to work in our community."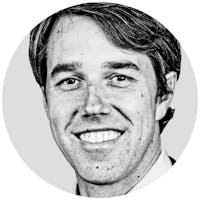 Beto O'Rourke
(Former Texas congressman)
"Until we hold those responsible accountable for their actions … we're going to continue having this problem going on again and again."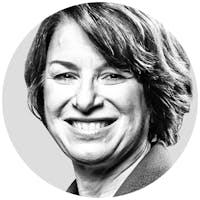 Sen. Amy Klobuchar
(Minn.)
"The people that should pay for this … are the very people that got people hooked and killed them in the first place. And that is the people that are manufacturing these opioids."
Candidate health/age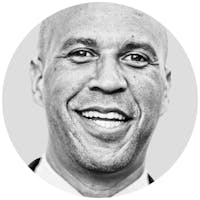 Sen. Cory Booker
(N.J.)
"The most unhealthy person running for the presidency in 2020 is Donald Trump."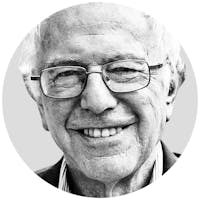 Sen. Bernie Sanders
(Vt.)
"We are going to be mounting a vigorous campaign all over this country, that is how I think I can reassure [voters]."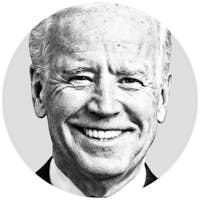 Joseph Biden
(Former vice president)
"I've watched it, I know what the job is … one of the reasons I'm running is because of my age and my experience. With it comes wisdom."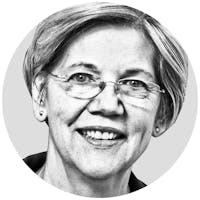 Sen. Elizabeth Warren
(Mass.)
"I will outwork, out-organize and outlast anyone, and that includes Donald Trump, Mike Pence or whoever the Republicans get stuck with."
Reproductive rights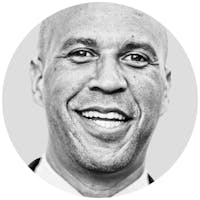 Sen. Cory Booker
(N.J.)
"I will create the office of reproductive freedom and reproductive rights in the White House."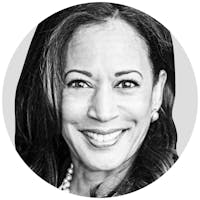 Sen. Kamala Harris
(Calif.)
"This is still a fundamental issue of justice for women in America. … It is her body. It is her right. It is her decision."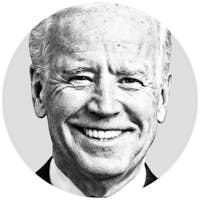 Joseph Biden
(Former vice president)
"I'm the only one on this stage who's actually gotten something really big done."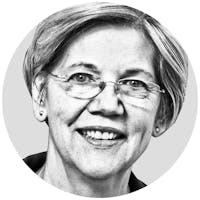 Sen. Elizabeth Warren
(Mass.)
"I lived in an America where abortion was illegal. And rich women still got abortions. … People who are denied abortions are the poor, are the young."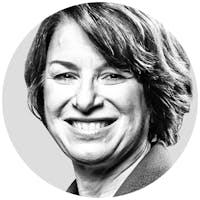 Sen. Amy Klobuchar
(Minn.)
"You, Donald Trump, are not on the side of women. … You defunded Planned Parenthood. I would fund it again."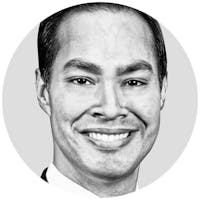 Julián Castro
(Former HUD secretary)
"We have to concern ourselves not only with reproductive freedom, but also reproductive justice."