It's official, Minneapolis is implementing a Time of Sale Energy Disclosure program, which takes effect on January 15, 2020. I blogged about the possibilities of a Minneapolis energy disclosure almost a year ago, and as a licensed Truth-In-Sale of Housing Evaluator, I received training with the official details of this program last week. My office has been receiving a lot of questions about this new requirement, so here are the details. For those who prefer video format, here's that: Video explanation of Minneapolis Energy Disclosure.
The new report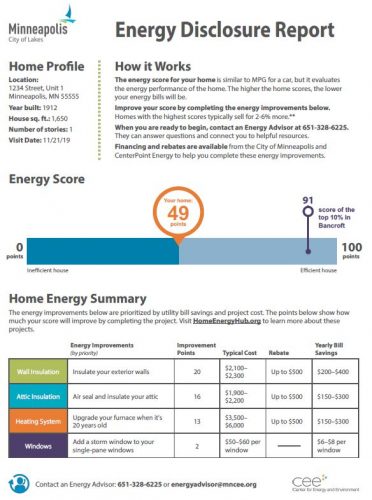 Every Truth-In-Sale of Housing (TISH) Evaluation will now include an Energy Disclosure Report. This applies to one- and two-family dwellings, townhouses, and first-time condo conversions. The most notable part of this disclosure will be the overall energy score, with a rating from 0 - 100. The metrics of this program make it possible for any old home to achieve a score of 100 without the owner having to spend a ridiculous amount of money. Hopefully.
The energy score will have four key areas:
Attic Insulation: type and depth
Wall Insulation: type and depth
Heating System: type and efficiency
Windows: total number of single-pane windows without storm windows
I don't know how all of this is weighted just yet, so I don't know what it will take to achieve a score of 100. I'm sure we'll figure that out soon enough.
This report will include additional information about the home, such as the number of stories, year built, square footage (based on city records), square footage of the attic area (based on data collected onsite), and whether the heating system is more or less than 20 years old.
The report will also include recommendations on what can be done to improve a home's energy score. The City of Minneapolis also offers 0% financing to residents that complete energy upgrades. Utility rebates may also be available. To contact an Energy Advisor for more information about basically anything related to this program, call 651-328-6225 or email energyadvisor@mncee.org.
No required upgrades
There will be no required upgrades or energy improvements as part of this program. If your home scores a 2 out of 100, that's fine. You don't need to fix anything. The idea is that the next person buying your home will care about the energy score, and they'll take steps to improve it.
Again, home sellers and home buyers won't have to make any changes to a home based on the energy score. There's no pass or fail. It's just information.
Drilling Holes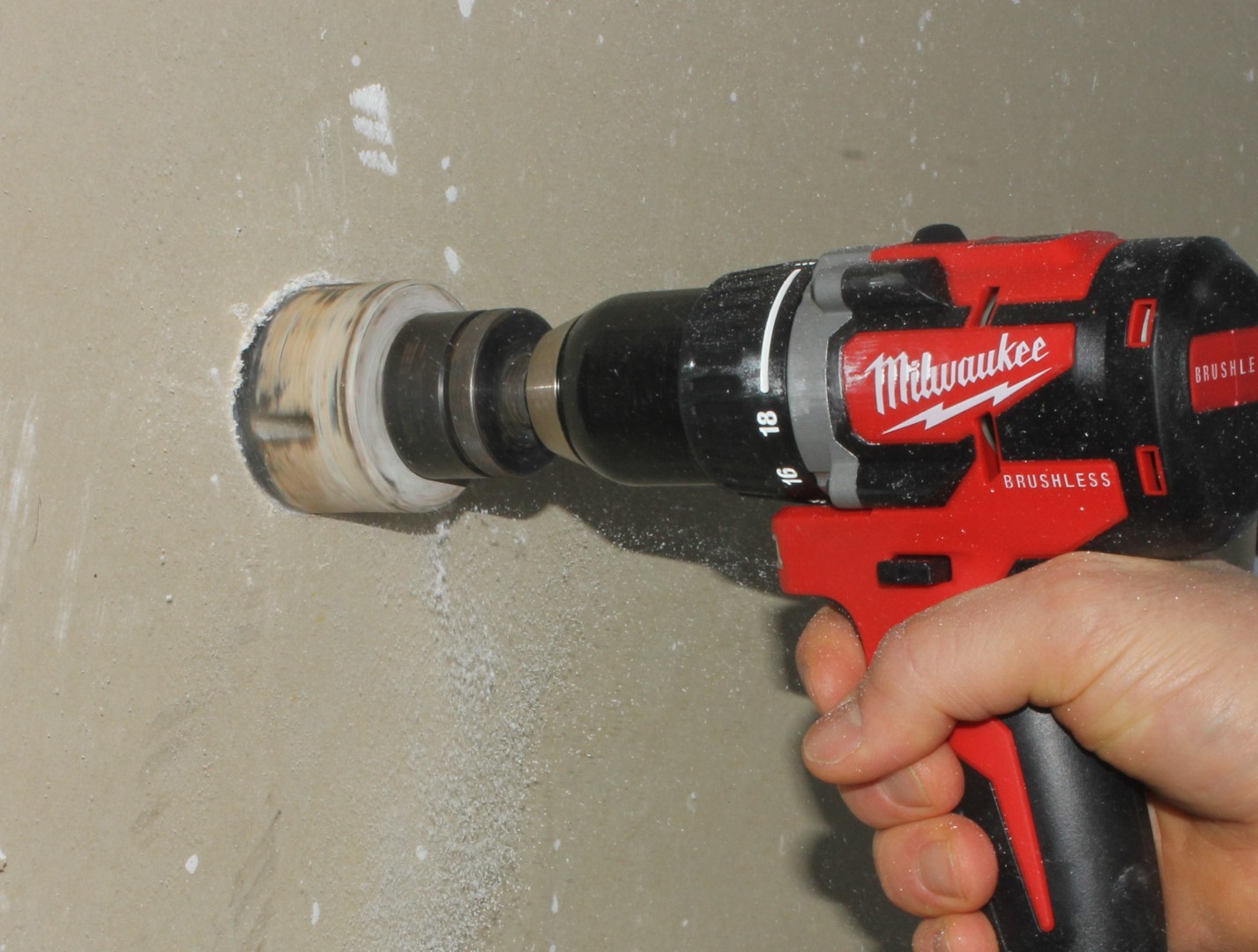 Yes, the rumor is true. Part of this program will require us to drill a two-inch hole at an exterior wall, from the interior. This will be done to determine the type and depth of insulation in the wall. Whatever we find at that location is what we'll assume the entire house has.
Ideally, this hole will be drilled in an inconspicuous location like the inside of a closet or under a kitchen sink. To help make it less noticeable, it's also supposed to be drilled low down on the wall. If there are any additions to a home, this hole should be drilled at the original part of the house, not the new part.
After a hole has been drilled and the insulation type and depth verified, the opening in the wall will be covered with a plastic plug like the one pictured below.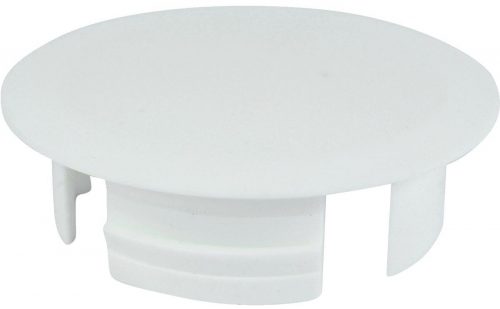 The good news is that homes built after 1980 don't need to have this done. Also, if you've had an energy audit performed on your home by the Home Energy Squad within the last five years, you won't need to have an energy audit performed at your home. Be aware, however, that they drill a hole too. And rumor has it they're booked out about six months. As of Dec. 26, 2019, they are booked out approximately one month in Minneapolis.
People keep asking about us drilling holes in houses. I keep telling people that we're not drilling holes. Just a hole. I'm thinking of calling this program the... ah, never mind.
"What if I don't want a hole?"
Nobody wants a hole in their wall, but this isn't optional. To anyone who plans to take a hardline stance against the city on this matter, I'll share with you some parenting advice that my mom once shared with me: pick your battles. You can appeal to the city, but a valid reason is not "I don't want a hole." You'll need something more compelling, and I have no idea what that would be. And you'll probably lose.
There are inconspicuous places to drill at just about every house I've ever been to. While people seem to be in an uproar over this, I don't think it'll be as big of a deal as people are making it out to be. I admit, I was a bit whipped up about this earlier on in the year, but I've gotten past it. This will all be fine.
Structure Tech plans for drilling
To help avoid surprises during the TISH evaluation, we're planning to send out an email to our Minneapolis TISH clients who book with us. We'll let them know about the hole, and we'll recommend they choose the location of the hole for us and mark it with tape. We'll also ask our clients to sign a form saying they understand this, and we will not conduct the TISH evaluation if we're not given permission ahead of time.
Before we drill a hole, we'll likely use a Walabot Wall Scanner to check for studs, wires, and pipes hidden in the wall. I did a video demonstrating this device at the beginning of this year; check out this video clip below for that.
When we drill, we'll be sure to only drill deep enough to get through the drywall or lath and plaster; we won't go boring through the wall.
To help contain the dust, we'll likely use a hole saw dust bowl, such as the one pictured below.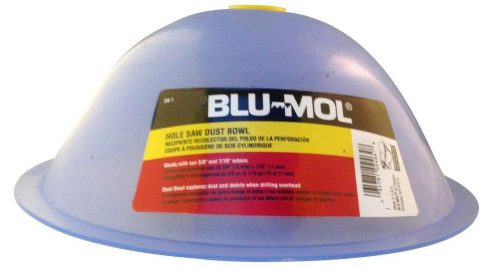 Hopefully, doing all of these things will help to keep problems to a minimum. But we'll see.
Added time and money
Minneapolis TISH evaluations currently take about an hour on-site and we charge $200 for single-family homes. We're guessing that these additional requirements will initially double our time on-site. With a bit of practice and repetition, however, we're hoping for these additional requirements to only add about thirty minutes of time. With that in mind, we're planning to increase our fee for Minneapolis TISH evaluations to $300 beginning January 15th.
TISHs are good for two years. Just sayin'.
If you have a valid TISH evaluation that was performed before January 15th, 2020, then you don't need an energy disclosure report to list your home for sale. TISH evaluations are good for two years. If you're planning to sell your Minneapolis home anytime in the next two years and you don't want to have an energy evaluation performed with your TISH, then now is the time to get one done.
For a list of FAQs about this program and a sample report, click the following link: TISH Energy Disclosure FAQs & Sample Energy Report.
For a candid discussion of our thoughts on the whole program, check out last week's home inspection podcast on this topic.
Author: Reuben Saltzman, Structure Tech Home Inspections