Karin Housley remembers the moment that launched her political career: She had just written a check for the 2010 taxes on her real estate business, leaving $4 in its checking account. She turned on the TV to hear cable news pundits talk about the struggling economy.
She cursed at the TV, stewing as she thought about the taxes and regulations she felt her home state was heaping on small businesses.
"They always want to come back to Minnesotans' pocketbooks to take more of our hard-earned dollars to tax us and try to fix their mistakes," Housley said. "That's not what Minnesotans want. We want to keep as much of the money we make as we can."
Housley's eldest daughter said it first — do something. The next day, their neighbor — longtime political donor and broadcast executive Stanley Hubbard — suggested a run for the Legislature. She didn't even know who her state senator was. But Housley, for whom "boredom is death," latched on to politics with relish, the way she did previously with real estate, investing, sewing and motherhood. She lost her first race but was elected to the Legislature in 2012.
Six years later, Housley is the Republican candidate in the special election to fill the last two years of former Sen. Al Franken's seat. She's facing U.S. Sen. Tina Smith, whom Housley has dubbed "Taxin' Tina" as she tries to tie Smith to various controversies of Gov. Mark Dayton's administration, where Smith served as lieutenant governor and chief of staff.
"She wants to go backwards," Housley said of Smith, whom Dayton appointed to the Senate post late last year.
Smith has been hitting back, calling Housley a "rubber stamp" for President Donald Trump based on a comment Housley made in a radio interview.
Hubbard, who donates mostly to Republicans, said his neighbor has the courage of her convictions and is unafraid to speak her mind.
"It can get her in trouble," Hubbard said. "But I like an honest person rather than a conniving person."
The race between Smith and Housley could be among a handful that determine whether Republicans maintain control of the U.S. Senate next year. Smith has led in fund­raising, but Housley's friends and family say her energy and ability to connect with voters is strong.
People underestimate Housley, said supporter Jennifer DeJournett, president of the group Voices of Conservative Women. A mother of four and grandmother of two, Housley, 54, has a short stature that can make her easy to overlook in a crowd.
"People think, 'Gosh, she's little and tiny.' But people sometimes miss the fact that she is a sophisticated businesswoman who is fierce and who really is incredibly hardworking," DeJournett said.
Democrats have criticized Housley's record at the State Capitol as light. In the state Senate, Housley chairs a committee on elder care protection. This year she pushed a measure that would have included new fines for problematic facilities and greater transparency in how the state handles complaints. She features the work in her campaign. But advocates were disappointed with what lawmakers came up with, and the proposals did not become law.
"She was obviously trying to work with us," said Kristine Sundberg, president of Elder Voice Family Advocates. But she said the outcome was "so weak. There was nothing definitive. They wanted to keep studying the obvious problem."
Housley said her interest in protecting the elderly was inspired by her parents. The former Karin Locke grew up in South St. Paul, the daughter of two teachers and Democrats. At 18, she defied them.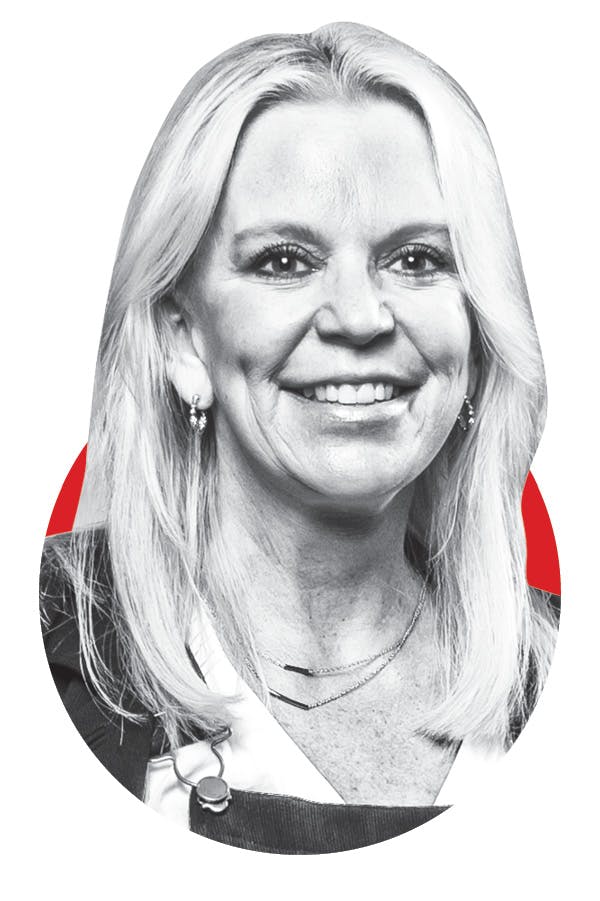 Karin Housley
Elected to Minnesota Senate in 2012, chairs Aging and Long-Term Care Committee.
On the issues
Taxes: Says the 2017 GOP tax law brought historic unemployment and staggering job growth with positive effects in nearly all economic sectors.
National debt: Believes debt and wasteful spending threaten future generations. Wants to balance budget, cut taxes and encourage innovation.
Immigration: Says the U.S. was founded by immigrants and they continue to enrich nation, but fixes are needed to system if future economy is to thrive.
Health care: Thinks ACA caused premiums to skyrocket, reduced care quality.
Guns: Calls right to bear arms fundamental to Constitution. Address violence by enforcing existing laws, preventing criminals and terrorists from instant access to guns.
VOTER'S GUIDE
See where Housley and other Senate candidates stand on key issues.
Her high-school sweetheart, Phil Housley, was playing for the Buffalo Sabres hockey team in New York. Karin dropped out of college and moved there. She worked two waitressing jobs to pay for her communications degree at the University at Buffalo. Her first jobs out of college were behind the scenes at TV news affiliates. Then Phil was traded to Winnipeg.
Unable to work in Canada, she hung her diploma in their laundry room, a bleak joke with herself.
"That's all I did for the next however many years. Laundry. And I'd look at it and go, 'Oh, remember that other life,' " she said. She and Phil agreed she would put her career on hold while he played hockey, then it would be her turn. The average NHL career is roughly five years. Phil, a member of the Hockey Hall of Fame in Toronto and U.S. Hockey Hall of Fame in Eveleth, played for 21.
"She was always holding us together," said Taylor Pass, the oldest of the Housley kids. She recalls her mom slowing down just once, when she was sick during a pregnancy.
The Housleys eventually settled in the St. Croix Valley, and built a large home in the roughly 400-person city of St. Marys Point. There Housley inadvertently developed the kind of resume that shines to political recruiters — her own real estate business, work with charities. She wrote a humorous community newspaper column and launched a Saturday morning radio talk show on real estate, local happenings and gossip.
Once in the Legislature, Housley fought for money for waterfront parkland in Stillwater and a trail crossing. They were bipartisan projects, said Stillwater Mayor Ted Kozlowski. He leans Democratic but called Housley his city's best advocate at the Capitol.
But Housley's work on elder abuse wasn't the only initiative that fell short of some advocates' goals. She hit pause this year on legislation making it easier to prosecute sexual harassment, and in 2017 delayed a bill cracking down on female genital mutilation.
This week, Smith and the Minnesota DFL condemned a series of politically charged social media posts that Housley wrote before running for office. In a 2009 Facebook post, she referenced a movie where Ronald Reagan starred alongside a chimpanzee. "I think even that chimp stood up straighter than Michelle [Obama]. Uh-oh, someone is going to make a comment," Housley wrote.
She said Tuesday she thinks Michelle Obama is a "wonderful lady" and the line was taken out of context by Democrats digging for dirt.
Sen. Michelle Benson, R-Ham Lake, said her friend is a quick learner who took a reasonable approach to complex issues. She said if someone knocks Housley down she bounces back. "Changing her career, moving time after time, there's a certain agility and resilience that gets built into a person," Benson said.
If elected, Housley plans to oppose Democrats' push for single-payer health care. She wants to bolster protections for senior citizens and work on agriculture, an area she said has recently become an interest. The self-described "suburban mom" acknowledged she has a lot to learn about the subject.
"I don't want to ever stop working," Housley said. "Ever, ever, ever. I want to work right up until the day I die, because I love it."