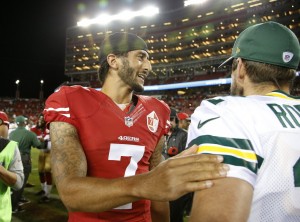 It feels a little strange to already be thinking about how the Vikings might replace Teddy Bridgewater given how fresh his season-ending injury is. But that's the nature of the "next player up" league. Vikings coach Mike Zimmer said he and GM Rick Spielman already started talking about it Tuesday. So let's take quick stock of the Vikings' QB situation.

Veteran Shaun Hill, at least in the near-term, will become the starter. Joel Stave presumably goes from No. 3 to No. 2. Brad Sorensen was cut Tuesday. That's not much to go on with the regular season less than two weeks away. The Vikings would seem to be in the market for another experienced QB — as competition for Hill or at least as a backup. Who is out there (or at least potentially available) as cuts loom for NFL teams this week?
COLIN KAEPERNICK: The 49ers QB has been embroiled in controversy over his decision to sit during the national anthem. That could have bearing on his situation with San Francisco, though his roster spot was already tenuous and he could be a candidate to be cut this week. Kaepernick was a starter for parts of 2012-15, helping the 49ers to a Super Bowl appearance and NFC title game appearance as a dual threat. He dropped off last season, but he's still only 28 and could be among the best players available. That reunion with Alex Boone would be interesting.
MICHAEL VICK: Who knows what the 36-year-old has left in the tank, but he's currently a free agent. If you believe in nostalgia, remember this: the two best season in recent Vikings history (1998 and 2009) were sparked by veteran QBs (Randall Cunningham and Brett Favre) who weren't starters at the beginning of camp. Former Bucks guard and Minnesota native Nate Wolters wants to dig even deeper in the time machine, by the way.
You get a text saying "Peyton manning? Brett favre? Beg them to come back 1 year" you know season has gone off the rails before it started

— Nate Wolters (@NateWolters) August 30, 2016
MARK SANCHEZ: The Broncos are reportedly shopping him. That's not exactly an endorsement considering they, too, are thin at QB. But he's an option.
GENO SMITH: Same as Sanchez, Smith is reportedly available in a trade with the Jets.
MIKE GLENNON: A slightly more intriguing name than Sanchez or Smith, Glennon is stuck in Tampa behind Jameis Winston and is rumored to be available in a trade. He put up decent numbers in 2013 and 2014 and is only 26.
OTHERS: Dave Richard at CBS Sports rattled off a list of other QBs who played for Norv Turner and could be pried away — guys like Brian Hoyer, Brandon Weeden and … it's hard to even type this … Christian Ponder.