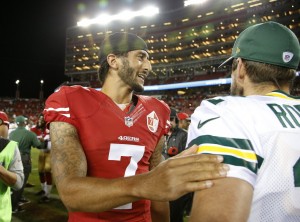 By now, the Colin Kaepernick story has so many tentacles that it's hard to gather them all — particularly here in Minnesota, where any potentially available quarterback is a candidate to play for the Vikings in the wake of Teddy Bridgewater's injury.
We know he has refused to stand for the national anthem during preseason games this season — and plans to continue that stance during Thursday night's game in San Diego. We know why he is doing it, based on an interview with NFL Media after the 49ers game against Green Bay: "I am not going to stand up to show pride in a flag for a country that oppresses black people and people of color," Kaepernick said.
We know this has sparked a whole host of opinions and a lot of shouting. We know that it has jeopardized Kaepernick's status with not only the 49ers but in the NFL as a whole. Mike Freeman, a veteran NFL writer with Bleacher Report, talked to seven team executives. None of them wanted Kaepernick on their team. "In my career, I have never seen a guy so hated by front office guys as Kaepernick," one general manager told Freeman. Another compared him in popularity to Rae Carruth — yes, the former NFL wide receiver who is in prison for plotting to murder his pregnant girlfriend.
One exec called him "a traitor" — which would seem to be in line with some of the hottest rhetoric out there. That line of reasoning would have you believe that by sitting during the anthem, Kaepernick disrespected our country, our flag and those in the military.
You can believe that. It's your right.
But Kris Huson would also invite you to check out a different take. Huson, 45, is a St. Paul resident and Army veteran. She is one of the many military veterans who in recent days have chimed in on Twitter using the hashtag #VeteransforKaepernick to provide a sort of counterpoint to some of the assumptions and rhetoric.
"I would say what compelled me to use hashtag is because there is this notion that it's disrespectful to veterans to not stand for the anthem and I thought 'that's curious because I'm not offended,'" Huson said this week in a phone interview. "The flag is not a symbol of the military or of people who are anointed as guardians of any law. It's a symbol for all of us — of that central idea that the country was founded on. An important part of striving for that ideal is to air grievances and bring ideas up for discussion that maybe we need to consider."
Her use of the hashtag, at least, was less about supporting Kaepernick's particular stand and more about supporting his right to make that stand.
"I'm supporting the act of protest and advocacy, and I don't want anyone to attack someone for that and say it's in my name as a veteran," Huson said.
It's interesting stuff, and it echoes a lot of the other 140-character messages delivered on Twitter using the hashtag. That's clearly not the only opinion out there on the matter — from veterans or anyone else. But it's one that is receiving a voice.
Huson, 45, served in the Army in the 1990s. Her father was in the Army. She married a man in the Army. And just this week, her 18-year-old son told her that he plans to serve as well.
"One of the reasons I decided to join the military was to defend people's rights," she said. "To me, that flag is a symbol of the ideal that we are equal and free. I think for a lot of people, we're not fulfilling that promises. We strive for it — that big ideal of equality. But there is till a lot of work to do to fulfill that promise. It's something we can gather around and think about."
If you've thought about that more this week because of Kaepernick, perhaps that was the whole point.