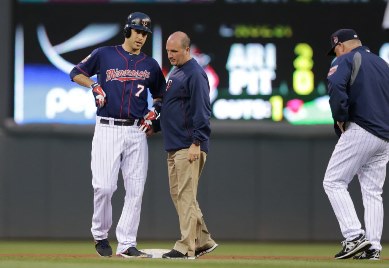 It's official: Joe Mauer is on the disabled list after straining a right oblique muscle in Tuesday's blowout victory over the Royals.
This is obviously a shame for the Twins and Mauer. He has shown real life in two different spurts this season, hitting .394 with a homer and six RBI over a nine game stretch in late April/early May and again over the past 12 games, when he's hit .362 with 12 RBI. Both of those stretches were immediately followed by time missed with an injury — a handful of games in May with a back strain, and now the oblique injury.
There will be no shortage of #hottakes about his fragility, though it is certainly notable that even after a position switch, Mauer has twice now managed to pull up lame and we're not even to the All-Star break.
Speaking of the All-Star break: The only positive we can see in this injury, and it's a warped and twisted silver lining, is that this will end all debate over whether he will be added to the All-Star roster.
Mauer did not deserve a spot this year. Even with his recent surge, he's batting .271 with a .695 OPS. But the game is at Target Field, of course, and there was certainly a chance that he would have received a sentimental nod. This would have created one of the more awkward situations we can imagine: a good chunk of Twins fans reacting with outrage because the homegrown star of the hometown team made the All-Star team in his hometown game.
Instead, this should end all speculation. Mauer is on the 15-day DL. The All-Star Game is 13 days from now. Mauer presumably can still handle his All-Star Game ambassador duties. But we can now shift our attention to more deserving Twins (Glen Perkins, Phil Hughes, Kurt Suzuki, possibly Brian Dozier) instead of wondering how things will play out with Mauer.