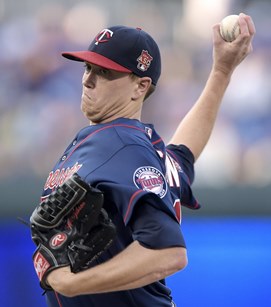 A strange split-personality season for Kyle Gibson, one more extreme than we can ever recall seeing, continued Tuesday.
The balance of it adds up to a fully acceptable and even good first full season as a starter, as he is 9-8 with a 3.94 ERA after holding Kansas City scoreless for seven innings in a 2-1 victory.
But how he has arrived at those numbers is simply crazy. It stands to reason that pitchers will have better numbers in their wins than losses, but here is how it breaks down for Gibson in his 20 starts:
Wins (9) and no-decisions (3): 81.1 IP, 53 hits, 1 HR allowed, 5 earned runs allowed for a 0.55 ERA.
Losses (8): 33 IP, 56 hits, 45 ER, 6 HRs allowed, 12.27 ERA.
For frame of reference, let's go back to 2010 and Carl Pavano's season, which ended with a 3.75 ERA. He had a 2.32 ERA in wins and a 5.40 ERA in losses. That's a pretty reasonable split — really good in wins, bad but not blowout bad in losses.
Gibson, though, is basically unhittable in 12 starts the resulted in wins or no decisions and historically bad in the other eight starts.
He has eight starts in which he finished with at least six innings pitched and ZERO earned runs allowed. He also has four starts in which he didn't make it past three innings and allowed at least five earned runs every time.
We're not sure what to make of it. Maybe it's a question of command, and when he has it he is great and when he misses with his location he gets hammered. Maybe it's just one of those fluky set of circumstances.
We're not even sure what we would rather have — a guy who throws seven innings a game and allows three runs every time or a guy who has been like Gibson, either lights-out or terrible.
All we know is that it's bizarre. If he can harness "good Kyle" more often, he'll be an All-Star. If he descends into "bad Kyle" more often, he'll be out of the league.