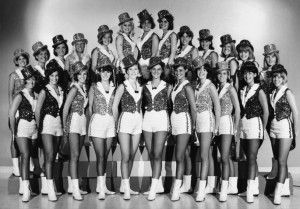 As part of their first preseason game at the new U.S. Bank Stadium on Aug. 28, the Vikings recently sent out an invitation to former cheerleaders, giving them the opportunity to cheer at the game.
The Vikings established the Minnesota Vikings Cheerleaders group in 1984, and the invite went out to the approximately 500 alums of that group from 1984-2015.
The Parkettes — St. Louis Park high school students who acted as the sole cheerleaders for the team from 1964 until 1984 — were not invited, nor were they allowed to register, says Parrel Caplan, an original Parkette from 1964.
She and her fellow Parkettes are not happy.
"We were the official Vikings cheerleaders for 20 years," Caplan said in a phone interview Monday, saying she has plenty of pieces of memorabilia indicating as much and adding that the group performed at all four Vikings Super Bowl appearances. "It's just horrible disrespect to exclude us from this event.
Caplan said Parkettes who called the Vikings to complain were told they weren't official team cheerleaders.
On the Parkettes web site, which details the history of the group (and is where that above photo from 1967 comes from), it says of 1964, "This was also the year the Parkettes were asked to be the official Vikings Cheerleaders." The Vikings' web site includes a link to that Parkettes web site in its section on cheerleaders but starts with this passage: "Before the official Minnesota Vikings Cheerleaders came into existence, Vikings fans were led by the St. Louis Park Parkettes."
The Vikings said there was no disrespect intended and that their only database of existing cheerleader alums consists of those from 1984-2015, after the MVC was established and replaced the Parkettes, whose alums total around 300. The invitation sent to MVC alums for the Aug. 28 game was first-come, first-serve for the first 200 respondents.
Parkettes alums found out about the opportunity to perform at U.S. Bank Stadium when the invitation that was sent to MVC alums was posted on Facebook. A few of them successfully registered — at a cost of $52, which included a game ticket and a jersey in which to perform, Caplan said — only to later be told the event was not intended for them. Their money was refunded, Caplan said, but bad feelings lingered. Others who later tried to register were unable to do so, and communication with the team grew contentious.
In a statement released by the Vikings, the organization said, "We appreciate and respect both the Parkettes and Vi-Queens (the team's cheerleader group from 1961-63) as part of Minnesota Vikings history. We will look at avenues to honor them in the future."
Many Parkettes alums wanted the opportunity to perform Aug. 28 and don't understand why they aren't part of that event. Caplan, 69, said she still dances and takes Zumba classes frequently.
"I'd do it in a minute, Caplan said of performing with other alums at the new stadium. "I was planning on it."