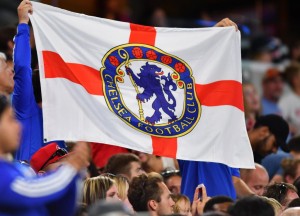 Wednesday's match between Chelsea and A.C. Milan was hailed as a major event on a couple of fronts: two internationally known soccer teams were coming to town, and they were starring in the first event at the new U.S. Bank Stadium.
If the preconceived guess was that this event would be comprised roughly of three-fourths stadium gawkers and one-fourth soccer die-hards — as was the speculation on this end — the biggest upset Wednesday was that those numbers seemed instead to be reversed.
Sure, there were Vikings season ticket holders on hand who didn't know a corner kick from a yellow card. And there were general interest sports fans who wanted to get a good look around a new building and to say they were there when the billion dollar stadium opened.
But the large majority of fans were in their seats, loud and fully invested in the match at hand. I saw them in full force on the way to the stadium while riding the light rail's blue line into downtown: little kids in A.C. Milan jerseys. Young adults in Chelsea blue. All manners of people wearing gear from their favorite English Premier League teams.
The event was a sellout, and I got the sense it was the soccer crowd that pushed it over the edge in a final ticket surge over the last couple days of sales.
And those fans saw a legit match, with several starters on both sides playing in a key tuneup for league schedules — EPL for Chelsea, Serie A for Milan — that begin later this month. There was plenty of technical skill on display for the purists and enough scoring chances (plus goals) in a 3-1 Chelsea victory to satisfy the merely curious.
In the big picture, there were lessons to be learned for those who run the stadium. Even with the wider concourses at U.S. Bank Stadium, foot traffic inside ground to a halt at some spots — particularly one around section 238, where popular concessions stands and a men's bathroom created a snarl at halftime. Other fans complained to me about concession stands running out of food.
And the light rail: I had a bad feeling about the return trip, so I ducked out of the game 15 minutes before the end and hopped right on. After seeing the photos of the mass of humanity stuck waiting later, two things were clear: 1) I made the right move. 2) This is one of those areas from which stadium folks will need to use Wednesday to learn.
But the biggest lesson might have been this: the Minneapolis-St. Paul area is ready for soccer on a big stage.
The biggest question remains how many of those jersey-wearing EPL fans will translate into Major League Soccer fans when Minnesota United presumably begins playing in that league next season.
There is no doubt that those people exist, and that they are ready to be entertained.