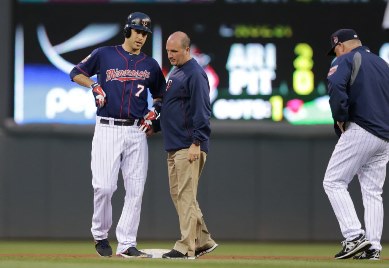 Between them, Joe Mauer and Ricky Nolasco are making $35 million to play baseball for the Twins this season, eating up roughly 40 percent of the team's payroll (it was even more before the mid-season acquisition of Kendrys Morales).
Even at slightly more modest salaries, those two would have to rank high among the biggest disappointments on this year's team. It's fair to say that if both were performing to at least career expectations — that is to say, at least close to providing the numbers that earned them those hefty salaries — the Twins, given everything else that has happened this year, would be around .500 instead of floundering now at 10 games below that mark. Indeed, even without much contribution from either player the Twins spent most of the first half of the season right around even.
Those contracts made Mauer and Nolasco obscenely wealthy, so do not mistake this as some sort of pity party for them. But we would say that there is a certain on-field burden that comes with a hefty salary, particularly when it comes to this, um, frugal market and fan base.
No longer are you simply underachieving … you're underachieving and overpaid. No longer does a sentence simply say, "Nolasco needs to pitch better," but rather: "For $12 million a year, Nolasco needs to pitch better."
And when you get hurt — Mauer is on the DL, and Nolasco is having his elbow examined — you're not simply injured. Your toughness gets called into question because of the money you make.
Salary does not guarantee results. Just ask the many other players aside from Mauer among the top-10 in salary this season who are struggling, injured, or both.
Criticism comes with the territory, and pretty much every one of us would accept these "burdens" if it meant making millions to play a game. But there's no doubt a big contract changes perceptions, particularly when you play in Minnesota.