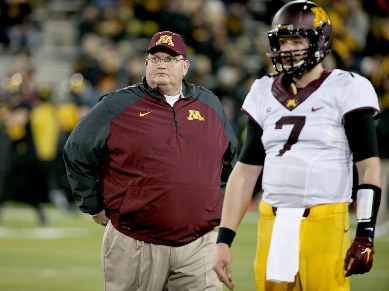 The comments section on today's story about the 5-7 Gophers getting a bid to the Quick Lane Bowl to face Central Michigan would make it sound as though Minnesota has committed a felony, or at least a misdemeanor, by being granted this opportunity after a losing season.
A few things about this:
1) While the Gophers had a choice as to whether they would accept a bid, this is largely a problem — if we choose to deem it a problem — with roots far deeper than one athletic program. That there are enough bowl games that a 5-7 team is needed to fill a spot is a function of college football and television conspiring to create a system that rewards mediocrity (and in this rare case sub-mediocrity). The simple reasons are that they can … and that the programming fills what would otherwise be unappealing air time with a live football event, which generates revenue.
2) Yes, you wonder, but does anyone really watch the Quick Lane Bowl? And why? Oh, dear reader, they sure do. While the actual game itself — played at Ford Field in Detroit, home of the Lions — will like have a "friends and family" feel to it in terms of attendance (last year Rutgers vs. North Carolina had an announced crowd of 23,876), the TV crowd was far more respectable.
Per Forbes, the game did a 1.8 rating, a figure that the site correlates to nearly 3 million viewers. Yes, you read that right. There were 3 million people who watched North Carolina and Rutgers in the Quick Lane Bowl. It's a national sickness. But it's a fact.
3) So you can laugh. You can grumble. You can poke fun at the Gophers. But there's this: there's also a decent chance you're going to watch this game. It's not because you are enthralled by the matchup against Central Michigan or dying to see if the Gophers can snap a seven-game bowl losing streak.
It's because it's at the perfect time, and these bowl folks know it. It's at 4 p.m. Monday, Dec. 28. If you're back at work after a holiday break, it's a great happy hour opportunity. If you're still at home flipping through channels, it's on ESPN2 and easy to find. If you're home from work at 6 p.m., you can watch the second half. This kind of game just kind of happens to find its way onto your TV.
This year's Quick Lane Bowl is the very definition of what the bowl season has become. You can try to fight it or you can just admit that like it or not, you're bound to watch it.