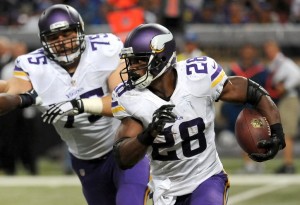 NFL free agents can officially begin signing with new teams at 3 p.m. Thursday, when the new league year begins. It's a time when everyone from Vikings officials to die-hard fans have hopes and dreams of improving a team that went 11-5 two years ago and started 5-0 last season before hitting  a tailspin that led to an 8-8 finish and exposed roster flaws along the way.
Anyone can have visions of a best-case scenario. But what if everything goes terribly wrong? That's something we need to think about because this is a very important offseason for the Vikings. As such, here are what I (and several of you via Twitter) consider to be the three components of the nightmare scenario for the Vikings in free agency:
1) Many of you said re-signing offensive lineman Matt Kalil is part of your nightmare. If that's your thought process, you can rest easy. He is reportedly going to sign with Carolina and play with his older brother, Ryan. And while I certainly agree that re-signing Kalil to a major contract would have been a mistake, signing Kalil to a modest deal wouldn't have been the end of the world. A greater nightmare is if the Vikings strike out completely on signing at least one tackle during free agency. Kalil and Rick Wagner are already off the board.
Years of neglect and bad luck (more of the former than the latter) have left the offensive line in shambles. The draft class at tackle is thin. If Minnesota doesn't come out of free agency with one (preferably two) offensive tackles, it's hard to see how 2017 will be any different than 2016.
2) Another popular answer: the Vikings bring back Adrian Peterson. And again, you're not wrong. For as great a runner as Peterson has been in his career, it seems ill-advised at any price to bring back and count on a guy who 1) is going to be 32 later this month, 2) doesn't operate comfortably out of the shotgun, 3) isn't much of a pass-catcher or blocker, 4) is coming off a major injury and 5) still carries with him the off-field baggage of 2014. Draft a running back in a very deep class. Use any cap space you would have spent on Peterson on something else.
3) Captain Munnerlyn signs somewhere else and Terence Newman retires. The Vikings have spent high draft picks on Xavier Rhodes (2013), Trae Waynes (2015) and Mackensie Alexander (2016) in recent years. But I would still worry about their cornerback depth if dependable veterans Munnerlyn and Newman were both gone next season.
If the Vikings were unable to significantly upgrade their offensive line by spending on proven players … but still insisted on bringing back Peterson to try to run behind that line … and saw their defensive back group go from a position of strength to a position of question … they would be on the fast-track for a 6-10 season.