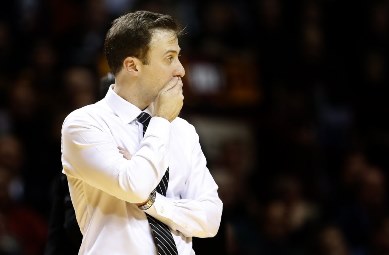 So here's a new theory, born out of (another) frustrating night of Minnesota sports on Tuesday, when the Gophers men's basketball team and the Wild played interesting games — only to ultimately lose in heartbreaking fashion.
It's quite possibly wrong and certainly full of holes and counterexamples, but let's work through it anyway:
Minnesota sports teams and their fans, as a collective, suffer from Seasonal Affective Disorder — "a type of depression that's related to changes in seasons" and typically strikes in the winter.
As the sun goes away and the days get colder, fans and players undergo a wicked transformation in this state. Already skeptical from years past, we get even more pessimistic because of the outside gloom in December, January and February, and our teams feed off that negative energy.
We have conducted no tests to prove this. We hold zero advanced degrees in psychology. All we can present as evidence are multiple examples of either winter heartbreak (Vikings), mediocrity (many examples, many teams) or abject failure (looking at you here, mostly, Timberwolves). Also, this: The last seven Gophers football seasons that were good enough in the fall to lead to a bowl game appearance have ended with bowl game losses in December or January.
As we start to thaw out in March, optimism returns. College hockey championships on both the men's and women's side are won, fueled by that collective renewed optimism. The Gophers men's and women's basketball teams make Final Four runs. Anything seems possible with the Twins (OK, usually). The NFL draft is around the corner, and optimism about the Vikings is never more profound than during the offseason. Even if the Wolves and Wild are struggling through the ends of their seasons, there is hope that luck will change through drafting, free agency and simply a fresh start.
The only one of our four "major" pro sports teams to win a championship in the past 50 years was a summer team (Twins, twice, and please pay no mind to the fact that they won both championships in the dark, dreary Dome … the positive feeling was still strong). Our most successful pro team of the last five years was a summer team (Lynx, two WNBA titles).
So if we buy any part of this theory, what can we do about it? Some people combat Seasonal Affective Disorder with special lamps (so maybe the new Vikings stadium with the glass roof will be a good thing)?
As a collective, though, the best shot at a remedy would appear to be recognizing first that there's a problem. It's a vicious cycle that can only be broken by fans and the teams themselves.