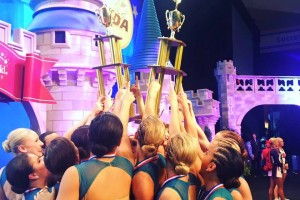 In the decade this blog has been operating, there have been precious few mentions of dance team and related competitions. I can find two archived pieces of evidence that it has been at least touched upon: a 2010 guest post from a Timberwolves dancer and a 2015 post about the great high school dance controversy.
In that time, I've been vaguely aware that the University of Minnesota has a top-notch dance team. But now is a good time to get a little more aware and spread the word: the U doesn't just have a good dance team. It has a dance team dynasty.
This past weekend, the school won its 17th and 18th national titles since 2003. That's more than one "natty" per year. (Photo via the team's Facebook page).
A very good longform piece in the campus paper (my old campus paper, by the way) The Minnesota Daily sheds some light on just what it takes to excel in the demanding world of competitive dance.
You might see dancers primarily during breaks at high-profile Gophers games. But members might practice up to 30 hours a week as the national competition approaches. And much like gymnastics, diving and other sports that require meticulous practice for a narrow window of competition, there are no do-overs.
"We get two minutes out on the floor and we don't get any second chances," senior captain Kelsey Sutter told The Daily. "We don't screw up in the first half and get to redeem ourselves in the second, so what we really try to do is make ourselves better every single minute of every practice."
It's impressive, and it deserves recognition. The squad won its eighth consecutive pom national title Sunday. Here's a look at the routine from an earlier performance.
And here is the championship-winning jazz team as well: