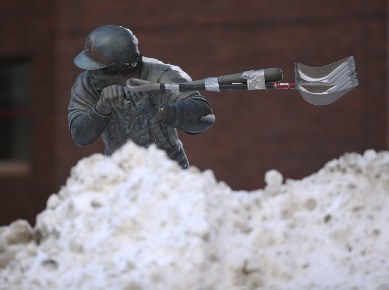 While many Twins fans are optimistic about 2016 based on last year's much-improved squad that finished 83-79 and contended for a postseason spot into the final weekend of the season, the crunched numbers suggest we might need to tap the brakes a little on those good feelings.
FanGraphs annually lists projections for how teams will finish based on roster construction, schedule, etc. And the news for the Twins isn't good.
As noted on Twitter by local blogger and cat enthusiast Aaron Gleeman, the projection for your hometown nine is a 78-84 record — not terrible, but also a step back from last season and, more notably, tied for the worst record in what appears to be a very strong American League. Baltimore also projects at 78 wins, while six National League teams are projected below that mark (all of them with 66-74 wins).
The caveat is that these projections are hardly iron-clad. The Royals, for instance, are projected to win just 79 games — one more than the Twins, one season after winning 95 games and the World Series.
Indeed, the most sobering thing to take away from this isn't necessarily the Twins' win total but the notion that the American League looks to be so much stronger than the National League.
In other words, even if the Twins continue to improve, they might find it hard to duplicate last year's results, let alone take a step forward, because so many other teams are better as well.
If there is good news, it's this: FanGraphs projected the Twins would win 76 games last season, and Minnesota bested that by seven victories.