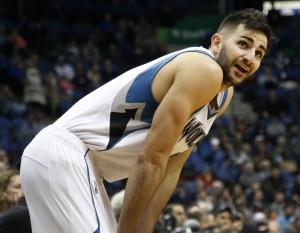 Wolves fans are closing in on Vikings fans when it comes to hold-their-breath pessimism. Just as things seem to go right, Wolves fans are bracing for the worst. You can't really blame them given the majority of the franchise's history.
The worries crept in Tuesday, as news emerged that point guard Ricky Rubio was injured while playing for Spain against Angola in a tuneup for the Olympics next month. Early reports indicated it was a knee injury, sending some fans — who are understandably skittish given Rubio's injury history, which includes a torn ACL — into near-panic.
Local Associated Press basketball guru Jon Krawczynski, however, chimed in and helped calm things down with a report that Rubio sustained a blow to his thigh and that the injury is "nothing serious."
Timberwolves owner Glen Taylor, who also owns the Star Tribune, said much of the same to our Kent Youngblood on Wednesday.
"Yes, I'm aware of that. And I talked to (Wolves coach Tom Thibodeau) about that. Ricky called the coach and the coach told me that Ricky didn't think it was serious. Ricky said to (Thibodeau) that it was a bruise, he could have gone back and played. But (he said), we were so far ahead that they held me out. But he could have played, is how he explained it to the coach."
Rubio (pictured here from a January game with the Wolves) sat out the rest of the game — which Spain won handily, 85-61 — as a precaution. With No. 5 overall pick and fellow point guard Kris Dunn forced to miss Monday's Summer League game with a concussion, this relatively quiet week in July raised some levels of anxiety.