Joe Juranitch, aka the longtime Vikings human mascot Ragnar, has stayed out of the public spotlight since Sunday, when his Facebook post about no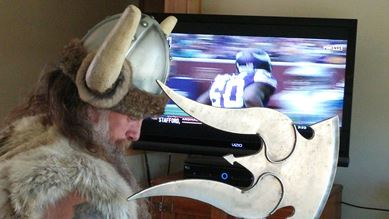 t being at a Vikings game for the first time in 21 years led to the story that he and the team had parted ways due in part to a contract disagreement. (Photo via Ragnar's Facebook page).
But on Friday, Juranitch made the media rounds in the Twin Cities to explain his side of the story — a story that started out Sunday with a lot of public sympathy but turned in another direction after a few writers (including me) reported that he had asked for $20,000 a game after earning $1,500 a game a season ago.
Here are some highlights of my phone conversation with Juranitch this afternoon:
*On why he waited this long to share his side of the story: "What I didn't want to do was react. I knew I'd have time at some point to put my side out there and then the Vikings fan can make a decision from there. I didn't want to react in anger or in any other way. I want to keep this on a positive.
*So how did we get here? Juranitch said the Vikings called him over the summer to tell him they wanted to retire the Ragnar character and feature him in a limited role in the future. "You can only imagine hearing this for the first time – wait a minute, I'm not ready to retire and I don't want to retire," he said.
But he assumed the sides would work something out and assumed he would still have credentials to work games. Throughout the preseason, however, the credentials didn't arrive. And whenever he called the Vikings to ask about a contract, they said they didn't have one ready for him yet, Juranitch said.
That continued through the first regular season game, which led to the point where he was watching Sunday at his home in Ely, Minn.
"I don't know what emotion I'm running on. Depression. Sadness. I'm looking at all the Vikings fans and I need to be there. Is this how it's going to end? My wife said get dressed in your outfit and I'll take a picture. Said she was going to post it on Facebook," he said. "I didn't know it was going to set off such a firestorm. I got an awakening at just how powerful Vikings fans are."
*So, about that $20,000 a game …: Juranitch said the Vikings called him and asked him to put a contract together. He said with the help of a friend, he put together a deal asking for $20,000 a game with the idea that he'd be working in a limited role and probably only working 1 or 2 games a season. "Next thing I know I'm reading and listening to all these things where all the numbers came out and my head is spinning and I had no clue what was going on here," Juranitch said. "My mistake was I tried to [create a contract] I had no business putting together."
*What's going to happen next? It's unclear what the Vikings will do at this point, but Juranitch said he remains optimistic that the sides will reach a solution that puts him back on the field and said $20,000 a game is far from his final offer. "This has always been about the fans, not money. They've always been awesome and supported me," Juranitch said. "To this day I've not been told I was let go. Here's the good news. I don't think this thing is over. I will be just as shocked as you if I'm not on that field Sunday. I just feel it in my heart. I don't believe it's over. The greatest fans in the NFL needed to hear this side."