Vikings quarterback Teddy Bridgewater's recent run of success continued last Sunday with his 28-yard touchdown pass to tight end Kyle Rudolph early in the 49-17 beating of the New York Giants.
It was Bridgewater's lone touchdown pass of the night, but jumpstarted the Vikings' season-high 49-point outburst. Rudolph continues to be one of Bridgewater's favorite targets this season. Here's a look at their fifth touchdown connection, a team high:
Frame 1: The Vikings line up with their two wide receivers and two tight end personnel in a single set back formation. Wide receivers Stefon Diggs and Mike Wallace are to the left with tight ends Rudolph and Rhett Ellison lined up to the right on the inside. Running back Adrian Peterson is the single back. The Giants are in a 4-3 defense with safety Craig Dahl in the box lined up in front of Rudolph, with free safety Landon Collins deep.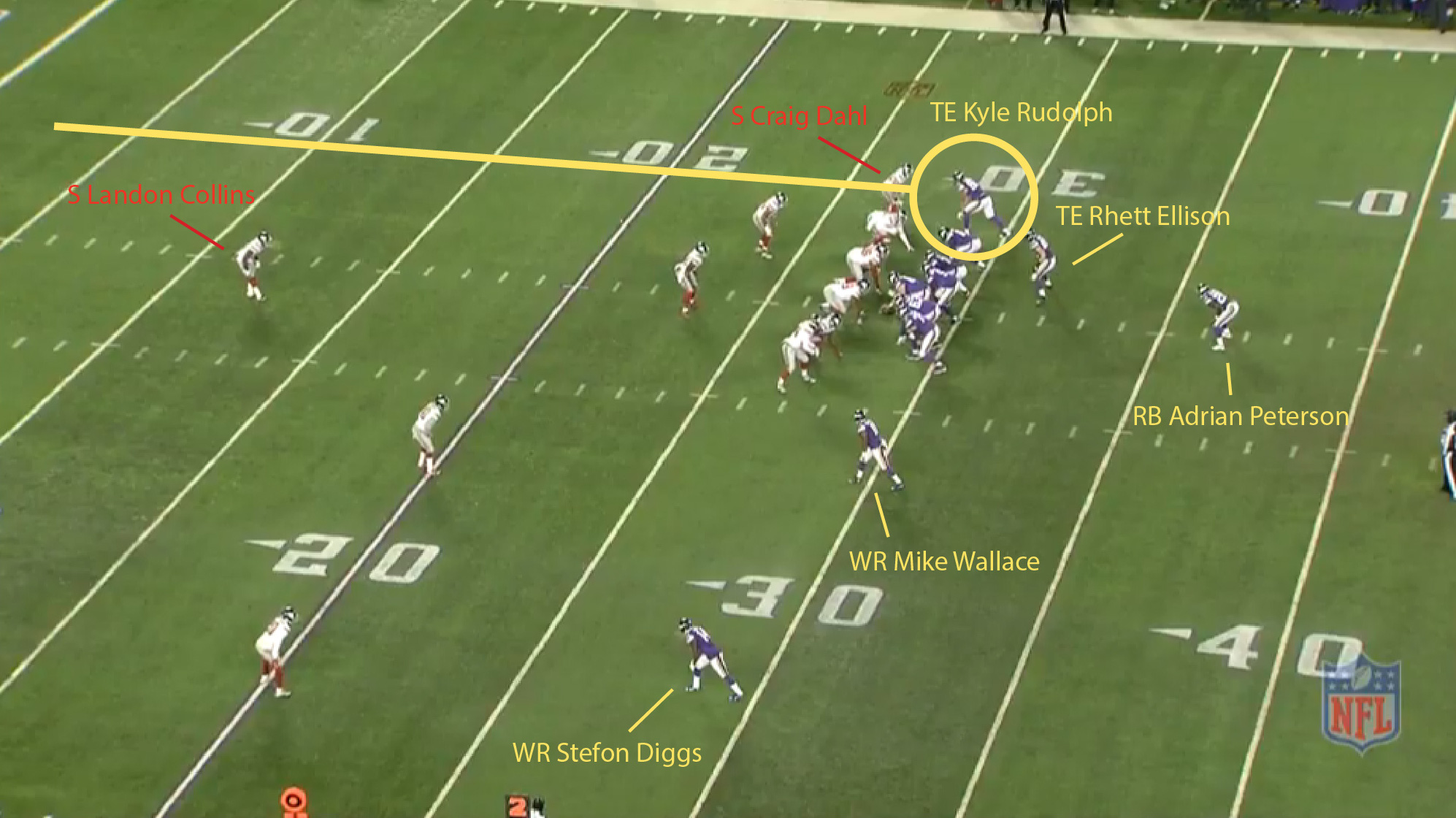 Frame 2: The Vikings' five-man offensive front, plus Ellison staying back as a blocker, gives Bridgewater plenty of time to consider all of his options. He looked left towards Diggs and Wallace forcing Collins to maintain his position, and by then Rudolph had gained a step on Dahl by cutting outside before breaking downfield. Vikings tackle T.J. Clemmings manages to hold off Giants defensive end Jason Pierre-Paul just long enough for Bridgewater to get rid of the ball above Pierre-Paul's outstretched arm.
"He's running routes a lot better," Vikings coach Mike Zimmer said about Rudolph. "I think he's running with confidence. Early in the year, for whatever reason, he wasn't getting the ball as much. I think Teddy believes in him now and a lot of times that's part of it. You've got a couple options when you look at the coverage, it's here or here and you have to make some decisions. The ball he threw to him on the touchdown was really — a he was looking to the left side, saw the safety, kept his eye to the safety and then got the ball up quick — got it up and down quickly to Kyle. There's a lot of trust in that kind of throw in that area of the field."
Frame 3: Rudolph uses his size to create space from the much-smaller Dahl and then beats him to the end zone. Bridgewater's ability to keep his eye to the safety and then get rid of the ball quick leaves Collins out of reach of Rudolph and the touchdown pass. Rudolph finished with two receptions for 53 yards. Bridgewater was 15-for-25 for 168 yards and a 93.4 passer rating.
"[The Giants have] struggled a little bit against tight ends, but you know, their main deal was to get the run stopped with Adrian, like most teams do. That tends to open some things up," Zimmer said. "A couple of the throws that Teddy made to [Rudolph] were really, really good throws."